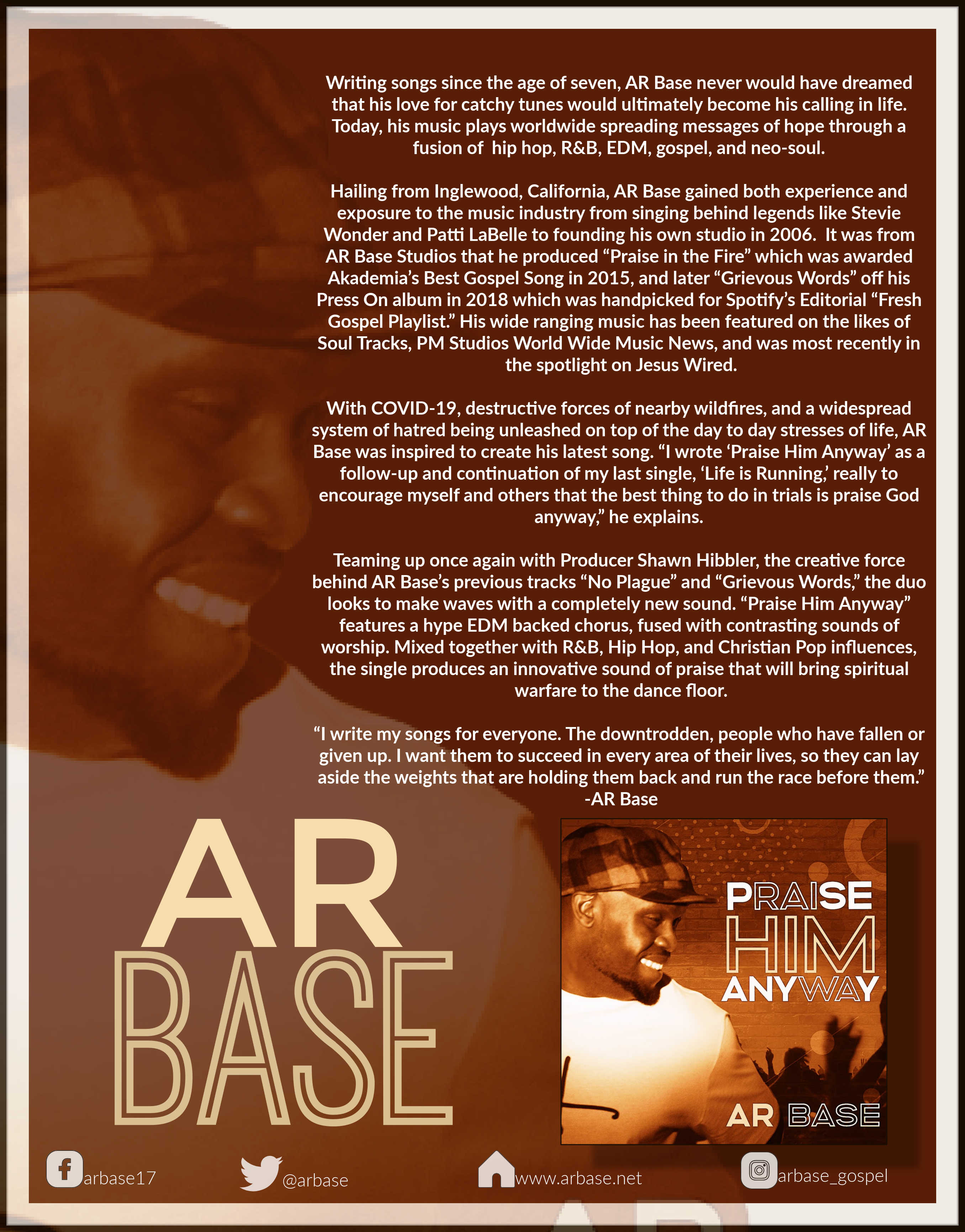 November 10, 2020 – Ace fusion R&B singer AR Base has done it again with his latest gospel release "Praise Him Anyway". The single, his best yet, features the artist's signature funky mix of Hip-Hop, Pop, and R&B gospel music, only this time AR Base has introduced a new sound. "Praise Him Anyway" is a follow up of his last successful release Life is Running. Like the former, the new track is a powerful rendition portraying unshakeable faith amidst emotional upheaval influenced by the many setbacks faced by the singer in recent months.
For AR Base, 2020 has been unkind to the singer in more ways than one. A threatening pandemic, the emergence of new wildfires sweeping California, and the ongoing racial hatred scarring the country affected him no doubt but the loss of his mother in the wake of COVID 19 was a severe blow. However, he channeled his grief to what he does best, making music. Speaking about the inspiration behind his latest hit Praise Him Anyway, AR Base says:
I wrote Praise Him Anyway as a follow-up and continuation of my last single, Life is Running, really to encourage myself and others that the best thing to do in trials is praise God anyway.
Praise Him Anyway is yet another collaboration with Producer Shawn Hibbler, the creative force behind AR Base's previous tracks No Plague and Grievous Words. In their latest track, the singer-composer duo has created an entirely new sound. The energetic track is an uplifting gospel jam with an intro of soulful trance-like vocals just before transitioning into a foot-tapping, dance floor groove.
AR base lyrics skillfully capture the mood of the song reflecting the depressive elements of his present situation. Yet amidst the hardship and challenges, he would rather surrender to faith to choose a more joyous outlook on life and Praise Him Anyway. On a musical note Praise Him Anyway features a hype EDM backed chorus, fused with contrasting sounds of worship. That is where AR base style of R&B gospel dominates with Christian Pop influences to produce an innovative sound of praise that will bring spiritual warfare to the dance floor.
AR Base has been writing songs since he was seven. Influenced by living in Inglewood, California, he developed his ministry's vision through his love for music. He was signed to Gee Ray Records in 2006 and within a short while, was singing behind legends such as Stevie Wonder, Donnie McClurkin and Grammy Award Winner Patti LaBelle, the Godmother of Soul. Influenced by the greats, A R Base created his unique music style, a fusion of R&B, neo-soul, and hip-hop-influenced by Christian Gospel.
Praise Him Anyway, is AR Base's message to his fans that "Praising God is joy that ignites us and gives us strength to keep moving on with life. It causes us to advance aggressively towards victory.
For more information: https://www.arbase.net/
Media Contact
Company Name: AR Base Studios
Contact Person: AR Base
Email: Send Email
City: Los Angeles
State: California
Country: United States
Website: https://www.arbase.net/