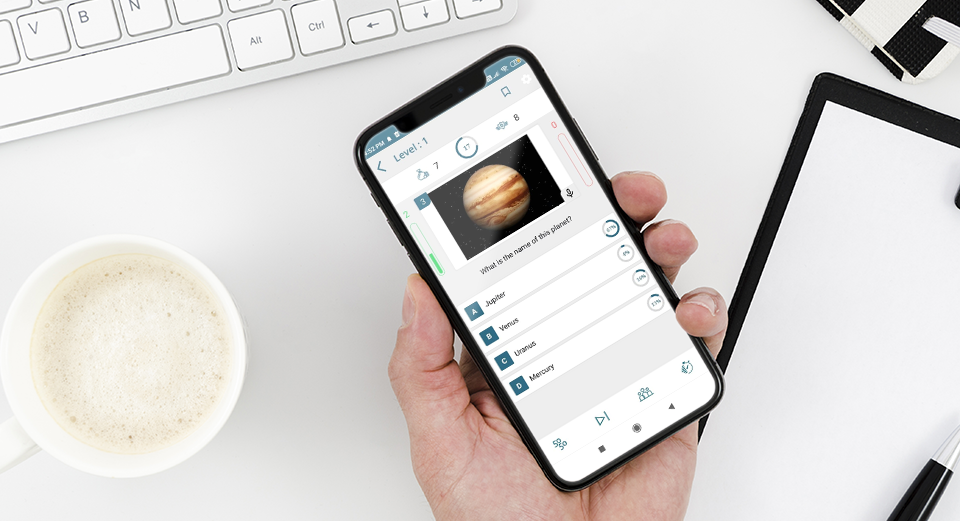 December 7, 2020 – Over the years, online quizzes have become extremely popular because they are entertaining and are often the most effective way to obtain information over the internet. The team at AppsGeyer is pleased to announce that through its platform, users from all over the world can now make their own online quiz apps for free without any foreknowledge of coding. Considering that making an app can get too technical and costly, the free online app template "Online Quiz" for Android is here to make everything easy.
Download the Create Online Quiz App: https://appsgeyser.com/create-onlineQuiz-app/
Everyone has played online or phone-based quizzes at some time, and some wish they could also make quizzes like Trivia Crack, Quiz Up, Trivia 360, or Jeopardy. The Create Online Quiz App allows anyone to quickly make a quiz app without coding and for free. Quiz makers get to use very flexible user and special admin interfaces, where they can easily add, delete, or edit questions and answers without having to rebuild or modify the app. Content updates get automatically synced for all users of the app. Quiz creators can add unlimited questions or categories, and multiple language support is provided.
The Create Online Quiz app is a boon for teachers, educators, online entrepreneurs from India or Latin American countries who want to earn revenue online through app ads. There is no limit to what kind of quizzes can be created – trivia quizzes for sports, culture, movies, and history, travel quizzes, free tests for students, native language quizzes, or theme-based contests and competitions. Features include timers, rankings, categories, multiple languages, images, and more.
"With the Online Quiz App, anyone can create an online quiz in minutes and monetize it with ads. We have taken all hassles away with readymade templates for a wide range of themes and topics," said a spokesperson.
The quiz app maker is very flexible with its admin panel, where all contests and quizzes can be moderated and edited anytime. Once the app is created, the quiz maker is taken to the admin panel where they can add their content. Keyword support is also offered, and the quiz can be localized in the preferred language. Other features include creative screenshots, competitor insights, and more.
For more information, please visit: http://appsgeyser.com/
Media Contact
Company Name: AppsGeyser
Contact Person: Anastasiya Rekhlova, Content Manager
Email: Send Email
Address:901 N. Pitt Street, Suite 325
City: Alexandria
State: VA 22314
Country: United States
Website: https://appsgeyser.com/