With the development of society, the continuous improvement of material living standards, the development of medical technology, modern medical model and the current living environment, living conditions on health impact, people's survival, life, quality of life requirements continue to improve, health management, a new industry has a strong vitality and good prospects for development. Experts predict that in the next 10 years, the global medical industry will be transformed, the focus of care will shift from disease treatment to preventive care overdrive, health management will complete its transition from "supporting actor" to "main character" history. From a preventive medical point of view, 70% of diseases can be prevented or reduced risk.
Modern health management is information – based. Sharing is based on support technology, and the powerful support effect of information sharing in the system makes health management provide continuous and integrated services for individuals. At the same time, advanced testing instruments (Body Composition Analysis Machine) can scientifically assess life and health conditions, reduce system risks, predict remaining life, and provide technical support for health management. Any business or individual can benefit from health management, so the invention of Electrode Body Fat Analyzer effectively becomes the technical support of health management.
MC-BCA100 Body Fat Composition Analyzer uses 3 Frequencies (5kHz, 50kHz, 250kHz); 8-point Tactile Electrode Design and measures fat, muscle & Water levels and 23 Other Tests with the accuracy:
Measures – Body Fat, Height Measurement, TBW, SMM (Skeletal Muscle), PBF (percentage of body fat), Mineral Salt, Weight Control, Muscle Control, Bioelectrical Impedance, BMI (Body mass index), Goal Weight, Protein, IMB, WHR (Waist-Hip Ratio), Fat Control, Bone Weight,Obesity Diagnosis, Basic Metabolism, Fat Free weight, Moister Ratio, Nutritional Assessment, Weight Assessment.
Health Assessment Details of the Display Screen: WiFi Connection, Frequency: 20HZ, 50KHZ, 100KHZ, Input Voltage: 110V, 50/60 Hz, Multi-language, Mobile Phone Connection, Comes with HP.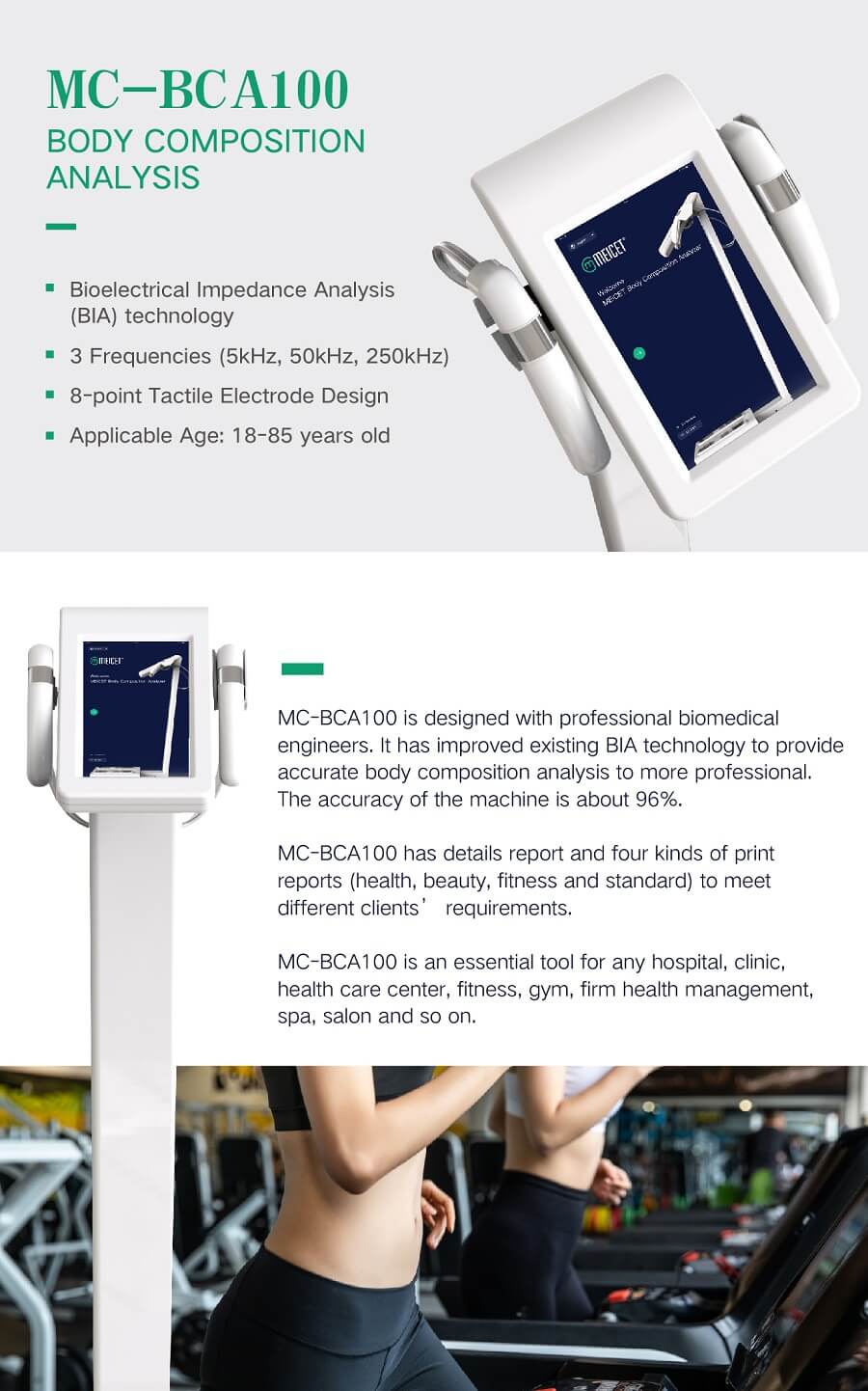 Media Contact
Company Name: Shanghai May Skin Information Technology Co., Ltd.
Email: Send Email
Phone: +86 18017093770
Country: China
Website: https://www.meicet.com/