The global ANPR System Market is Expected to reach USD 4.8 billion by 2027 from USD 3.1 billion in 2022, at a CAGR of 9.2% from 2022 to 2027.
CHICAGO, Nov 7, 2023 – The global ANPR System Market is expected to develop at a phenomenal Compound Annual rising Rate (CAGR) of 9.2% from USD 3.1 billion in 2022 to USD 4.8 billion by 2027. These forecasts show that the market is on a rising trajectory. A thorough analysis from reputable market research and consulting company MarketsandMarkets details these findings.
Because they provide sophisticated vehicle tracking and identifying capabilities, ANPR systems have proven essential to many different businesses. The expansion of smart cities, the growing requirement for traffic control and toll collecting systems, and the growing need for security and surveillance solutions are some of the drivers driving the expected growth. The worldwide ANPR system market's important players, growth factors, opportunities, challenges, and segments are all highlighted in the study.
• Informational PDF Brochure: – https://www.marketsandmarkets.com/pdfdownloadNew.asp?id=140920103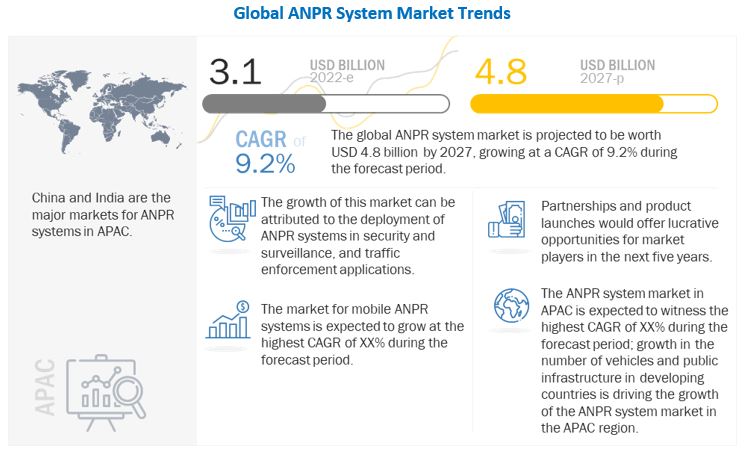 Key Segments:
Type Segment: The ANPR system market comprises various types, including Fixed ANPR Systems and Mobile ANPR Systems, each designed to cater to specific applications and environments.
Component Segment: ANPR systems consist of various components, including cameras, software, and hardware, which play a pivotal role in capturing, processing, and storing license plate data.
Application Segment: ANPR systems find applications in areas such as traffic management, parking management, security and surveillance, toll collection, and more.
Browse 201 market data Tables and 56 Figures spread through 254 Pages and in-depth TOC on "ANPR System Market by Type, Component, Application, End-User & Region – Global Forecast to 2027"
View detailed Table of Content here –
https://www.marketsandmarkets.com/Market-Reports/anpr-system-market-140920103.html
Growth Drivers:
Security and Surveillance: The increasing need for security and surveillance solutions across industries, including law enforcement, has driven the adoption of ANPR systems for monitoring and identification.
Smart Cities: The growth of smart city initiatives worldwide has created opportunities for ANPR systems to enhance traffic management, parking, and public safety.
Traffic Management: As traffic congestion and road safety issues persist, ANPR systems are increasingly being used for traffic management and control.
Challenges:
Privacy Concerns: The use of ANPR systems raises privacy concerns regarding the collection and storage of license plate data. Regulations and privacy safeguards are key challenges.
Accuracy and Reliability: Ensuring high accuracy and reliability in license plate recognition, especially in adverse weather conditions and varying lighting, is a challenge for ANPR systems.
Opportunities:
IoT Integration: Integrating ANPR systems with the Internet of Things (IoT) and cloud technologies provides new opportunities for data analytics and real-time monitoring.
Infrastructure Development: Ongoing infrastructure development projects, such as highway expansions and urban planning, create opportunities for ANPR system deployment.
Key Players:
The report identifies key players in the global ANPR system market, including:
Siemens AG: A multinational company providing industrial and infrastructure solutions.
Bosch Security Systems: A global leader in security and communications solutions.
Kapsch TrafficCom AG: A provider of intelligent transportation systems and toll collection solutions.
Genetec Inc.: A technology company specializing in software and hardware for security, intelligence, and operations.
Q-Free ASA: A global supplier of intelligent transportation systems and electronic tolling solutions.
The global ANPR system market is experiencing robust growth, driven by increasing security demands, urban development initiatives, and the need for effective traffic management. ANPR systems play a vital role in enhancing public safety and are expected to play an increasingly critical role in the coming years.
Media Contact
Company Name: MarketsandMarkets™ Research Private Ltd.
Contact Person: Mr. Aashish Mehra
Email: Send Email
Phone: 18886006441
Address:630 Dundee Road Suite 430
City: Northbrook
State: IL 60062
Country: United States
Website: https://www.marketsandmarkets.com/Market-Reports/anpr-system-market-140920103.html