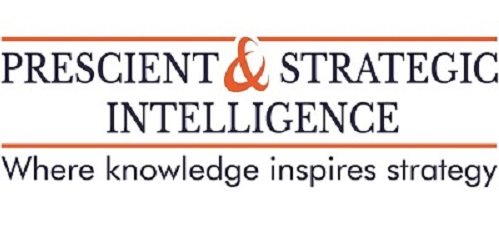 Asia-Pacific animal pharmaceuticals industry is expected to develop at a substantial CAGR, of roughly 8.2%, over the forecast period due to the increasing expenses on animal health and rising cattle population in this region.
In 2021, the animal pharmaceuticals market accounted for a size of $40.07 billion, which will advance at a 6.8% compound annual growth rate from 2021 to 2030, to touch $72.74 billion by 2030. According to the market research study published by P&S Intelligence. This is owing to the growing adoption of pets, surging consumption of meat and milk products, skyrocketing veterinary medicine demand, and escalating count of zoonotic illness cases.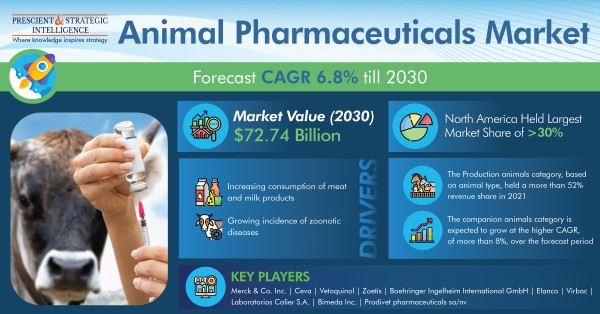 Growing Demand for Protein-Rich Meals Propelling Production Animals Category
The production animals category holds an over 52% share in the market, because of the increasing global requirement for protein-rich meals, including meat, eggs, and dairy.
The category of companion animals will advance at a rate of 8%, owing to the surging chronic disease incidence in pets. The major reason for the boost in the market in this category is that companion animals get more medical attention and more-specialized care from their owners than production animals.
As per the report of the American Pet Products Association, in the U.S., the overall pet spending will grow from $103.6 billion in 2020 to $109.6 billion by the end of 2022.
Get the sample pages of this report: https://www.psmarketresearch.com/market-analysis/animal-pharmaceuticals-market/report-sample
Why Parenterally Administered Drugs Drive Market Growth?
The parenteral category is dominating the market with a 45% share, due to the easy access to parenterally administered drugs and their fast onset of action, normally within an hour of administration.
The oral category is predicted to progress at an 8% CAGR, because of the expansions in the oral veterinary drug field. The oral route is wildly used to offer medication to pigs, poultry, and cattle, as well as companion animals.
High Living Standards Influence North American Market
North America held an over 30% revenue share in the market, due to the high living standards, surging pet adoption, and increasing awareness about veterinary illnesses, coupled with the rising population of production animals.
In the coming years, APAC is expected to advance at a substantial CAGR, of over 8%. The thorough testing of animal products during the export process is placing pressure on farm workers and owners to maintain the animals' health. This factor is driving the market as the region is experiencing a boom in the export of animal commodities.
Browse full report at: https://www.psmarketresearch.com/market-analysis/animal-pharmaceuticals-market
Demand for Anti-Infective Products Is High due to Growing Cases of Bacterial Illnesses
Based on product, the anti-infectives category accounted for a 35% share, owing to the escalating prevalence of bacterial illnesses in companion and production animals.
Furthermore, the surging pressure on owners of animals to maintain standards of veterinary health, to cater to rising the need for fresh meat, animal-derived nutritional supplements, and dairy products, will surge the demand for veterinary anti-infectives in the future.
Animal Pharmaceuticals Market Size Breakdown by Segment
By Animal Type
Companion Animals
Production Animals
By Product
Parasiticides
Anti-Infectives
Anti-Inflammatory
Analgesics
By Mode of Administration
By Distribution Channel
Veterinary Hospitals & Clinics
Pharmacies & Retail Stores
E-Commerce stores
Regional Analysis
North America
Europe

Germany
France
U.K.
Italy
Spain

Asia-Pacific

China
India
Japan
South Korea
Australia

Latin America
Middle East and Africa

Saudi Arabia
South Africa
Browse more related reports
Omega-3 Market Growth, Development and Demand Forecast Report 2030
Biopharmaceutical Market Growth, Development and Demand Forecast Report 2030
About P&S Intelligence
P&S Intelligence provides market research and consulting services to a vast array of industries across the world. As an enterprising research and consulting company, P&S believes in providing thorough insights on the ever-changing market scenario, to empower companies to make informed decisions and base their business strategies with astuteness. P&S keeps the interest of its clients at heart, which is why the insights we provide are both honest and accurate. Our long list of satisfied clients includes entry-level firms as well as multi-million-dollar businesses and government agencies.
Media Contact
Company Name: P&S Intelligence
Contact Person: Abhishek
Email: Send Email
Phone: +918887787886
Address:Noida Sector 2
City: Noida
State: UP
Country: India
Website: https://www.psmarketresearch.com/market-analysis/animal-pharmaceuticals-market