Passion and dedication can take a man far and wide. If you love something and are dedicated to it, it will surely bring you success and joy. Ahmed Sobhy's dedication to dogs led to him creating a lucrative business for himself online. This Egyptian guy is the mastermind behind Rottweiler Life, an online blog that has close to 1.4 million followers. We can safely attest his success to his ultimate passion for our furry friends.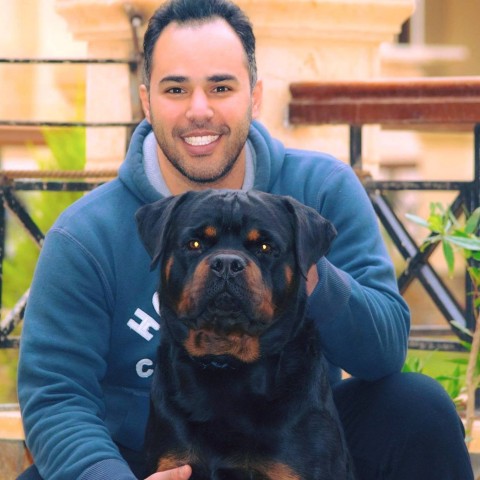 Most of us love dogs- that is an absolute certainty. But it isn't enough to just love them. We need to know how to care for them, how to train them, what their diet is like, and what to do in case of an emergency. Loving a dog goes well beyond a few pets and cajoles. This is where Ahmed Sobhy's expertise comes into play. This man's blog is a working dictionary for everything related to Rottweilers.
As we know, Rottweilers are considered to be one of the fiercest breeds of dogs on Earth, and we have very little information about them. Sobhy's site is one of the rare ones which give major insights into the lives of Rottweilers.
The ingenious lad first decided to use Facebook as a medium to gauge the public interest towards the brees. After finding out that there were a large number of fans of this breed, he decided to start a website that would specifically cater to those wanting or needing information about Rottweilers.
Sobhy's knowledge truly shines when the website is in question. Not only does he give absolute information about the different types of Rottweilers, but he also mentions the minute differences between these dogs, the ways to take care of them, or the amount of food to be given to ensure that they are fit and healthy.
This Egyptian guy has made sure that every information he doles out is kept with the best interest of the Rottweilers in mind. Precisely why he has been able to curb the stigma regarding Rottweilers and turned many a hater into a fan. Although his hobby has turned into a venture now, his focus is still on providing correct information to all who seek it.
The most amazing part of his entire website is that he has been able to provide concise information about Rottweilers that is easily accessible to all consumers. His website doesn't beat around the bush – it is pretty straightforward and helps cut down the time a pet-lover would take to browse through. And his USP- his methods always work.
His website Rottweiler Life is all about providing information on how to train your Rottweiler. Sobhy also has a US bestseller book by the same name. It talks about the subtle nuances of a Rottweiler- human relationship and how to manage one's hold and control over a Rottweiler when they are in a rambunctious mood.
This Egyptian guy's hobby and dedication are truly paying off.
Media Contact
Company Name: Rottweiler Life
Contact Person: Ahmed Sobhy
Email: Send Email
Country: United States
Website: https://www.rottweilerlife.com/