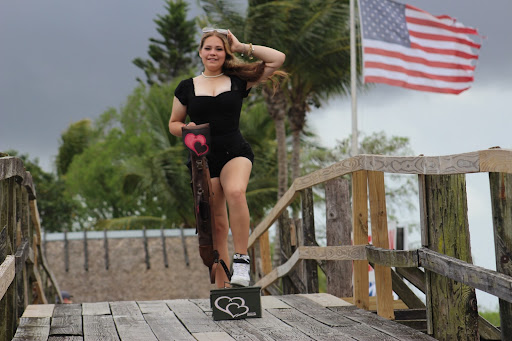 Military-veteran, advocate for women's empowerment, and a support agency, AMOR Umbrella set out to deliver a gift to the Florida governor's wife, Mrs. Casey DeSantis. The gift was sent to show gratitude and celebrate her recent cancer recovery.
AMOR Umbrella and its collaborators have extended their hands of love to The Honorable Governor of Florida's first family. Mrs. Casey DeSantis, who is the wife of veteran Ron DeSantis, received festive and historic gifts following an announcement that she is now a breast cancer survivor. The purpose of the gift is to celebrate her full recovery and show gratitude to the DeSantis family for their tireless leadership efforts.
The initiative resonates deeply with the goal of the AMOR Umbrella organization, as it shows their support for and creation of awareness/understanding… as it pertains to our military families. A main mission of this agency is to help bridge the communication gaps between veterans and civilians.
As a heart-centered organization, AMOR Umbrella, has reached out to Mrs. Casey DeSantis with a gift full of symbolism, respect, and deep gratitude. This gift was specially curated for her and included a signature heart-shaped pink AMOR umbrella signed by veterans…pink as it symbolizes cancer-awareness. It also included a handmade leather travel case by Donald Dodson, a veteran skilled artisan. The design of this brown and pink travel case was a collaborative effort between Nefertiti San Miguel and Niurka Castaneda. An illustrated novel titled "Venture into the Everglades" was included. This novel highlights our natural Florida treasure, the Everglades, AND Veteran mental-health wellness/awareness efforts. This novel was co-written by Niurka Castaneda (Founder of AMOR umbrella,) and Masha Andreoni, LCSW (a licensed veteran-centered therapist…and a collaborator in this gift effort). A special Furoshiki style bag designed by Mrs. San Miguel was also included. Last but not least, the gift package also included a 50 Cal Ammo case military care package filled with goodies like coffee, a bullet thermos and much much more.
Of Note: This is Amor Umbrella's (and other contributors that may or may not be mentioned in this publication) second time reaching out with a gift that aligned with the Agency's purpose. The first time the organization sent a gift to the newly elected VP Kamala Harris (sent in 2021). This first gift was sent as a symbol to commemorate women's empowerment.
For further information about AMOR Umbrella and how the organization celebrates veterans and those that support them, visit – https://www.amorumbrella.com/. The campaign also continues across social media, including Facebook and LinkedIn.
Media Contact
Company Name: Local Crown, LLC
Contact Person: Trey Carmichael
Email: Send Email
Phone: 5127571401
Address:1101 Sandy Point Road
City: Wimberley
State: Texas
Country: United States
Website: https://thelocalcrown.com/