This unique test helps in finding out the contents of food and beverages that can greatly help in preventing allergies.
Amikno, a registered Service-Disabled Veteran-Owned Business, has announced their meat detection test, which enables consumers to test whether their food has animal products.
The tests react when coming in contact with animal protein such as beef/poultry grease, gelatin, and animal rennet. It's a safe and easy method to test food and beverages for meat on the go.
As the vegetarian and vegan population grows worldwide and more restaurants begin to produce plant-based or vegan food, it is vital to know it is not contaminated.
Some people don't follow a plant-based diet by choice. They do it for health reasons.
In the unfortunate case that their food is contaminated, they could end up in the hospital.
Since many restaurants offering vegan options don't use different stoves or containers, contamination frequently happens, causing people to consume animal products unknowingly. People who are lactose intolerant or have Alpha-Gal syndrome – a disease that causes mild to deadly allergic reactions to mammalian meat, dairy, and by-products – would greatly benefit from the Aminko test.
The test is essential when traveling to a foreign country where the traveler doesn't speak the language as it allows people to check if their food is safe to eat with their diet restrictions. Aminko believes that 2022 is the "Time to Know Your Food." The reasonably priced test strips work by swiping or dipping them into or over food for three seconds. After thirty seconds, the user compares the results with the protein color identification scale provided. If it remains yellow, then it's safe to eat, and the user can discard the test and enjoy their meal without worry.
To learn more about their rapid meat detection tests, visit amikno.com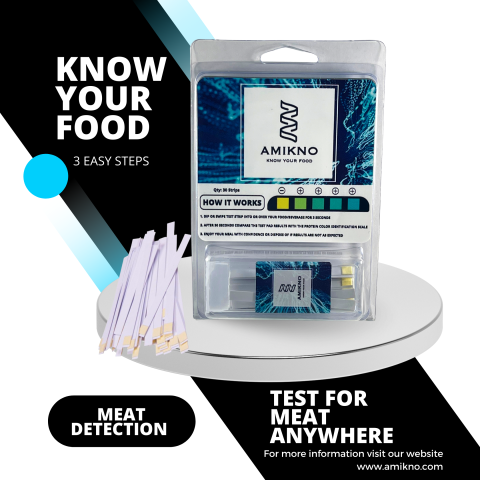 Media Contact
Company Name: AMIKNO
Contact Person: Justin Deskin
Email: Send Email
City: Lake of the Ozarks
State: Missouri
Country: United States
Website: amikno.com