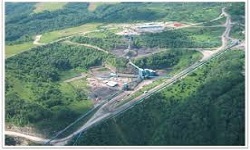 American Resources Corporation intends to leverage its issued permits and more than $327 million in proven and potentially recoverable assets to surge in 2020.
American Resources Corporation (NASDAQ: AREC) provided a strategic update earlier in the week that reiterated the company's environmental focus to continuously evaluate its mining permits and identify those properties that are at or below their proprietary (economic and environmental) margin and slate them as candidates for reclamation. The subsequent goal is to take advantage of reclamation opportunities and reap the potential benefits from the asset pool.
American Resources Corporation is already an active supplier of raw materials to the rapidly growing global infrastructure marketplace with a primary focus on the extraction, processing, and distribution of metallurgical carbon to the steel and specialty alloy metals industries. The company is further developing an innovative and modernized approach to extract and monetize high-grade metallurgical carbon without the casualty of environmental hazards or infringements. Notably, the company is also one of only a small handful of publicly traded companies that specialize in reclamation projects – trading on the NASDAQ market under the symbol "AREC."
Since its inception, AREC has strategically acquired and restructured mining complexes to set itself up to become one of the fastest-growing, lowest cost metallurgical carbon platforms in the Central Appalachian Basin. To date, American Resources has acquired over 75 mining permits with an associated reclamation bonding amount above $36 million. Also, the company is currently working on completing reclamation on 25 thermal mining sites with an associated environmental reclamation liability of over $16.7 million.

Video Link: https://www.youtube.com/embed/gd2Vt4XV0eo
A Plan To Capitalize On Reclamation Opportunities
Utilizing a unique strategic pathway, American Resources is breaking away from industry practice that has historically deferred many environmental reclamation liabilities out for decades in the hope that specific permits will rise above the margin. Instead, American Resources has chosen not to postpone that similar liability and alternatively deems such sites as "reclamation only" intending to remediate, and in some cases, repurposing irrational mining sites that fall below the margin.
To further define, the reclamation only permits are those that a company has decided to ultimately reclaim and not attempt to defer the reclamation work for a later time, an approach that, at times, has resulted in the setting of very aggressive reclamation deadlines for the company to achieve. Admittedly, an aggressive strategy of this nature may cause short term hiccups during the production and application processes, with some companies, even AREC, at times, being placed on the Office of Surface Mining Reclamation and Enforcement's (OSMRE) Applicant Violators System (AVS). However, if such cases arise, American Resources remains a company that expeditiously completes and progresses on these reclamation projects, proffering subsequent removal from the AVS list, which may not always be the case with other mining companies.
Commenting on the process and strategic initiatives, Mark Jensen, Chief Executive Officer of American Resources Corporation, said, "Because our acquisition plan included complexes that often consisted of permits tied to both metallurgical carbon (used for steel making) and thermal coal (used for electricity generation), our strategic restructuring and environmental focus has been to separate the two assets by quality types." He added, "Immediately post-acquisition, we then look to reclaim thermal coal mining sites that do not fit within our business model, while tying the metallurgical carbon assets into our existing operating growth platform. Our focus is to grow and expand our metallurgical carbon platform, but at the same time find efficient and viable solutions to either reclaim or repurpose the land associated with the thermal coal assets we acquire. Our goal here is to work with our partners to find the right solutions to benefit the environment and local communities, and in some cases create viable commercial uses for the land, while also reducing our overall environmental liability costs."
Filling A Niche In A Billion Dollar Metallurgical Carbon Sector Opportunity
American Resources is emerging as a potentially significant player in the met carbon industry through its strategy to address the gap between the supply and demand issues in the metallurgical carbon sector. These imbalances get exemplified with met carbon being an irreplaceable ingredient for the manufacturing of various products, which has led the company to establish an eco-friendly way for its mining and extraction. The company utilizes several strategic methods to grow their asset base. It currently has four operating mines that are taking advantage of thousands of acres within the United States that have an estimated $327,000,000 worth of proven reserves and assets. These holdings position the company as an A-list candidate in helping to meet global met carbon demand from its substantial pipeline and production capability. Most attractive to the company position is that the need for met carbon is expected to grow sequentially well into the next decade, which may ultimately place American Resources into an excellent position to secure long term growth.
Moreover, American Resources is one of the lowest-cost producers of metallurgical carbon resources used in the production of steel for the burgeoning infrastructure market. Also, a key differentiator exists between American Resources and other companies in the coal mining sector, with that difference being that not all coal mining companies are created equally.
In that respect, American Resources should not be characterized as a company that mines coal for fuel. This is because it doesn't incorporate environmentally detrimental methods in its mining processes. They also do not produce conventional coal products like fuel or other flammable hydrocarbons. But, just because they don't focus on traditional coal operations, don't consider them a small enterprise. As it stands today, the company owns five mining complexes all within the Central Appalachian Basin, located primarily within eastern Kentucky and Western Virginia.
Further, American Resources has the advantage of owning the pieces to its comprehensive infrastructure utilized in the diverse stages of production and logistics. This ownership brings with it the leverage and capacity to expand its production at its already approved mines. Currently, the company holds roughly forty hard to get production permits central to all five of their processing and logistic complexes, with plans to bring more of their projects into production in 2020 and beyond.
Consider The American Resources Permits As Assets
Importantly, the already issued permits and capital assets strengthen American Resources Corporation's competitive advantage. Primarily, they allow the company to maintain pricing power over competitors by controlling the ability to increase its operating margin during expansion as an economy of scale. The company is further strengthened by seasoned management that understands the value of its assets and, more importantly, how to strategically utilize them to build shareholder value through a disciplined business plan.
Taking advantage of its owned assets, American Resources Corporation is well-positioned to benefit from the value of its proven holdings as the company moves into 2020. And, with the current market cap of only $16 million heading into the close of 2019 trading, investors may be starting to recognize that that value may not accurately reflect the intrinsic value already owned by the company. And, with experts estimating that global demand of roughly 365 million tons of coking carbon will be needed annually by the year 2025 to satisfy expected demand, it is a logical assumption to assert that American Resources may become a significant beneficiary to the substantial opportunity.
Moreover, with four mines already in operation, and with an additional 34 already permitted projects under its control, American Resources Corporation may already be on the doorstep to becoming a major met carbon producer within the next decade. In fact, if there was ever a case for a "sum-of-the-parts" consideration, American Resources Corporation may be ripe for the equation.
After all, when accounting for its active mining operations targeting a high-demand niche market, having multiple and hard-to-get permits in hand, and, combined with a strong management team that is sitting on more than $327 million in reserves, American Resources Corporation may turn out to be one coal play that is not only considered "clean" but potentially very profitable.
Disclaimers:
Soulstring Media Group and its parent company are not operated by a licensed broker, a dealer, or a registered investment adviser. It should be expressly understood that under no circumstances does any information posted on Soulstring Media Group, or its affiliated website, Soulstringreport.com, represent a recommendation to buy or sell a security. The information available on Soulstring Media Group, and in its related newsletters, videos, and correspondence, is not intended to be, nor does it constitute investment advice or recommendations. The contributors may buy and sell securities before and after any particular article and report and information herein is published, with respect to the securities discussed in any article and report posted herein. In no event shall Soulstring Media Group be liable to any member, guest or third party for any damages of any kind arising out of the use of any content or other material published or available on Soulstring Media Group, or relating to the use of, or inability to use, Soulstring Media Group or any content, including, without limitation, any investment losses, lost profits, lost opportunity, special, incidental, indirect, consequential or punitive damages. Past performance is a poor indicator of future performance. The information on this site, and in its related newsletters and videos, is not intended to be, nor does it constitute investment advice or recommendations. The information on this site is in no way guaranteed for completeness, accuracy or in any other way be determined as a reliable determining factor for investment choices. Some contributors listed on this website are not affiliated with the Soulstring Media Group. Stock quotes, cryptocurrency quotes and index information is provided by Trading View, TC 2000, and CoinDesk. Soulstring Media Group cannot provide assurance as to the validity or timeliness of quotes provided by secondary sources and directs users of posted information to conduct thorough research before acting on information that may be timely in nature. Soulstring Report produces regular sponsored and non-sponsored reports, articles, stock market blogs, videos and popular investment newsletters covering small and micro-cap equity markets. Soulstring Media Group has two distinct and independent departments. One department produces non-sponsored content generally in the form of press releases, articles and reports covering equities listed on NYSE, NASDAQ and OTC exchanges. The other produces sponsored content (in most cases not reviewed by a registered analyst), which typically consists of compensated investment newsletters, articles, videos and reports covering listed stocks and micro-caps. Soulstring Media Group, as well as its operating subsidiaries, may receive compensation from third parties to prepare professional content. In this particular instance, PCG Advisory compensated Soulstring Media Group for the preparation and release of video content, coverage of company news, and editorial research for American Resources Corporation. PCG Advisory is independent of this website and/or its affiliates. Soulstring Media Group has no direct financial relationship and has received no compensation from American Resources Corporation for any produced content. The non-sponsored written content contained herein has been prepared by a writer (the "Author") and is fact checked and reviewed by a third-party company (the "Reviewer"). The reviewer, proofreader or final editorial approval may not be offered through a chartered CPA or Certified Financial Adviser. In some cases, the Reviewer has reviewed and revised the content, as necessary, based on publicly available information which is believed to be reliable. Content is researched, written, and reviewed on a reasonable-effort basis. The Reviewer has not performed any independent investigations or forensic audits to validate the information herein. The Reviewer has only independently reviewed the information provided by the Author per the procedures outlined by Soulstring Media Group. Soulstring Media Group is not entitled to veto or interfere in the application of such procedures by the third-party research service company to the articles, documents, or reports. Unless otherwise noted, any content outside of this document has no association with the Author or the Reviewer in any way.
Media Contact
Company Name: Soulstring Media Group
Contact Person: Kenny Soulstring
Email: Send Email
City: Miami Beach
State: Florida
Country: United States
Website: https://www.soulstringreport.com