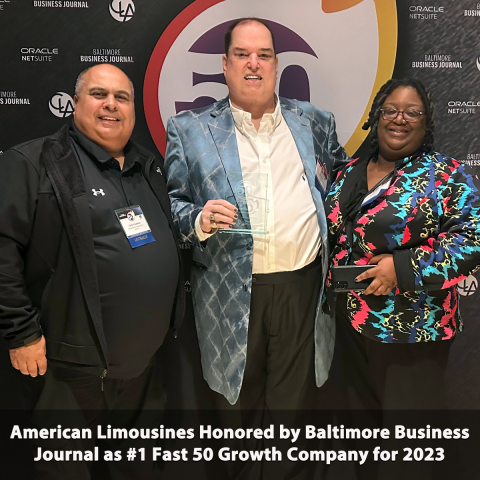 Baltimore, MD – American Limousines, a premier luxury transportation service provider, announces their recognition as the top Fast 50 Honoree by the Baltimore Business Journal for 2023. The Fast 50 list highlights the fastest-growing private companies in the Baltimore area, and American Limousines has been recognized as the number one honoree for its remarkable growth and success. The prestigious awards banquet to celebrate the honorees took place at The Winslow on November 2nd.
The Baltimore Business Journal's Fast 50 program identifies and honors private companies that have exhibited significant growth over the past year. This recognition is a testament to American Limousines' dedication to excellence, its commitment to providing top tier luxury transportation services, and its contribution to job creation and supporting the local community.
Gary Day, owner at American Limousines, expressed his appreciation at being at the top of the Fast 50 list and said, "We are honored to receive this recognition from the Baltimore Business Journal. American Limousines has always strived for excellence, and this acknowledgment highlights the hard work and dedication of our team. It's a reflection of our commitment to delivering exceptional service to our clients and our continuous efforts to grow and innovate."
The awards banquet to celebrate the honorees brought together leaders, entrepreneurs, and influencers from the Baltimore business community. It provided a platform for American Limousines to share its success story and network with other successful businesses in the region.
The Fast 50 recognition is particularly significant in the context of American Limousines' journey in surviving and thriving after the pandemic. The company has consistently delivered premium transportation services, including luxury limousines, sedans, motor coaches, buses, and executive transport, and has earned a reputation for reliability and excellence. The award underscores the trust that clients have placed in American Limousines and the company's commitment to exceeding customer expectations.
To learn more about American Limousines, please visit their website at http://www.AmerLimo.com or call their customer care line at 410-522-0400.
About American Limousines:
American Limousines is a distinguished transportation service provider renowned for its fleet of luxury vehicles and superior customer service. The company offers an array of transportation solutions for various events, from corporate travel to special occasions. With a commitment to safety, reliability, and luxury, American Limousines has earned its position as a trusted name in the industry.
Media Contact
Company Name: Sheets and Associates
Contact Person: Lowell Sheets
Email: Send Email
Phone: 410-692-5550
Address:PO Box 13
City: Forest Hill
State: MD 21050
Country: United States
Website: www.SheetsAndAssociates.com