Swagkennel's unique American split-faced bully dog continues to top the chart of the world's most famous dog after more than two years.
It's been more than two years since the famous American Black Merle Bully was brought to life, yet he keeps making the headlines. Phantom, the split-faced American Bully dog was born into the Swagkennels family after mating one of the biggest lilac TRI males on earth, Mr Heisenberg and, the beautiful Merle American Bully, Sydney, in 2020.
Phantom is regarded as one of the world's famous dogs because of his unique physical appearance, quality, size and structure. Infact, his split-face still remains a fascination to many, including notable stars who have made efforts to purchase this wonder shortly after he was born.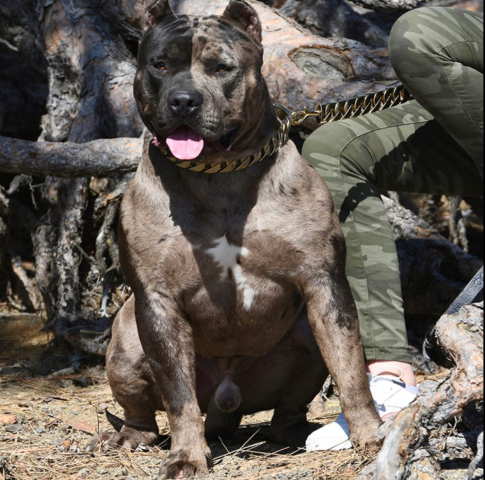 Image of Phantom; World's famous Split-faced American Bully Dog.
Swagkennels is home to American Bullies of different breeds and colors. This BBB certified dog facility has been in the business of breeding and selling XL and XXL American Bully dogs with amazing qualities for many years now.
Swagkennels is known to be patronized by several stars from NFL, NBA and even media personalities. They have some of the most outstanding American bully dogs and Pitbull puppies under their wings.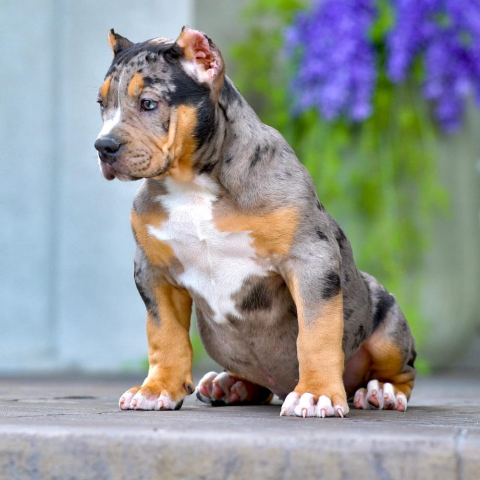 Image of a Swagkennel's American bully Puppy.
However, none of these dogs compare to the beauty and uniqueness of Phantom, the split-faced bully dog. Swagkennels owner, Yulia, has boasted about Phantom on several occasions. "With Phantom, we did what no one has done before", Yulia says in a 2020 interview.
Swagkennels owner is determined not to sell this split-faced beauty. In 2020, Yulia rejected the offer made by a famous rapper to purchase Phantom for the price of $500,000. The owner announced that no amount offered to him would be enough to sell the famous split-faced dog.
Swagkennels owner recently revealed his intention to breed the famous split-faced American bully dog. He hopes to produce more American bullies that are similar to phantom and possibly put them out for sale.
Phantom's legacy would live on, and his off-springs might eventually grace the spotlight someday. This unique Black Merle dog remains in a top-rated facility owned by Swagkennels and would continue to do so for an indefinite period of time.
To access more information about Phantom, the famous split-faced bully dog, visit www.swagkennels.com or check out their Instagram page @swagkennels.
Media Contact
Company Name: Swag Kennels inc
Contact Person: Media Relations
Email: Send Email
Phone: 206-250-1917
Country: United States
Website: www.Swagkennels.com