KhulaRae is an American Alternative Pop Duo & partners in love & life. Their latest single and music video "ALL WE NEED" is exactly what the world needs right now in order to keep us focused on the light instead of succumbing to the darkness. Everything you hear is 100% KhulaRae, but their video is a collaboration with some of industry's top dancers, choreographers, and creatives to date.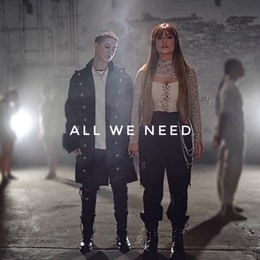 Sara (Khula) and Natalie (Rae) have been dealt some difficult cards in the last few years (Sara being diagnosed with cancer and beating it back, loosing of family members, loss of job, mental stress, & fighting depression), but through it all their soul mission has always been to create music to help people heal & feel a little less alone in the world.
The single & music video "All We Need" starts out in a dark isolated space filled with only a slight ray of hope. As the track/video starts to unfold, the heaviness of life becomes apparent as sides are quickly drawn (us vs them, family vs family, friends vs friends). The battle to survive escalates (played out in dance form). It's clear that isolation, contradiction, & mostly fear blind all forms of rational. It seems like all hope is lost, but somehow the light of faith brings back the hope & love that we all so desperately crave. As the end nears, you are left with hope & a sense of community within humanity, making it feel like we are all part of something so much bigger & more beautiful than ourselves.
For More Information Please Contact:
N. Barone
603 Seagaze Drive, #838
Oceanside, CA 92054
khularae@gmail.com
858-361-2169
https://khularae.com
Media Contact
Company Name: KhulaRae
Contact Person: N. Barone
Email: press@3000records.com
Phone: 858-361-2169
City: Oceanside
State: CA
Country: United States
Website: https://khularae.com