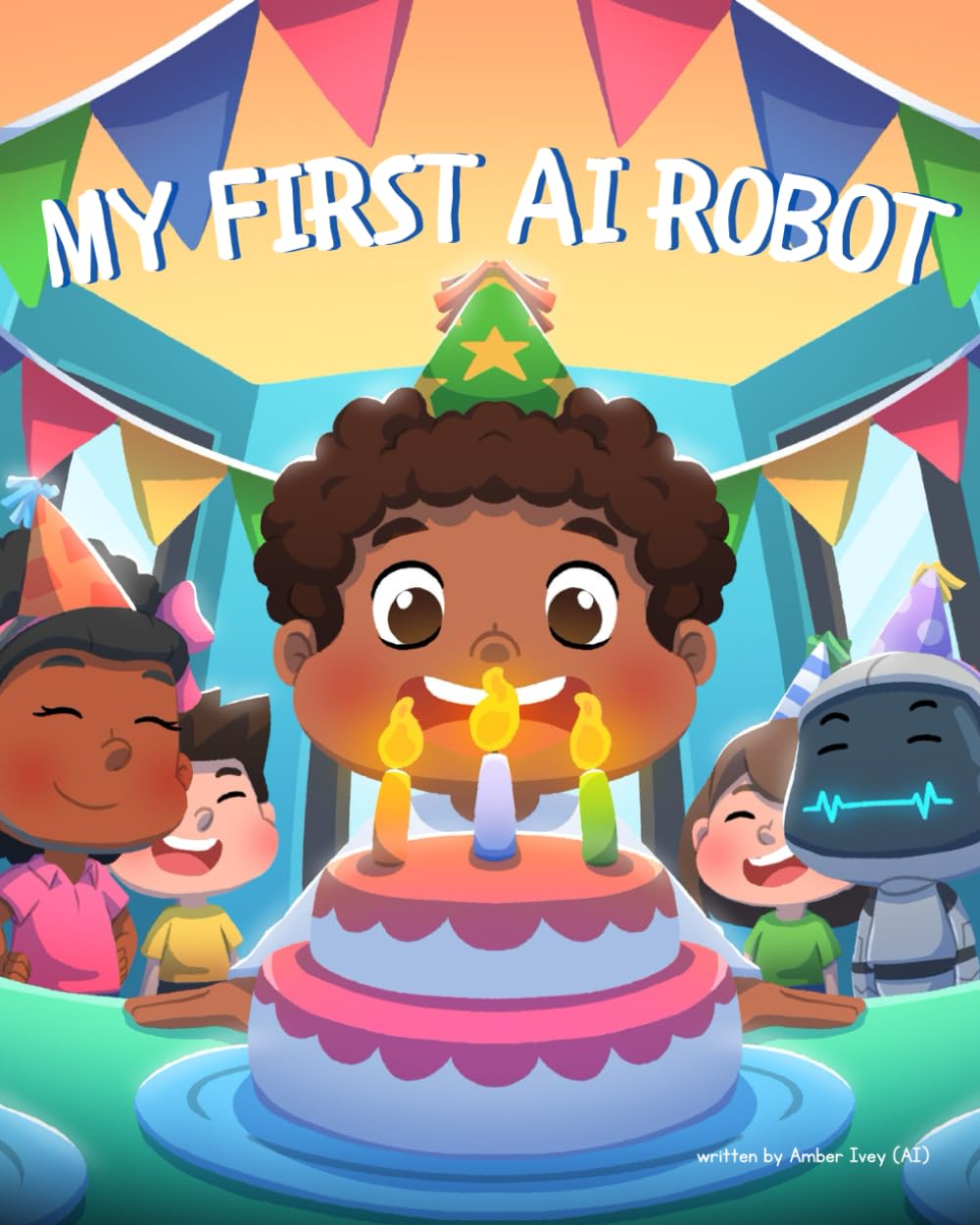 Discover the world of artificial intelligence through the eyes of a curious AI robot
Author Amber Ivey is pleased to announce the release of My First AI Robot, the latest addition to the AiDigiTales series. This captivating children's book presents the concept of artificial intelligence in a way that is accessible and engaging for young readers.
In AI… Meets… AI, the first book of the AiDigiTales Series, readers were introduced to Jaz, the curious AI robot, and witnessed its first encounter with the outside world under the guidance of Addy. Now, in My First AI Robot, we dive deeper into the story as we join Jaz at Nolan's birthday party at Addy's house.
Through vibrant illustrations and an engaging narrative, young readers will:
Experience the wonder and excitement of a birthday party from Jaz's unique perspective.
Witness the deepening bond between Nolan, Addy, and Jaz.
Explore the world of AI as Jaz interacts with humans in various ways.
My First AI Robot offers an in-depth look at the heartwarming moments that were hinted at in the original story. This book is ideal for children aged 3-5 and enhances the adventure, making the journey with Nolan, Addy, and Jaz even more memorable.
About the Author:
Amber Ivey, also known as "AI," is an accomplished public sector leader, author, and innovator. Currently serving as Vice President at a non-profit, Amber leads a team that assists governments in driving impact. She has a track record of utilizing data to enhance decision-making and improve service delivery in her previous roles at the Bloomberg Philanthropies Center for Government Excellence at Johns Hopkins University and The Pew Charitable Trust. Amber is also the founder of Ivey Collective and co-founder of AuraSense, where she offers data-driven solutions to public sector organizations and works to provide equitable healthcare through innovative technology. Her commitment to enlightening a wider audience about data, technology, and law led to the creation and hosting of the AI: Decodes the System podcast and the authorship of the children's book AI… Meets… AI. Amber's career exemplifies her dedication to fostering a culture of data literacy and her vision of a technology-driven future.
My First AI Robot is available for purchase on the AiDigiTales website at http://www.aidigitales.com and on Amazon at https://www.amazon.com/First-Robot-AiDigiTales-Artificial-Intelligence/dp/B0CMJF5WTQ.
About AiDigiTales:
AiDigiTales, a project under the Ivey Collective, is dedicated to creating educational and engaging content that introduces children to the fascinating world of artificial intelligence. Through beautifully illustrated stories, AiDigiTales aims to inspire curiosity and spark interest in the young minds of tomorrow.
Media Contact
Company Name: BookBuzz
Contact Person: Amanda – PR Manager
Email: Send Email
Phone: 7065098422
City: New York
State: NY
Country: United States
Website: https://www.bookbuzz.net