Brooklyn, NY – December 20, 2019 – A good pair of socks brings warmth, comfort and safety throughout the day. Alpha Outdoors, the makers of the innovative, 7-in-1 Alpha Socks, has announced the Kickstarter campaign for mainstreaming this ultimate, merino wool and copper blended product.
Alpha Socks have been designed to present the most advanced, safe and durable socks of today. Meant for any situation, whether home, office or outdoors, the socks are engineered with Alpha CopperX technology, maintain an optimal feet temperature, and are built to last.
"The Alpha Socks provides you with maximum strength, comfort and protection. From the trails to asphalt, these socks are perfect for anyone," says Matt Brotman, Founder, Alpha Outdoors.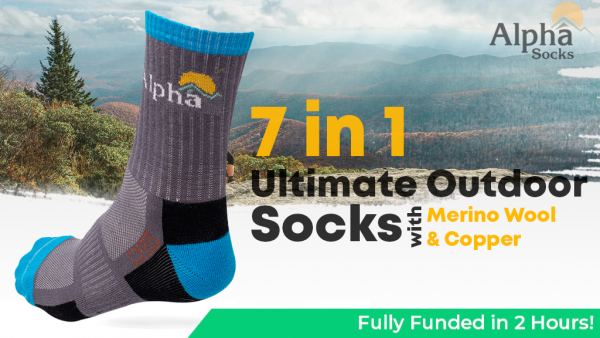 Alpha CopperX is a flagship technology deployed in Alpha socks. The base material, merino wool, is blended with a copper compound for maximum protection, comfort and strength. Infusion with copper with an excellent ration of 25% (better than other market varieties and long lasting) adds excellent anti-odor and anti-microbial power to merino wool.
The Tri-flex zones and cushion regions give Alpha socks longer lives. The zones are made with close-knit material and placed at regions that tend to stretch the most, thus withstanding highest or irregular pressure and giving the socks longer life. The three cushion zones are placed around the heels, sole and the arches. They offer protection against the footwear, relieve stress on the arches and reduce impact during walking or running.
Alpha Socks are made with breathable Merino wool sourced from France. The socks offer anti-odor and anti-microbial action, with tough construct stitching and moisture wicking to keep the skin dry. The socks are available in three colors: Appalachian Blue, Catskill Blue, and Ranger Green.
Made with sustainable and environment-friendly processes, Alpha socks carry a five-year warranty and 100% shipping is guaranteed.
To fund Alpha Socks and receive attractive perks and discounts, please visit: https://www.kickstarter.com/projects/alphasocks/alpha-socks-the-ultimate-merino-wool-copper-outdoor-socks
Media Contact
Company Name: Alpha Outdoors
Contact Person: Matt Brotman
Email: Send Email
Phone: ?(516) 450-5840??
City: Brooklyn
State: NY
Country: United States
Website: https://www.kickstarter.com/projects/alphasocks/alpha-socks-the-ultimate-merino-wool-copper-outdoor-socks