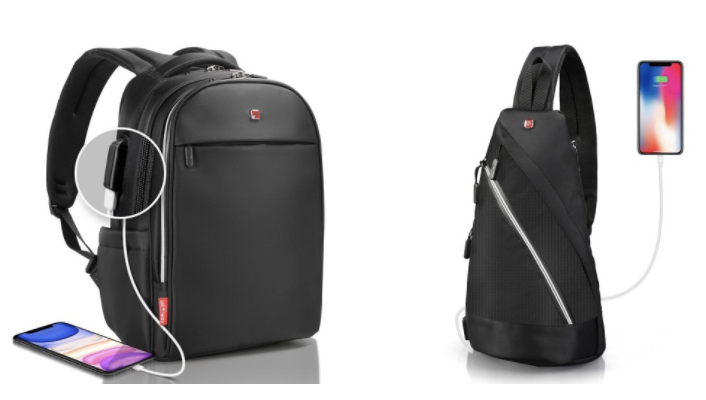 So far, the product has proved its usefulness as a college backpack, sling bag, and laptop backpack. Customers are absolutely loving the fact that it is suitable for travel, work, business, and study.
Kanton St. Gallen, Switzerland – Now on its second model, the All4way backpack has been receiving a plethora of rave reviews and is well on the way to becoming Europe's most sought-after everyday-bag. It is useful as a laptop backpack, sling bag, and college backpack for students. Business people and office workers have also found the All4Way backpacks to be extremely useful.
The All4Way backpack got incredibly popular among a wide range of users due to its unique style, extensive functionality, and reliability. The bag comes with several features and functions that promote safety, comfort, and personal security. Some of the features that make this All4Way backpack a must-have are the comfortable padded straps, pockets for power banks and phone charging, RIFD blocking shield, rain cover, anti-theft, and so on. The pockets on the backpack are designed to help users store way valuable like glasses, tickets, and credit cards, securely. it also allows for easy retrieval of these items when necessary.
To learn more, please visit here.
With the world in an era of possibilities, people have to move around often. The current COVID-19 pandemic has amped the need to pack adequately and safely when one has to make a journey, short or long. Young people, especially, want to explore the world, see new places, meet people, and network, even while they work. Laptops are essential for almost any kind of work but carrying them around can be quite challenging. The All4way brand of college backpacks, sling, bags, and laptop backpacks was created to cater to all of these needs. The brand was established by a team of young professionals who appreciate and relate to the current need for convenience, style, and functionality in everyday bags.
The All4Way backpack spots a Swiss design with minimalistic styling and original craftsmanship. It is evidently good for business activities, travel, work, and study. It is recommended for all genders and peoples. The RFID sleeves ensure personal safety and security for credit cards and IDs, along with a reflective zipper and anti-theft 2-way dual zippers. The anti-scratch nylon day pack and shockproof features ensure durability, while the airflow system and padded adjustable S-shape makes it comfortable to wear. With the all4way college backpack, it's easy to remain organized. It comes with laptop sleeves and a compartment for storing tablets and phones. There is also a key organizer, pockets for an umbrella, and a side water bottle carrier.
The All4Way brand also has in stock a sling bag, which is perfect for travel and keeping items safe and secure while on the go. The lightweight bag is shockproof, waterproof, and good for airplanes, outdoor activities, sports, and so on.
The product is available in the US and in Europe, accessible on Amazon listings and the brand's official website – www.all4way.com.
YouTube: https://www.youtube.com/channel/UCTkqTvYDilv9w2xSWKLEqpw/featured.
Media Contact
Company Name: ALL4WAY
Contact Person: Sophia
Email: Send Email
City: Kanton St. Gallen
Country: Switzerland
Website: https://www.all4way.com