What better way to celebrate Black History Month than to commemorate the first ever black professional baseball player with an amazing night of great comedy, food and fashion? Bud Fowler (1858-1913), who is soon to be inducted in the baseball hall of fame, will be memorialized in a special event in scenic upstate New York on February 26. New York State Arts Bank, an iconic 100-year-old building which at one time printed money for the U.S. government, has now been repurposed as a multi-faceted entertainment space presenting a myriad of art forms including painting, comedy, dance, theatre, fashion and visual and digital art—truly an arts and entertainment venue of the people, by the people, and for the people.
Located in Fort Plain, New York, the city of Bud Fowler's birth, the building will stand as a memorial honoring his legendary accomplishments in baseball, and as an event space that will continue to promote his achievements through special events.
This date also marks the debut of two significant works of art. In addition to the artwork featuring Bud Fowler's likeness, another piece of art depicts Thurman Munson, the Yankees catcher whose untimely death at age 32 shocked the baseball community. Both were designed by Alan Action and Lawrence Liseo. These two 18 x 24" posters are hand-drawn digital renditions being offered in a limited, 1,000-print edition, and hand signed by both artists.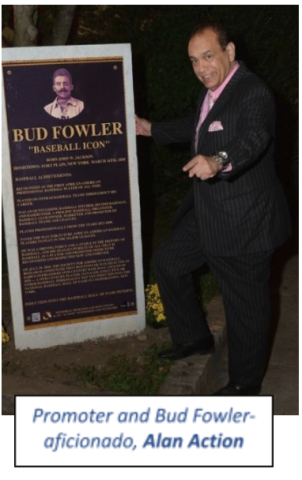 The art will be on display at the New York State Arts bank, 33 Canal St., Fort Plain, NY., on February 26th, and New York composer S.C. Static will perform a live rendition of his song "Ode to Bud," commemorating Black History Month and the importance of Bud Fowler to Black American history. The song, co-produced by Alan Action and S.C. Static, documents Fowler's life, trials and tribulations. Alan Action is well known as an equity share partner of Dangerfield's in New York City, and has partnered with Black American Designer XXCARI fashion. Now, his latest event will include a comedy show, featuring NYC headline comedians Tony Rogers, Twon Wood and Vernon Payne. The event will not only honor Bud, but will bring special meaning to the promotion of other black artists, and diverse performers at a unique, positive venue.
Tickets for the 6-11 p.m. event are free, but are limited to the first 200 respondents. You must register at alanactioncastingatthebank.eventbrite.com. The Comedy show begins at 8:00. Complimentary food and both alcoholic and non-alcoholic beverages will be served.
For more information, call or text 24/7 at 516.473-8399 or go to Nysab.org
Media Contact
Company Name: NYSAB
Contact Person: Alan Action Schneider
Email: Send Email
Phone: 516 473 8399
Country: United States
Website: NYSAB.ORG