AI can also be used to make customized offers to specific customers based on their past behaviors. These personalized recommendations will lead to an increase in revenue.
Artificial intelligence (AI) is expected to disrupt the financial industry, causing many to wonder what banking will be like in five years. This post is going to contemplate the most likely occurrences that result from AI's introduction to the financial industry.
Stronger Fraud Prevention Methods
AI offers greater security to customers than outdated fraud prevention measures ever could. This advanced technology is better equipped to determine when an unauthorized person is using a credit card or has hacked into an account.
Here is what makes AI so effective in this crucial role:
Instead of analyzing past trends to detect fraud, AI takes new trends and suspicious behaviors into account, making the system more alert to all possibilities of fraud.
Real-time analysis reduces the length of time between malicious acts and fraud detection.
AI can spot less-obvious instances of fraud that would be missed by rule-based systems that contain manually written scenarios.

Predictive Analytics Will be Used to Provide Personalized Customer Service
According to Deltec Bank, Bahamas- "AI, data mining, and machine learning team up to predict future events based on past and current circumstances. Although predictive analytics doesn't always provide accurate projections, it can be a very useful tool for both banks and customers."
The need to stand out from competitors may prompt banks to use predictive analytics in order to keep their current customers happy while attracting new ones. This technology can be used to offer personalized services that are more secure, keeping customers satisfied and preventing them from switching to competitors.
Here are a few examples of what predictive analytics will be used for:
Credit Scoring
Budgeting
Fighting Fraud
Managing Finances
Loan Approvals
Investment Strategies
AI can also be used to make customized offers to specific customers based on their past behaviors. These personalized recommendations will lead to an increase in revenue.
It has also been suggested by Marmuzevich Alexander, CTO of InDataLabs, that predictive analytics could become "quite a separate business." Alexander pointed out that, "banks that own customer processing data can afford to sell predictions of customer behavior."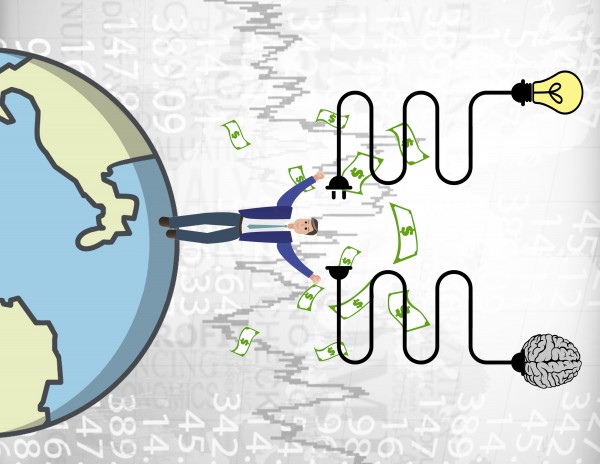 Improved Human Resources Department
Being in charge of finding and hiring the most qualified candidates is quite a challenging job that sucks up a tremendous amount of time. This job is no less difficult in the financial industry. And after hiring the perfect candidate, there is still the onboarding process to go through.
With AI, it doesn't have to be this way. Many HR-related responsibilities can be covered by technology. Instead of putting a human in charge of scheduling shifts and trying to make it work for everyone involved, AI can do this quickly without any hassle. AI can also take over-reporting, onboarding, tracking overtime, and leave management.
More Banking Chatbots
AI chatbots are starting to make their way into the banking world. Banks that want to get ahead of the competition are looking to implement this useful technology. Chatbots benefits banks and employees by:
Providing 24/7 customer support;
Offering quicker resolutions for customers who have questions or problems;
Giving employees more time to focus on growth-promoting tasks;
Allowing customers to easily check account balances and pay bills.
Although chatbots don't have a 100% success rate when it comes to solving issues, they are getting better all the time. It won't be long before most customer inquires can be handled without any assistance from human agents.
Increased Reliance on Digital Marketing
We all know that banks don't have a reputation for innovation. However, these financial institutions are finally realizing the need to embrace technology. Instead of using old-fashioned marketing strategies, banks are now turning to AI.
Here are just a few examples of what marketers are doing with AI:
Learning how to attract the bank's target market;
Creating content for banking websites;
Lead scoring;
Ad targeting.
Although the full extent of AI's impact on banking has yet to be seen, we can be certain it will shake up the financial industry quite a bit. If used the right way, these changes will help banks thrive in the upcoming years.
Disclaimer: The author of this text, Robin Trehan, has an undergraduate degree in Economics, Masters in international business and finance and MBA in electronic business. Trehan is Senior VP at Deltec International www.deltecbank.com. The views, thoughts, and opinions expressed in this text are solely the views of the author, and not necessarily reflecting the views of Deltec International Group, its subsidiaries and/or employees.
About Deltec Bank
Headquartered in The Bahamas, Deltec is an independent financial services group that delivers bespoke solutions to meet clients' unique needs. The Deltec group of companies includes Deltec Bank & Trust Limited, Deltec Fund Services Limited, and Deltec Investment Advisers Limited, Deltec Securities Ltd. and Long Cay Captive Management.
Media Contact
Company Name: Deltec International Group
Contact Person: Media Manager
Email: Send Email
Phone: 242 302 4100
Country: Bahamas
Website: https://www.deltecbank.com/