The Harvard Business Council (HBC) is delighted to announce the exceptional success of AD Ports Group (at the highly anticipated HBC 2023 International Awards ceremony. This prestigious event, partnered with Abu Dhabi Police GHQ and sponsored by Cerebri as the HBC Platinum Sponsor, took place on 29th May at the Conrad Abu Dhabi Etihad Towers, bringing together prominent organizations and personalities from the MENA region. It marked a momentous occasion in the business world, with its first-ever in-person ceremony held outside the USA.
The HBC 2023 International Awards, which commenced on 16th January, garnered an overwhelming response with over 2000 applications from organizations worldwide. However, following an arduous evaluation process by the esteemed HBC Jury, only 13 nominees emerged as winners. AD Ports Group demonstrated its industry-leading prowess by impressively capturing seven awards, solidifying its unwavering commitment to excellence and innovation.
Among the notable accolades secured by AD Ports Group is the HBC Project Award, which recognizes their exceptional contributions to the significant Shamal Project: Construction of a New Container Terminal, for which they were honored at the Gold level. This recognition underscores AD Ports Group's dedication to delivering impactful initiatives that drive progress within the industry.
In addition, Saif Al Mazrouei, CEO of the Ports Cluster of AD Ports Group, received the prestigious HBC Executive Diamond Award. This remarkable distinction highlights Mr. Al Mazrouei's exemplary leadership and visionary contributions to the industry.
Furthermore, AD Ports Group demonstrated its excellence in the HBC Professional Award category, with Mr. Noor Jahangir Memon, Senior Manager Projects Development and Mr. Adeeb Alkatheeri, Supervisor – Port Facility Security – Ports, both working at the Ports Cluster, being recognized for their outstanding achievements. Mr. Memon has bestowed the title of HBC 2023 Professional Diamond Award winner, while Mr. Alkatheeri was honored as the HBC 2023 Professional Gold Award winner.
AD Ports Group's unwavering commitment to workplace well-being and security was also acknowledged through the HBC Occupational Health & Safety Award. OFCO Offshore Logistics & Support, a division of AD Ports Group's Maritime Cluster, was crowned the HBC 2023 Occupational Health & Safety Award, affirming their dedication to maintaining a safe and secure work environment.
AD Ports Group also achieved great success in the HBC Startup Award category, with their division, OFCO Offshore Logistics & Support, emerging as the HBC 2023 Startup Gold Award winner. This recognition highlights their entrepreneurial spirit and innovative approach to business.
Furthermore, the Maritime Cluster of AD Ports Group was honored as the HBC 2023 Organizational Diamond Award winner, showcasing their exceptional organizational leadership and management within the industry.
About AD Ports Group:
Established in 2006, AD Ports Group today serves as one of the world's premier facilitators of logistics, industry, and trade, as well as a bridge linking Abu Dhabi to the world. Listed on the Abu Dhabi Securities Exchange (ADX: ADPORTS), AD Ports Group's vertically integrated business approach has proven instrumental in driving the emirate's economic development over the past decade.
Operating several clusters covering Ports, Economic Cities & Free Zones, Maritime, Logistics, and Digital, AD Ports Group's portfolio comprises 10 ports and terminals, and more than 550 square kilometres of economic zones within KEZAD, the largest integrated trade, logistics, and industrial business grouping in the Middle East.
AD Ports Group is rated A+ by S&P and A+ Outlook Stable by Fitch.
About the HBC:
The Harvard Business Council is a renowned international organization dedicated to promoting excellence in business leadership and management. Through its various initiatives and events, HBC provides a platform for knowledge exchange, networking, and recognition of exceptional achievements within the global business community.
Media Links:
For more information, please visit: adportsgroup.com
Follow AD Ports Group on:
LinkedIn: https://www.linkedin.com/company/adportsgroup
Instagram: https://instagram.com/adportsgroup
Facebook: https://www.facebook.com/adportsgroup
Twitter: https://twitter.com/adportsgroup
YouTube: https://www.youtube.com/c/adportsgroup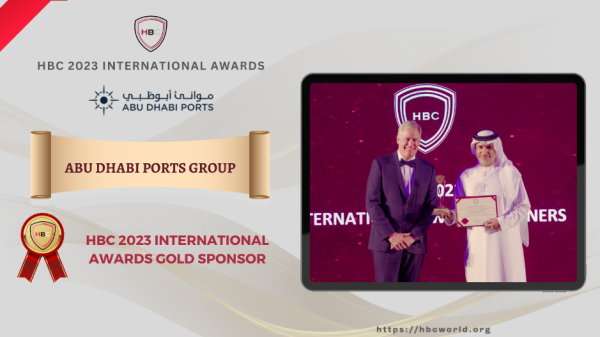 Media Contact
Company Name: HBC International Award
Contact Person: Michael Fathi
Email: Send Email
Country: United States
Website: https://hbcworld.org/