Ziggyblue's latest single is a beautifully composed and gracefully delivered collaboration with fast-rising star Julian Robertson, which offers music lovers a groovy tune for the summer
Founder of Wahkeno Music Co., Ziggyblue is thrilled to announce the release of a new single titled "A Picture" which features talented rapper Julian Robertson. The new song serves as a provocative entanglement coming from the amazing Ziggyblue and the Wahkeno Music Co. Ziggyblue is noted for his perfect music production ability and with Julian's exceptional prowess in making sexy and soulful music, fans can be sure they would vibe to "A Picture" for a long time.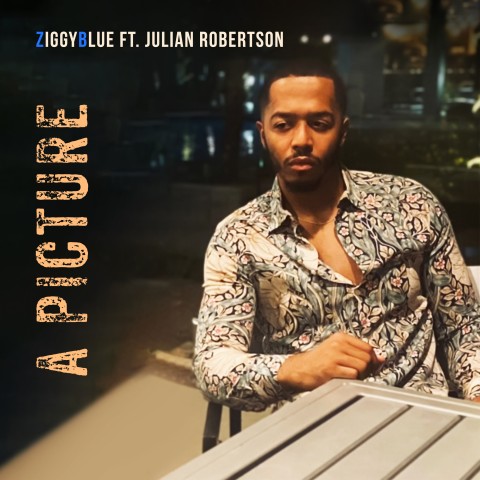 "Every day, you find a new song coming up the charts," said Ziggyblue ahead of the release of 'A Picture.' "Some of these tracks are commendable but many of the artists you find today are solely interested in the money and recognition. That's not the mentality I have. I am after the making and production of music that connects to the souls of music lovers and appeals to fans. Something they can easily relate to, that touches their heart, and is delivered with premium quality. That's what I and Julian have done with this new track."
Ziggyblue is not a newcomer to the entertainment industry in the United States. He has been on the music scene for the past two decades providing soundscapes and musical backdrops for music artists, film/TV advertising, and album projects while giving fans pieces of his talent as a songwriter and composer. Specializing in sound engineering, mixing and music production, Ziggyblue has turned the Wahkeno Music Co. to a premier destination for labels and independent artists alike—providing them with expert assistance on all projects large or small.
Julian Robertson has become one of his fans' favorites, dazzling them with his lyrical prowess and resonant rap skills. His goal is to motivate and uplift people globally through lyricism and topics of relevance, meaningfulness, thought-provoking perspectives, and authenticity. Ziggyblue decided to put him on their new track "A Picture" where he brings the same level of quality listeners have come to expect from him. He proves he is more than just a rapper but an artist who can make quality music.
A Picture will be released on July 30 across all digital music streaming platforms and Ziggyblue assures fans of nothing short of the best in terms of lyrical delivery and production.
For more information, please visit www.ziggyblue.net.
About Wahkeno Music Co.
Wahkeno Music Co. is a full-service music production company made up of composer and producer Ziggyblue and a team of professional engineers, producers and songwriters offering high-quality sound engineering, mixing, and music production services to labels and artists. The company is led by Ziggyblue, a music composer, producer, artist, and entrepreneur. To learn more about Wahkeno Music Co., their services, and their works, please visit www.ziggyblue.net/about-us.
About Julian Robertson
Julian Robertson is a Hip-Hop/MC artist from the south side of Chicago. Being an artist wasn't necessarily always the plan; however, Julian has always been around the music environment. Initially, he was on the path of playing basketball, playing the sport from 5 years old until his junior year in college (attended Eastern Illinois University). Officially, the beginning of his music journey started in 2019 when his cousin Senecca Cordell (also an artist) told Julian he should consider taking rapping seriously, after hearing a few freestyles from Julian and being impressed by the lyricism.
Media Contact
Company Name: Wahkeno Music Co.
Contact Person: David Watkins
Email: Send Email
Country: United States
Website: https://www.ziggyblue.net/