Abu Dhabi Police GHQ (ADPGHQ) and Harvard Business Council (HBC) have entered into a groundbreaking collaboration agreement to foster cooperation in business excellence. This partnership aims to develop an innovative framework called the Intelligent Sustainable Excellence (ISE), based on the value chain principles, artificial intelligence, and business excellence requirements.
The agreement was officially signed by Brigadier Khalfan Al Mansoori, Director of Abu Dhabi Police GHQ Strategy and Organizational Development Center, and Mr. Steve Hardig, Managing Director of HBC, during the prestigious 2023 HBC International Awards Ceremony. This momentous occasion also marked the presentation of the Special Recognition Medal to ADPGHQ, honoring them as the guardians of Abu Dhabi's illustrious reputation as "The Safest City in the World" for an impressive span of seven years.
Under this agreement, HBC will support ADPGHQ in developing the ISE framework, leveraging cutting-edge technology and innovative approaches to drive business success and excellence. HBC's expertise lies in utilizing statistical capabilities and applying best practices and scientific methodologies for data integration through advanced solutions, eliminating the need for surveys and opinion polls.
ADPGHQ will be empowered to dynamically shape and publish the next generation of business excellence practices, adhering to approved methodologies, standards, and dissemination calendar, ensuring the delivery of high-quality services in a timely manner.
Brigadier Al Mansoori emphasized the significance of this agreement, highlighting the importance of embracing new concepts of business excellence that adapt to rapid changes. The dynamic frameworks enabled by the ISE model will foster an advanced organizational ecosystem, enhancing service quality and work standards in Abu Dhabi while adhering to international best practices.
He further stated, "This agreement will assist Abu Dhabi GHQ in achieving higher levels of organizational excellence maturity, meeting user needs, supporting policy and decision-makers in forecasting the future, and accomplishing the goals of sustainable development plans across the Emirate of Abu Dhabi."
Mr. Hardig expressed his satisfaction with the agreement, stating, "We are delighted to collaborate with ADPGHQ as this agreement will facilitate the implementation of a dynamic excellence model, aiding decision-making, research studies, and planning based on modern AI analytics. We aim to launch this model on a global scale."
The signing of this agreement marks a crucial milestone for HBC as they work towards developing an advanced excellence ecosystem that leverages artificial intelligence, value chain principles, and business excellence requirements to achieve the highest business sustainability standards.
About the HBC:
The Harvard Business Council is a renowned international organization dedicated to promoting excellence in business leadership and management. Through its various initiatives and events, HBC provides a platform for knowledge exchange, networking, and recognition of exceptional achievements within the global business community.
Media Links:
https://es.adpolice.gov.ae/TrafficServices/Default.aspx?Culture=ar
https://www.linkedin.com/company/adpolicehq/?originalSubdomain=ae
https://www.instagram.com/adpolicehq/?hl=en
https://www.facebook.com/ADPoliceHQ/
https://twitter.com/ADPoliceHQ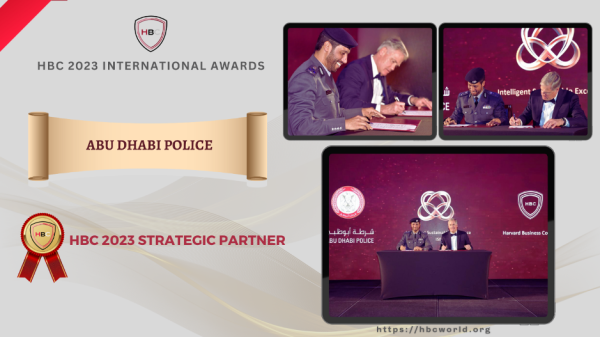 Media Contact
Company Name: HBC International Award
Contact Person: Michael Fathi
Email: Send Email
Country: United States
Website: https://hbcworld.org/