ABCMETA is now listed on CoinMarketCap (CMC) and joins as the first UGM (User Generated Metaverse) application-based metaverse in market.
Users can customize their own Web3 ID, create decentralized community-created collection, build their own DAO, and realize metaverse revenue by participating in land auction, Bid-to-Earn, NFT trading, NFT creating , land staking, adding USDA liquidity and other coming modes.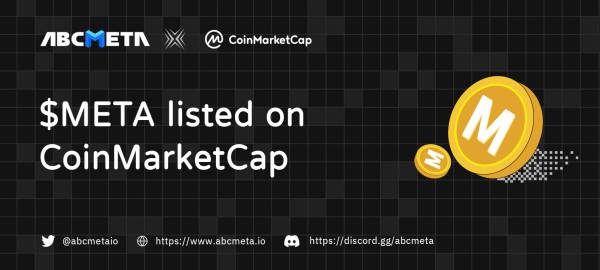 META Airdrop
After you hold the PASS of ABCMETA random airdrop, you can mint two ABCMETA-ID NFTs for free, and activate your airdrop tasks. You can obtain META airdrop after completing the airdrop task. All the META obtained by the task will enter your airdrop account and be locked. You can unlock META by adding META-USDT liquidity or staking META or check-in on the airdrop page. In short, the greater your contribution value, The more META your wallet gets, the higher the benefits will be. ABCMETA returns the value created by users to users in the form of META.
ABCMETA-ID
ABCMETA-ID, minted with MEME, is the PASS-ID of the Web3 world, and it is also a digital art collection NFT that can unify your wallet address.
Each ABCMETA-ID is unique, provably scarce, non-fungible, and has the characteristics of inheritance, value preservation, and appreciation. It contains a unified Web3 domain name, and you can bind it with your various cryptocurrency addresses, and accept cryptocurrency payments. It also can be traded on NFT platforms.
ABCMETA-LAND
NFT land assets can play their respective carrier roles in the ABCMETA ecology and have the right to share ecological rewards.
Each ABCMETA-LAND has the characteristics of inheritance, value preservation, and appreciation. It can also be traded within the ecosystem or on other NFT platforms. LAND owners will be able to develop their own metaverse applications such as shopping malls, advertising hubs, developing games, etc. Furthermore, LAND owners will likely receive frequent airdrops from other new projects, including potential fungible and non-fungible tokens.
ABCMETA-LAND can be traded on NFT platforms.
AvatarBay
As the star app on ABCMETA, AvatarBay, the "NFT creation board" developed by AvatarBay Lab from Australia and ABCMETA.io, allows users to create unparalleled NFTs in 30 seconds and seamlessly sync them to the OpenSea marketplace. It also allows users to sell their NFTs through AvatarBay's first fixed-rate sale method, which allows 95% of NFT creations to be sold within 24 hours!
AvatarBay, proses a groundbreaking idea – Decentralized Community Creation. It will launch an interesting social experiment to see the impact of a decentralized community, as it is completely governed and operated by the community. It is a completely decentralized autonomous organization.
Community-created Collection
"Decentralized community-created collection" is a collection model initiated by ABCMETA.The core idea of this model is that each work in the collection is created by community users.Users can create and sell works for their favorite Co-creation collection.
Business Marketing Collection
Business marketing collection is a decentralized community-created collection created for the purpose of promoting business brands and expanding brand influence.
ABCMETA will provide business users with innovative marketing methods and allow them to interact with users with the most cutting-edge innovative technologies.
META Unlock and Rewards
Users can unlock their META and get additional rewards through daily check-in, adding liquidity, staking META, staking land, etc.
Decentralized Auction
DAUCTION–Every Bid will be listed on the Polygon (Ethereum Layer 2 network) in real-time and the innovative gameplay will allow users to bid for high-value cryptocurrencies such as Bitcoin and Ethereum at a low price. Users can view the bidding status of each bid in real-time on the blockchain browse.
DAO Platform
As ABCMETA land owners, they can participate in the management of the platform through ABCMETA's Decentralized Autonomous Organization (DAO), a truly autonomous organization (DAO) that will be created where they can exercise their voting rights on key decisions, also participate in the joint found of ABCMETA's unique ecosystem.
CoinMarketCap
"CoinMarketCap is the world's most-referenced price-tracking website for cryptoassets in the rapidly growing cryptocurrency space. Its mission is to make crypto discoverable and efficient globally by empowering retail users with unbiased, high quality and accurate information for drawing their own informed conclusions." – CoinMarketCap
ABCMETA aims to link the reality and the virtual, attracting cryptocurrency and non-cryptocurrency metaverse enthusiasts by offering the advantages of Real ownership, Digital scarcity, Monetization Capabilities and Interoperability.
ABCMETA on CMC: https://coinmarketcap.com/community/profile/ABCMETA
META on CMC: https://coinmarketcap.com/currencies/abcmeta/
Media Contact
Company Name: ABCMETA.io
Contact Person: Thomas
Email: Send Email
Phone: 61466978666
Country: Australia
Website: www.abcmeta.io