Baltimore, MD – April 10, 2020 – Local business owner Dianna Byers created a stained glass art studio in May of 2019. After just getting on her feet, the COVID-19 pandemic hit. Now her doors are closed and she stays at home sewing masks for those who need them.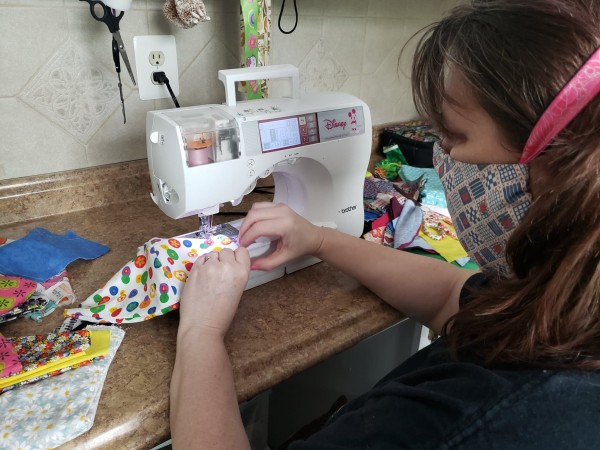 Dianna Byers sits in her kitchen. Seated at her table sewing cloth masks for neighbors, relatives, hospital workers, social workers, and pretty much any one else who needs one. If she can, Dianna custom designs them so they fit well. A lot of care goes into each mask. "I've tried not to have a set price. A few dollars here and there to cover the costs. Some people have even donated materials to me. Some I give away. Pay me what you can."
Dianna is no longer at work like many of us. But Dianna doesn't get to apply for unemployment. Matter of fact she might have been better off if she had a 9 to 5 and lost it. As the months go by the bills soar. Dianna is one of our own local business owners. As many small business owners are finding out the bills just keep coming.
And a wonderful unique business it was. Dianna was the sole owner of Terraza Stained Glass Classes And More. The "and more" added later as the business grew. Terraza Classes is the accumulation of a life's work and love of crafts, art, and gluing things together. Located near the volunteer fire station right in Arbutus. A small town in South West Baltimore County.
Having just spent a good part of her savings on her dream, Dianna took the leap and opened the art studio in Arbutus, Maryland, where people come and can unwind, enjoy life, laugh, and create. Dianna is often heard saying "leave your stress and anxieties at home. We're all about unicorns, rainbows, and kittens. The shop mascot is a Beta fish named Kokomo. He gets regularly uploaded to Facebook so fans can watch Kokomo the fish."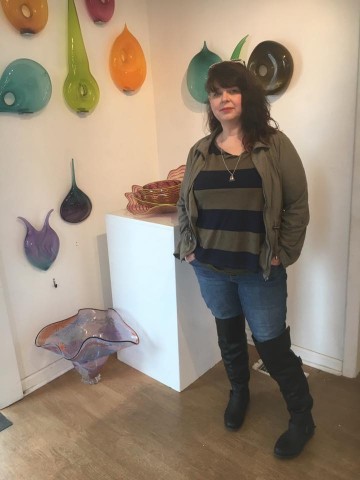 "People come here to make glass art. Stained glass, mosaics, glass fusing, a little painting, a little arbitrage of many crafts." She adds a little comedy, 80s classics, and silly dance all rolled together for a unique happy experience. The most popular piece people make? "Mosaic crab, of course. It's number one. People love Baltimore and crabs. We even travel to other towns and bring the workshops to them."
Building the new business was slow at first. Especially since there was no business models like hers. Dianna cheers "Some of my friends pitched in some time and elbow grease during the building phase. My husband Steve hand built the work benches. We hang out and make artwork all day." Dianna even had her mom come in to teach a crochet class.
Not making a profit at first but then, it began to grow. First a few more here and there, but then they started coming. Many from far away. They came in couples… They came with families… They came with friends. They brought their wedding parties. They brought their moms, kids, and partners.
They all came together to make art, laugh, and learn. And quite a diverse crowd it was. People from all ages, races, origins, social classes. "We have had rock and roll bands, roller derby girls, firefighters, old, young, LGTBQ, you name it. We all hang out. One big happy family." Dianna is a big fan of equality.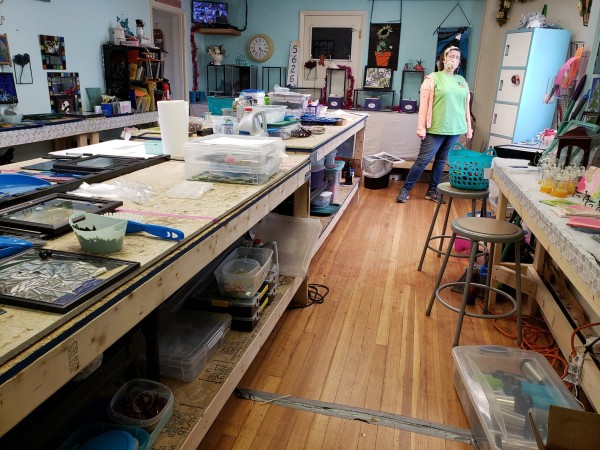 In stark contrast, there's no laughter and art there any more. The shop is dark. The lot is empty. " We had to go raid my shop for toilet paper and cleaning supplies. As I stood in the quiet darkness that was just several weeks ago filled joy and laughter, I locked up in tears" So Dianna does all that she can do. While waiting and watching as history unfolds a pandemic that shook the world. She sews.
Dianna started learning stained glass as an art form 5 years back. It all started with a gift certificate for a beginner class at Terraza Stained Glass, owned by Donna Terraza in downtown Baltimore. Right away she had to sign up for another class then another. After developing the skills of both old world restoration and modern design, Dianna soon started working for Terraza. Donna Terraza and Dianna became good friends.
Dianna worked many huge projects. She even has one of her creations hanging in the Walter's Art Museum. They commissioned her for a piece to be featured at the family center in the Walter's. It's a skyscape of the Baltimore skyline in glass. Titled simply "Donna's Sky" after her good friend and mentor. After some time Dianna decided to start her own studio. While Terraza in Baltimore focused on restoration and custom orders, Terraza Classes, a sister company, wanted to focus more on teaching.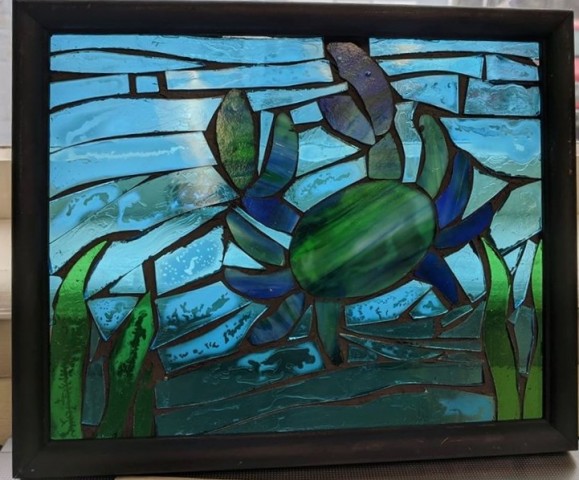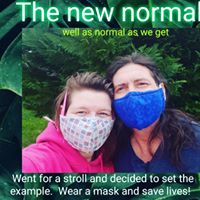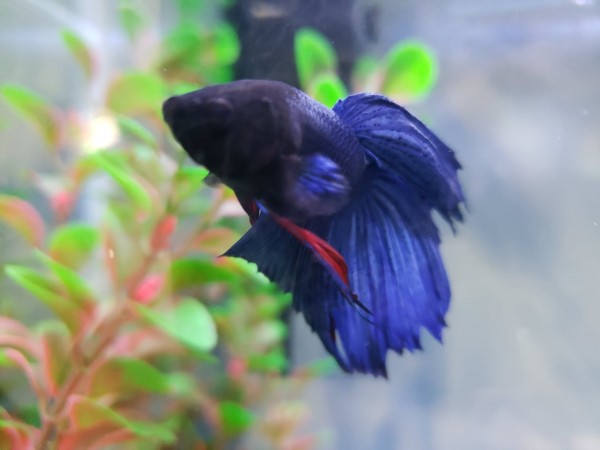 She then saw an opportunity to reach out to the local community. Next she joined several local organizations such as the Greater Arbutus Business Association and participating in several events and art shows. Within a few more short months, Terraza started supporting charities like BARCS animal shelter. Classes continued for weeks with all proceeds going to charity. Noticing several less fortunate families going without at Christmas time, she organized a fundraiser for local residents so every child would receive toys and stockings.
Dianna's sister Karen is nurse at Veterans Hospital. She was recently transferred to an ICU from internal medicine. "Karen works with the sick and dying. She's on the front lines and they don't have enough equipment. Karen had to move out of her own home as to not possibly infect her family members who are at high risk. Dianna's says "No, I'm not a doctor or nurse, and can no way compare to brave front-liners, but there's got to being something I can do. So I'm sewing masks."
Maybe I'll get to open again. I don't thinks bailout funds and small business loans are going to be enough. On top of that I have a daughter in college who lives in an apartment in Chicago, and those bills are adding too. And she doesn't even get to go to class. We're paying for college she can't go to.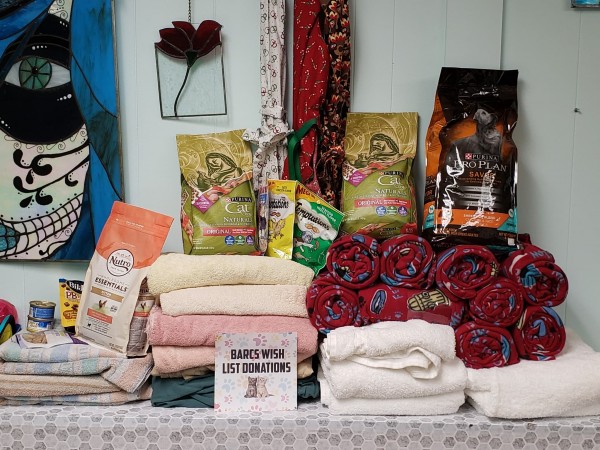 Dianna says her masks are made with 100 percent flannel lined cotton so that wearers can wash and reuse them. They have several layers and suggests fit is important too. I know they're not as good as the N95 masks, but I have people begging me for masks. I now have trouble keeping up with the orders. Dianna adds her artistic flare to masks. Often asking if it's for a man or woman, boy or girl. "Maybe they would feel less conscientious, and wear it more often when it suits them."
"We're all scared, I sometimes can't watch the news. It makes me angry to see some people with an 'O Well' attitude. Most of us are trying real hard, but some are not. They don't cover their faces when coughing and sneezing. The grab and handle everything, without thinking about others. Some people are still going about their business 'la di da' without thinking of all the ramifications of not protecting us all. I just wanna help protect myself and protect others.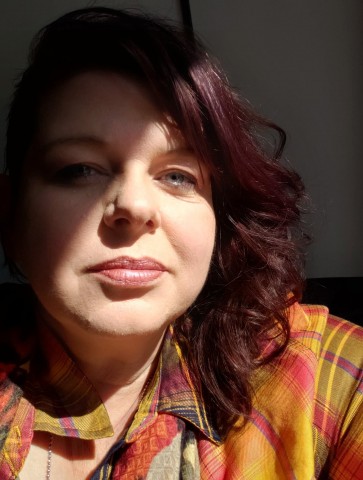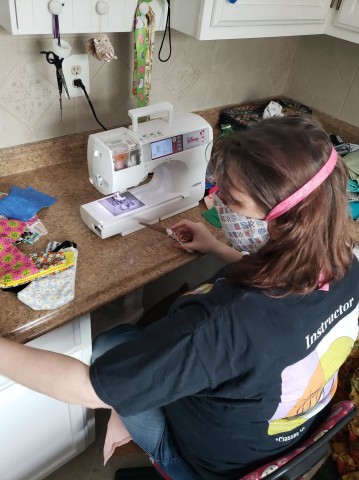 Dianna is keeping her chin up and hoping to be back one day. It is tough making a new business a success. Even tougher if you are struggling artist. Dianna asks for every one to stay in touch by visiting Terraza Stained Glass Classes on Facebook. Send mask request and donations to Facebook messenger:
https://www.facebook.com/Terraza-Stained-Glass-Classes-and-More-403820520216143/.
In the future classes can be booked at the website: http://www.terrazaclasses.com. There you can also visit Kokomo the beta fish and her cats who she refers to as her coworkers. Students and friends are all there to help keep a smile and an ear to bend when needed.
Media Contact
Contact Person: Steven Byers
Email: Send Email
Phone: 240-687-7149
City: Hanover
State: MD 21076
Country: United States
Website: http://www.terrazaclasses.com