WASHINGTON, DC – October 28, 2020 – October is Domestic Violence Awareness Month. "Domestic Violence has evolved from an epidemic to a pandemic, within a pandemic," says Mildred Muhammad.
Global Award-Winning Keynote Speaker and ex-wife of the DC Sniper, Mildred Muhammad, to join Radio One Praise WPRS-FM 104.1 Mid-Day Personality, Cheryl Jackson, for a Heart to Heart conversation; a Virtual Town Hall on Domestic Violence. Mildred Muhammad along with other invited guests to join the Virtual Town Hall on Thursday, October 29, 2020 at 7:00 pm – 8:30 pm EDT via the Praise 104.1 Facebook page and at Praise 104.1 YouTube.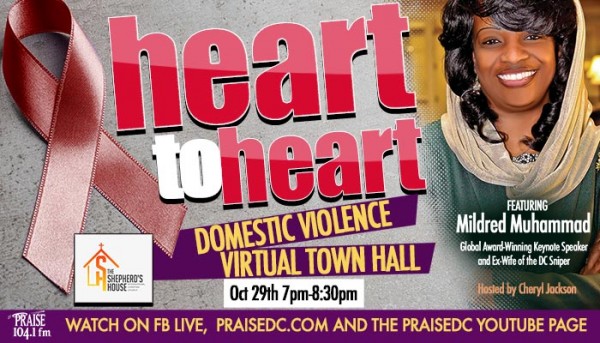 Due to the pandemic, additional time was requested by Mildred Muhammad and granted by Praise WPRS-FM 104.1 so that victims and survivors would have adequate time to ask questions and receive answers. Additionally, Ms. Muhammad requested a secure toll-free phone number for victims and survivors to ask questions, privately, instead of typing questions into the Praise 104.1 Facebook page, likewise, their YouTube LIVE platforms. This request was also granted.
When Mildred Muhammad was asked about what she hopes the outcome of this Virtual Town Hall will be, she replied "It is my desire that those being abused, during the pandemic, will understand that the abuse they are suffering is not their fault; that victims will know that they are not alone; and that victims will strategically reach out for help when it is safe."
For more information, to subscribe and to purchase books, visit www.MildredMuhammad.com.
To learn more about Praise WPRS-FM 104.1, visit www.praisedc.com.
For media and speaking engagement requests, please contact Alecia Jones, publicist, VALIDITY MEDIA GROUP at msvalidityentpr@gmail.com or www.validitymediagroup.com.
ABOUT
Mildred D. Muhammad – She is the ex-wife of John Allen Muhammad, the D.C. Sniper and a mother of 3. Since 2007, she has advanced domestic violence awareness, PTSD, suicide conversations and education for corporations, police departments, military installations and communities across the globe. Her esteemed bio begins as Award-Winning Global Keynote Speaker, Speaker for the U.S. Department of State, also Certified Consultant for The U.S. Department of Justice – Office On Victims of Crime. Publications include I'm Still Standing: Crawling Out of the Darkness Into The Light (2017) and Scared Silent: A Memoir (2009).
Sizzle reel – http://bit.ly/2IcE9AM | www.MildredMuhammad.com | Social Media – Twitter & Instagram at /MildredMuhammad and Facebook.
ABOUT
Urban One, Inc. (formerly Radio One) is a Silver Spring, Maryland-based American media conglomerate. Founded in 1980 by Cathy Hughes, the company primarily operates media properties targeting African Americans. It is the largest African-American-owned broadcasting company in the United States, operating 55 radio stations and majority-owning the syndicator Reach Media, as well as its digital arm Interactive One, and the cable network TV One.
Media Contact
Company Name: Validity Media Group
Contact Person: Alecia Jones, Publicist
Email: Send Email
Phone: (240) 630-2691
Country: United States
Website: http://www.validitymediagroup.com/