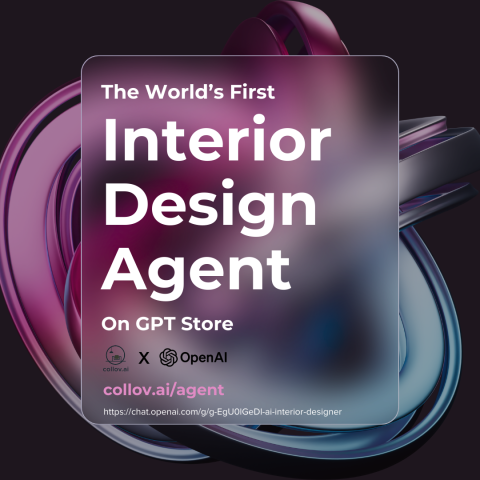 Collov AI, the leading AI interior design platform, today announced the launch of the world's first AI Interior Design Agent available on the OpenAI GPT store. This innovative tool is set to revolutionize the interior design industry by integrating an intuitive conversational interface with advanced image generation technology.
The Interior Design Agent harnesses the conversational prowess of ChatGPT, providing users with an interactive experience that simplifies the design process. Through natural language dialogue, users can express their design preferences, articulate creative visions, and receive suggestions from the AI in real-time. This intuitive interface is designed to make sophisticated design accessible to everyone, from professionals to home decor enthusiasts, delivering a user-friendly platform that speaks the language of design fluently.
Complementing the conversational interface is the integration of Collov AI's cutting-edge "Muse" image diffusion model, which enables the agent to generate high-quality interior design renderings within seconds. Users can iterate on designs almost instantaneously, exploring various aesthetic and functional possibilities without the time-consuming processes typically associated with high-end design. This powerful feature offers a glimpse into the future of rapid prototyping and visualization, allowing for creativity and experimentation to flourish unrestricted by traditional constraints.
The synergy between OpenAI's ChatGPT and Collov AI's image diffusion model promises a seamless design experience that is both efficient and enjoyable. "We are thrilled to bring this transformative technology to the market," said Xiao Zhang, CEO of Collov AI. "The Interior Design Agent is a testament to the potential of AI in enhancing human creativity and productivity."
Available now on the OpenAI GPT store, the Interior Design Agent is poised to set a new standard in the realm of digital design tools. For those awaiting access, a waitlist is currently open at Collov AI's website, offering an opportunity to be at the forefront of this exciting new chapter in design technology.
For more information, please visit https://chat.openai.com/g/g-EgU0lGeDl-ai-interior-designer and https://collov.ai/agent.
Media Contact
Company Name: Collov AI
Contact Person: Markk Tong, Marketing Director
Email: Send Email
City: Redwood City
State: CA
Country: United States
Website: collov.ai/agent