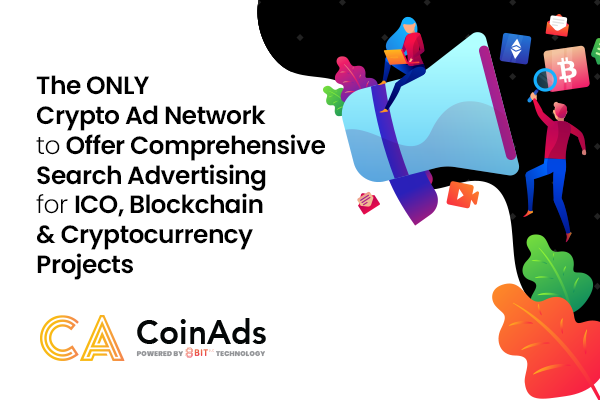 The power of proven marketing tech is now available to projects and Exchanges worldwide
July 23, 2019 – Cryptocurrency and blockchain marketing agency 8-BIT LLC has announced a multi-million dollar USD investment in crypto performance marketing experts CoinAds Ltd., to help promote promising blockchain projects, further growth of Exchanges, and attract new users, traders and investors to the industry.

8-BIT and its sister companies consist of over 200 employees with decades of combined experience in the blockchain industry. By serving as the exclusive marketing agency for Cryptocurrency Exchange KuCoin and working with hundreds of projects listed on KuCoin, 8-BIT has cemented itself as an expert in the blockchain space. Together with CoinAds, it can continue to provide these services to the growing market of blockchain projects and Exchanges worldwide.

Chris Van Rossum, Founder of 8-BIT, stated "We were looking for a long term, innovative way to offer marketing and listing services to blockchain businesses around the globe. CoinAds fits the bill when it comes to meeting that need with their unique search ad network that perfectly fits the needs of the blockchain market, combined with the specialized listing services, user acquisition viral programs, and social marketing services built for projects and Exchanges."
CoinAds CEO Bruce Kurtz commented: "8-BIT is the ideal partner for CoinAds. 8-BIT's proven marketing technology combined with CoinAds own marketing capabilities and business connections have already seen proven business success and some interesting case study results in just a few short months."
As the market begins to see some positive growth, now is the best time for cryptocurrency projects and Exchanges to take advantage of the changing sentiment and new growth opportunities. Powered by 8-BIT technology, CoinAds is actively enabling projects and Exchanges to expand their user base and gain recognition.
About 8-BIT
Established in 2017, 8-BIT provides a wide range of digital marketing and consultancy services for the blockchain industry. Having worked with a number of prominent clients, consisting of Cryptocurrency Exchanges, blockchain projects, and other tech-related companies, 8-BIT is an experienced marketing specialist that helps bridge the gap between consumers and blockchain applications.

About CoinAds

Registered in early 2019, CoinAds provides the means to generate new revenue in the blockchain space, drawing from 20+ years of experience in ad tech. As the only global crypto acquisition network that runs outside of Google and Facebook, its crypto search network is not subject to any crypto advertising restrictions. CoinAds research, listing and social marketing help projects and Exchanges grow their user base and increase brand recognition.
For more information, visit: www.coinads.pro
Contact:
For 8-BIT
Media Relations
marketing@8-bit.io
For CoinAds
Ivan Capili, Media Relations
media@coinads.pro
Media Contact
Company Name: CoinAds Ltd.
Contact Person: Media Relations
Email: Send Email
Phone: 0854123365
Country: United Arab Emirates
Website: https://coinads.pro/