SAN FRANCISCO – 6×7 Networks, the world's only fully encrypted Global Telecommunications Carrier, announced today a new Point-of-Presence (PoP) at One Wilshire, located at 624 S Grand Ave, Los Angeles, CA 90017. The facility now contains over 48,000 kW of critical IT capacity and services serving, middle-market and Fortune 1000 corporations and other telecommunications carriers such as AT&T (NYSE: T) and CenturyLink (NYSE: CTL) and Verizon (NYSE: VZ).
This new PoP furthers 6×7's goal of providing businesses and networks in the LA Area with additional connectivity options, enabling greater bandwidth and reduced latency through connections as fast as 600GE (600 gigabit Ethernet). Additionally, customers of One Wilshire will experience improved fault tolerance, load balancing and congestion management infrastructure capabilities for the delivery of both IPv4 and IPv6 access services, as well as fully encrypted layer2 transport to Amazon AWS, Microsoft Azure, and Google Cloud. They will also have the opportunity to exchange traffic with 6×7's rich global network.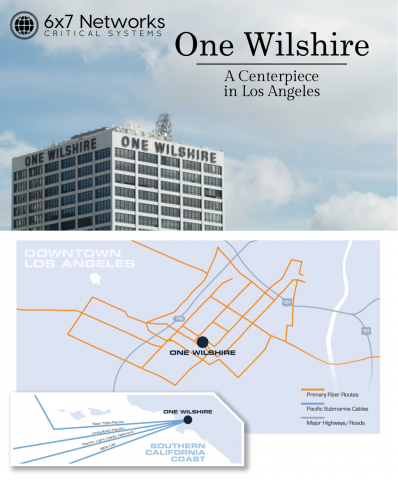 "Quite simply, One Wilshire is the single most important connectivity point in the Western United States," explains 6×7 Networks CEO Ben Cannon. "This is the hub at which many undersea cables from Asia Pacific region terminate on the the mainland United States." she says "The densest Meet-Me-Room in the world is here" a room in which telecommunications providers connect to one-another. "One Wilshire cannot be overstated as a strategic hub, at one point a full third of all internet traffic flowed through here," Cannon elaborates. "at One Wilshire, 6×7 directly reaches over 300 networks, more than in any other location worldwide."
Ms. Cannon elaborates "Telecom is bigger than any single country including the United States, this is the main hub for the entire Pacific Rim."
6×7's encryption technology is unique, and patent-pending "Since our encryption is done entirely in the hardware, it happens at wire-rate, the same rate of the interface." Ms. Cannon continues, "So you don't pay a performance penalty and your data is completely secure in transit."
"We offer connectivity from here to 6 continents, and over 190 Countries," Ms. Cannon says. "You cannot replace that kind of connectivity, and you cannot get it anywhere else."
6×7 Networks operates the only fully encrypted global telecom carrier network in the world, meeting FIPS-140 encryption standards, from core to edge, and it's customers include other telecommunications carriers, cellular networks, Fortune 100, middle market, and emerging startups with exotic telecommunications needs.
About One Wilshire
The One Wilshire building is a key hub for data traffic from Asia, with as much as a third of all trans-Pacific traffic passing through the building, according to estimates. It also serves as a key data storage and interconnection center for Los Angeles businesses, including the media and entertainment industry.
One Wilshire was built in 1967 and served office tenants for many years before beginning a shift to telecom and data center tenants in the early 1990s. The 30-story building has a prime location next to a SBC/PacificBell central switching facility, and benefits from a rooftop with clear lines of sight that are ideal for microwave towers.
Significantly, it stands at the intersection of fiber routes that run down Wilshire Boulevard and Sixth Street, and is tied into major trans-Pacific undersea fiber cables that land about 20 miles away.
About CORESITE
In 2010, CoreSite became publicly traded on the New York Stock Exchange (NYSE: COR). Today, CoreSite has 21 operational data centers in eight major communications markets across the United States, serves more than 1,350 customers and has a portfolio totaling more than 4.1 million square feet of data center space.
About 6×7 Networks
6×7 Networks, LLC is the world's only fully encrypted Global Telecommunications Carrier. Serving the data communications needs of enterprise businesses, government, healthcare, finance, and national interests across the globe for over 26 years, 6×7 applies government-grade security on all links to meet or exceed FIPS-140 standards in hardware on it's redundant and highly-available global telco backbone. To better serve it's customers; 6×7 owns and operates 2 Carrier-Neutral Datacenters in San Francisco and San Mateo, in addition to its bay area, California, Chicago, NYC, and global network of POPs which are integrated into other wholesale carrier partner networks in order to deliver a global wholesale footprint to the carrier community. This insures a cost-effective, scalable and resilient network that is committed to the wholesale environment and their respective clients.
For more information, visit www.6x7networks.com.
Media Contact
Company Name: 6×7 Networks
Contact Person: Kar Dhillon
Email: Send Email
Phone: (888) 888-8591
City: San Francisco
State: CA
Country: United States
Website: http://www.6x7networks.com