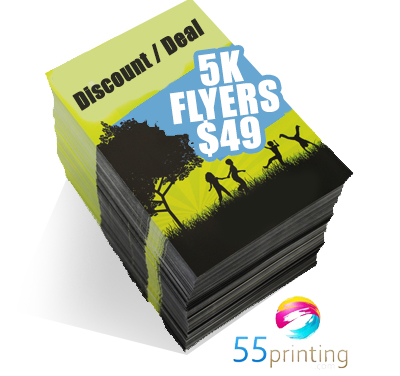 US-based Printing Company 55 Printing is thrilled to announce that it is expanding its services to accommodate flyer designs while promising to provide cheap and affordable prints
55 Printing is one of the best printing companies in the United States. The company has a wide range of products and services to offer, all designed to help businesses reach their target audience. Recently, the company has announced that it is expanding its services to cater to the growing number of customers in the United States looking for affordable printing.
Flyer printing is an effective marketing tool that can inform potential customers about new products and services offered by a business. And this is why 55 Printing has taken steps to improve its flyer printing services' proficiency. With a team of printing professionals, the company will personally make sure that all the orders are done with precision and accuracy.
At the moment, 55 Printing has rolled out a free prints promo program where customers can enjoy the company's top-notch printing services at a massive discount. The free prints promo program is live at https://store.55printing.com/free-prints-promo-code-2021.html and only available for orders above 5,000. By ordering 5,000 copies of the 4″ x 6″ (Most Popular) flyer package using the "5kflyers-deal" coupon code, customers will enjoy a massive slash in prices.
The promo is ongoing and would run till August 16, 2021, and the discount in cost does not include taxes and shipping fees. Undoubtedly, 55 Printing is etching itself a place in the media and print industry. It uses cutting-edge technology to make sure that clients' flyers are printed according to their specifications.
Entrepreneurs and local businesses need marketing and promotional goods to find the 55 Printing cheap flyer printing a cost-effective means to carry out their marketing and advertising aggressively. 55 Printing is the go-to company for all sorts of design and printed goods for businesses and individuals, such as business cards, flyers, brochures, signs, websites, and more.
For more information and browse through the list of their printing services, please visit https://store.55printing.com. To clinch the free prints promo for 5,000 flyers, log on to https://store.55printing.com/cheap-flyers-printing/ and enter "5kflyers-deal" as the coupon code after completing an order.
Media Contact
Company Name: 55printing
Contact Person: Jean Francois
Email: Send Email
Phone: 1 (800) 683-4296
Country: United States
Website: https://store.55printing.com