Yeehaw! The American rodeo is a thrilling celebration of cowboy culture, showcasing incredible skills, daring feats, and good old-fashioned Western fun. If you've ever dreamed of witnessing bull riding, barrel racing, or calf roping in person, you're in luck.
Rodeos are held across the United States, and each city offers a unique flavour of this beloved tradition. They can be the sole focus of the trip, or you can utilise the Routeperfect trip planner to develop a broader trip itinerary of popular destinations and hidden gems. So, grab your cowboy hat and boots, and let's hit the rodeo circuit.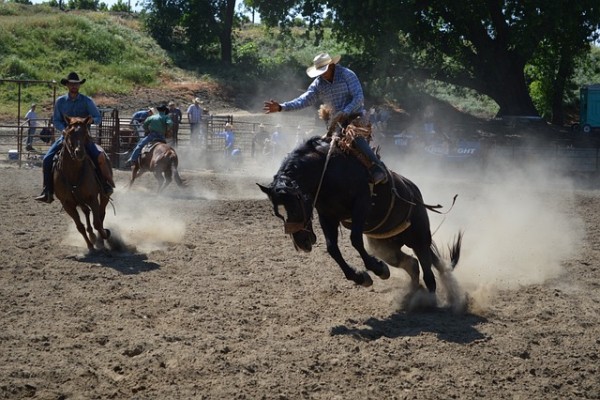 Picture Source: Pixabay
1. Cheyenne, Wyoming: The Daddy of 'Em All
When it comes to rodeos, Cheyenne, Wyoming, reigns supreme. The Cheyenne Frontier Days, colloquially known as "The Daddy of 'Em All," is the world's largest outdoor rodeo and western celebration. It's been roping in rodeo enthusiasts since 1897, and the legacy continues to this day.
This event takes place every July and features not only rodeo events but also parades, concerts, and a carnival. The rodeo itself includes bull riding, steer wrestling, and a wild horse race that'll have you on the edge of your seat. The atmosphere in Cheyenne during this time is electric, with everyone, from locals to tourists, donning their best Western attire.
Pro Tip: Don't forget to try the famous Indian fry bread – a delicious treat that's a must-have during your Cheyenne visit.
2. Houston, Texas: Rodeo and More
Houston, Texas, often referred to simply as "Houston," is the largest city in Texas and the fourth-largest in the United States. Known for its diverse culture, sprawling metropolis, and thriving energy industry, Houston is a city that knows how to make a statement. It's no surprise that when it comes to rodeo, Houston goes all out.
The Houston Livestock Show and Rodeo, often abbreviated as HLSR, is an annual event that typically spans from late February to mid-March. While rodeo events are at the heart of this Texan extravaganza, the HLSR offers so much more than bull riding and calf roping.
First and foremost, the rodeo competitions themselves are a sight to behold. You'll witness talented cowboys and cowgirls displaying their incredible skills in various events like bareback riding, saddle bronc riding, steer wrestling, and barrel racing. These athletes compete for coveted titles and substantial prizes, adding an extra layer of excitement to each rodeo performance.
But what truly sets the Houston Rodeo apart is its dedication to creating a comprehensive Western experience. The event features a mesmerising parade that kicks off the festivities, showcasing elaborate floats, marching bands, and, of course, cowboys and cowgirls on horseback. It's a family-friendly spectacle that brings the whole community together.
In addition to the official Houston Livestock Show and Rodeo events, the city of Houston itself has much to offer. As the most populous city in Texas, Houston boasts a rich cultural scene, excellent dining options, and world-class museums.
From the Space Center Houston to the Museum of Natural Science, there's no shortage of attractions to explore during your stay. So, while you're in town for the rodeo, take some time to discover all the facets of this vibrant city.
Pro Tip: If you're planning to attend the Houston Rodeo, make sure to check the schedule in advance. Each day offers a unique lineup of events, from specific rodeo competitions to different musical acts. Planning your visit around your favourite artists or rodeo events will ensure you get the most out of your HLSR experience.
3. Las Vegas, Nevada: The Rodeo Capital of the World
When you think of Las Vegas, your mind probably goes straight to the glitz and glamour of the Strip. However, Vegas is also known as the "Rodeo Capital of the World" during December. The National Finals Rodeo (NFR) takes over the city, and for ten thrilling days, cowboys and cowgirls compete for world championships.
While the action happens inside the Thomas & Mack Center, the entire city embraces the rodeo spirit. You'll find rodeo-themed events, live entertainment, and, of course, plenty of opportunities to try your hand at line dancing. Vegas goes all out to create a Wild West atmosphere right in the heart of the desert.
Pro Tip: Attend a country music concert while you're in town to get the full cowboy experience.
4. Pendleton, Oregon: A Rodeo with a Historical Twist
Pendleton, Oregon, is steeped in rodeo history. The Pendleton Round-Up, which began in 1910, is famous for its unique traditions and thrilling events. One of the most iconic aspects is the Let'er Buck Room – an area where you can watch rodeo competitors gear up and prepare for their rides.
What sets Pendleton apart is its focus on preserving rodeo's cultural heritage. The rodeo features Native American exhibitions and showcases the strong connection between the rodeo and local tribes. The Pendleton Round-Up is a celebration of the Old West, and you'll feel transported to a bygone era during your visit.
Pro Tip: Try some locally brewed craft beer – Oregon is known for its excellent breweries.
5. Cody, Wyoming: The Rodeo Capital of the World (Again!)
Cody, Wyoming, proudly shares the title of "Rodeo Capital of the World" with Las Vegas, and it certainly lives up to the name. Cody's nightly rodeo, the Cody Nite Rodeo, is the longest-running rodeo in the world. It runs from June 1st to August 31st and offers a taste of the cowboy lifestyle every night.
What makes Cody special is its authentic Western atmosphere. The town was founded by Buffalo Bill Cody himself, and it's deeply rooted in rodeo history. The rodeo here is like stepping back in time to the days of the Wild West. You'll see bull riding, calf roping, and barrel racing, and you can even test your skills with a post-rodeo horseback ride.
Pro Tip: Visit the Buffalo Bill Center of the West to delve deeper into the history of the American West.
So, whether you're a die-hard rodeo fan or just curious about experiencing a slice of American cowboy culture, these cities offer some of the best rodeo experiences in the world. From the massive spectacle of Houston to the historical charm of Pendleton, each destination provides a unique rodeo adventure.
Remember to plan your visit around the rodeo dates, as they can vary from city to city. Also, embrace the Western spirit by dressing the part – cowboy boots, hats, and flannel shirts are always a hit. And most importantly, get ready for some heart-pounding, adrenaline-pumping rodeo action. It's a wild ride you won't want to miss in the good ol' U.S. of A. Yeehaw!
Media Contact
Company Name: AmericanRodeo.com
Contact Person: Media Relations
Email: Send Email
Country: United States
Website: www.americanrodeo.com