Featuring Bold, Artistic Graphics on a Full Clothing Collection
2ZTD has unveiled a complete line of urbanized clothing fashion collection and accessories emblazoned with bold, thought provoking, artistic creative graphics. Those behind this quality clothing brand identified a gap in the streetwear clothing market and decided to bring new clothing products to audiences in dire need of original expression as well as functionality. "In the creative space, sometimes creativity is hindered by the type of project you're working on. However, having an innate flair for art and creativity, we found products that fit with art. Coming from the entertainment industry, having worked on numerous award-winning movie poster designs and TV show design packaging, we wanted to start a company that evoked thought through a high level of creativity."
Toying with the idea of merging urban streetwear with artistic visions, the foundation was laid out for a breakout fashion label, 2ZTD. With comfort and style in mind, these unconventional artistic graphics embolden a new approach to casual wear. Determined to source the finest high quality clothing materials designed for casual comfort with edgy artistic graphics reminiscent of street art 2ZTD has introduced a full line of urban wear.
The bold intriguing electrifying designs, colors, and graphics of clothing and accessories screams of an escape from restrictions to unbridled freedom and expressive fashion looks. This breakout introduction of electric urbanized streetwear takes underground artistic graphics to shirts, jackets, and pants as well as swimwear and accessories. Designed to be worn by anyone, the 2ZTD artistic fashion collection is capped off with accessories which include bags, backpacks, and beanies all wearing iconic graphic designs of a collection that says dare to be bold.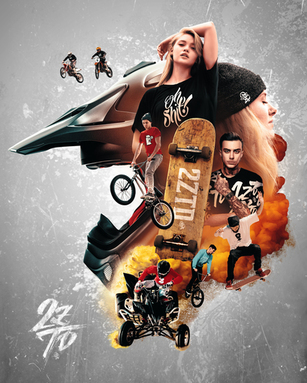 Targeted for those who see extreme sports as tame and streetwear as dressing up, this collection of urban inspired fashion artwear is bold yet understated, bright and subtle. Realizing that urban street art is an international adventure, the company has enlisted artists from throughout the urban areas of the world including, Brazil, Mexico, Germany and Greece to add perspective and intrigue to the 2ZTD fashion collection.
A Twisted Statement has been the 2ZTD slogan since its start on the streets of San Diego inspired by action sports and urban grit. Immediately drawn to the out of the ordinary bold graffiti inspired graphic designs and screw you slogans, street skaters, dirt bikers and BMX riders loved the comfort, durability and robust fabrics and artisanship of the 2ZTD brand.
The introduction of the complete 2ZTD collection invites everyone to take a walk on the wild side with a wearable collection of art that evokes, punk, rebel, and street smarts. Everyone can now rock and run wild in the streets or relax at home or abroad in a fashion line that let's everyone express themselves with a twisted statement to the world.
The urbanized artistic graphic streetwear collection continues its expansion while personalizing original streetwear that shouts international originality. The 2ZTD fashion collection and accessories is available online 24/7 at https://www.2ztd.com/. Make your statement twisted in comfort with wearable art by 2ZTD.
Media Contact
Company Name: 2ZTD
Contact Person: Henry Reynolds
Email: Send Email
Country: United States
Website: https://www.2ztd.com/