27 Year-Old Entrepreneur Has Successfully Secured $1M in Funding for her Clients in 2022 and plans to triple the amount in 2023
Paulina Hernandez built a successful consulting firm from the ground up since 2020, specializing in leveraging personal credit and business credit. She has helped fund and scale brand new ideas as well as cash flowing businesses.
Financial institutions fund businesses millions of dollars per year to use for working capital, payroll, marketing, equipment, and any essentials that promote business growth.
The American school system does not educate on credit, forcing many entrepreneurs to fund their business ideas with their own cash or earned income.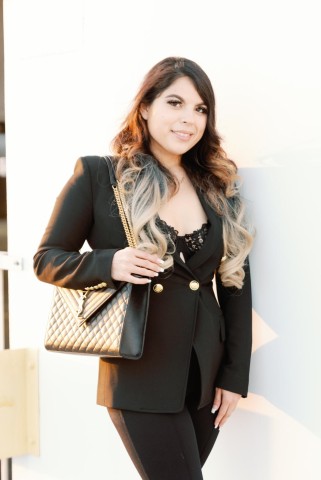 Feeling blessed that 2022 has been a successful year so far, she's ready to start sharing her experience and knowledge with others.
Paulina is known as @_Ptheplug on Instagram and is the founder of the consulting firm Thrive Business Solutions who helped secure over $1M in business funding so far 2022. Paulina is launching the Fast-Track to Funding Course Black Friday 2022 where she will be teaching financial literacy in pre-recorded modules explaining credit repair, business credit, funding, and so much more.
"My mission is to teach as many people as I can about financial literacy and the power of credit because this important tool was not taught in the American School System," explained Paulina Hernandez."
Through the Fast-Track to Funding Course, members will learn how to gain control of their credit reports so they can structure them correctly for funding.
The Course also gives members entry to "The Plug Community" which is a channel group held on the Discord platform app connecting members.The group allows members to meet and plug each other into their knowledge, resources, ideas, and hold each other accountable. It also allows everyone to relate to each other's challenges and give one another solutions on overcoming them.
The Plug Community only allows admittance if you've taken the Fast-Track to Funding Course.
Having gone from having it all to losing it all and building it back up, 27 year old Paulina Hernandez went from a broke college student to living comfortably in her early 20's through the call center industry. Just 2 and a half years ago not only did she lose her call center but also her business partner/best friend to a sudden death. After grieving she was able to pick herself back up. Through mentorships and guidance she established a successful credit consulting firm. At 27, Paulina has committed to helping people live their best life by leveraging credit.Whether that means funding a business, traveling for pennies, or driving a dream car for free, she's committed to assist every step of the way.
For further inquiries, send an email to team@thinkthrivenow.com
About Paulina Hernandez Paulina Hernandez is an entrepreneur, author, and Founder of Thrive Business Solutions and The Plug CommunityShe was raised born and raised in Chicago where she resides most of the year. Paulina was born to teen parents with the odds stacked against her at birth, but with perseverance and guidance she's been able to become a testimony. She currently teaches financial literacy to carry out her best friend's legacy, build generational wealth, and help her followers fund their dreams.
She is currently known as "_Ptheplug" on Instagram earning the nickname after becoming an asset professional in her network. Her networking skills and warm personality allowed her to make many connections among different industries. P found herself connecting one professional to another when they needed help or needed a connection to soar in their industry constantly being called "The Plug"She decided to embrace her nickname and liked the sound of "Ptheplug" so she branded it and hasn't looked back.
Follow Paulina Hernandez on Instagram via @_Ptheplug
Media Contact
Company Name: Thrive Business Solutions
Email: Send Email
Country: United States
Website: https://www.instagram.com/_Ptheplug