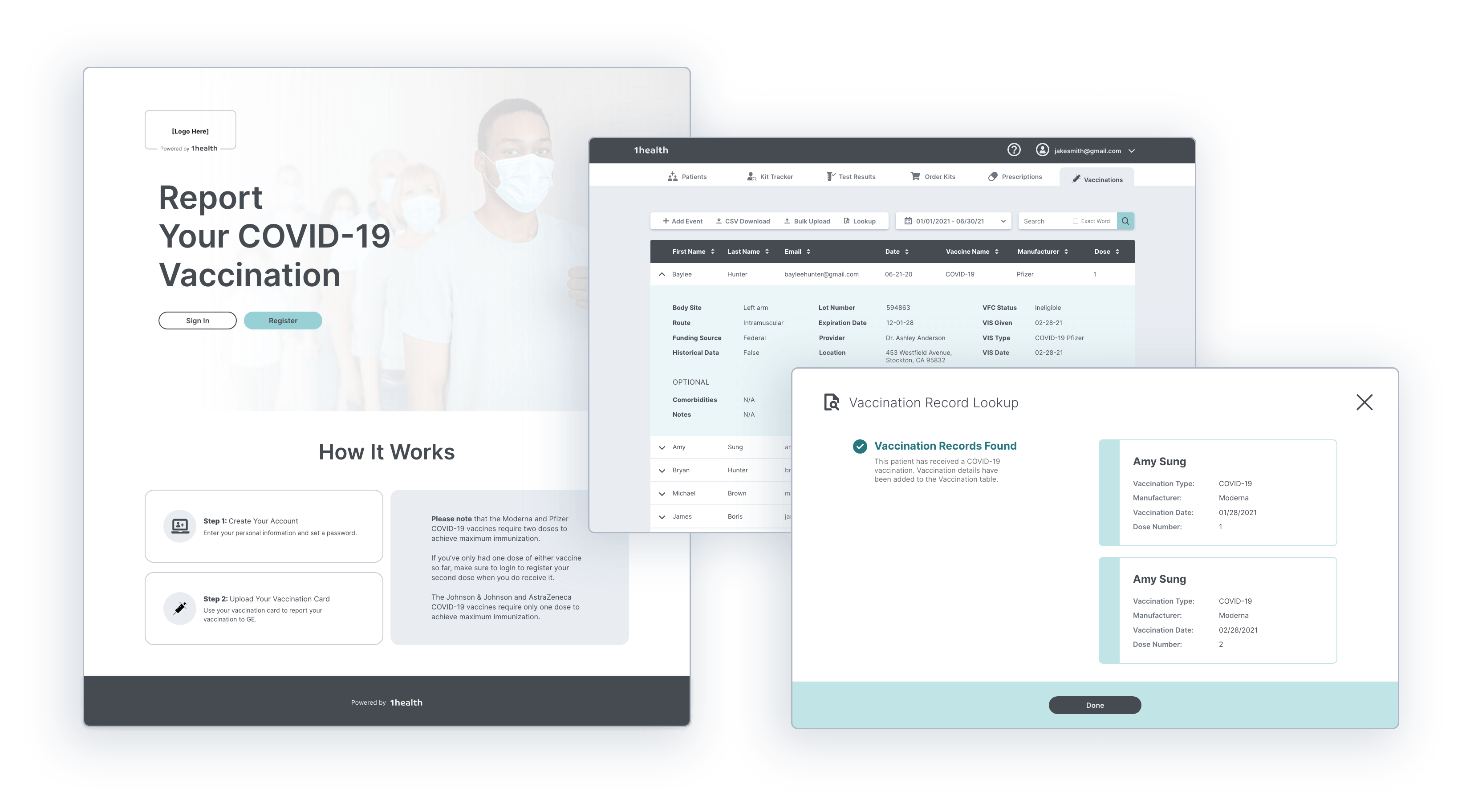 1health quickly and easily manages vaccine administration, verification, and reporting to help organizations and the public sector reopen safely with first-of-its-kind end-to-end vaccination and diagnostic testing solutions.
1health announces its innovative vaccination tracking software, Safe & Clear. COVID-19 regulations support 1health's Safe & Clear vaccination tracking software and vaccine passport verification tool Trust & Verify. 1health's Safe & Clear vaccination tracking software platform enables organizations to deploy a turnkey solution to manage population safety and return to a safe work or school environment. More than just a vaccine passport system, Safe & Clear is the first-of-its-kind to enable administrators an aggregated dashboard of their population with actionable insights into booster shots and verification. 1health's secure and HIPAA compliant dashboard is used by Fortune 100 companies.
The offering enables self-reporting of dates and types of vaccinations, dose dates, scheduling, vaccine administration, tracking, and reporting – all key elements to reaching immunity and getting employees back to work safely. 1health's groundbreaking vaccination verification and validation tool ensures that individuals' self-reported vaccinations are in fact valid and accurate.
1health's vaccination verification tool Trust & Verify is available within the Safe & Clear platform or as a simple API integration with existing systems. The vaccination verification tool conducts a HIPAA compliant lookup with state databases to ensure self-reported vaccination records are accurate. This pioneering process mitigates risks and liabilities for organizations and the API integration enables turnkey adoption to provide a true vaccine passport.
1health's vaccination tracker Safe & Clear and verification solution Trust & Verify arrive at a critical time as CDC regulations are relaxing for vaccinated individuals. In spite of continued valiant public efforts, fewer than 37% of Americans have been vaccinated and vaccination rates are in decline at the time of publishing. Vaccine hesitancy and refusal remain risks to non-vaccinated populations and increase the threat of virus variants to the population as a whole.
Businesses, organizations, schools, and healthcare systems all play a critical role in encouraging vaccination and maintaining public safety. Yet most do not have the infrastructure or modern software stack in place to effectively achieve this.
Organizations can also partner with 1health to implement a larger COVID-19 testing plan for their populations who have not been vaccinated. 1health will track and manage those who have and have not been vaccinated and tested, provide the testing kits, and report results digitally via its HIPAA compliant web portal. 1health's platform can visualize and analyze testing and vaccination data for organizations' actionable and immediate population management insight. 1health's platform enables incentivization programs for administrators to help accelerate total population health.
For more information about 1health and to learn how you can deploy this vaccination solution for your population, COVID-19 testing programs for your workforce, and vaccine verification tools for our collective safety, please visit https://1health.io/vaccination-solution/
About 1health
1health is the pioneer in enabling Testing as a Service (TaaS), making diagnostic testing easy and accessible for everyone. Its platform powers engaging health applications for telehealth companies, hospital systems, corporations, government agencies, school systems, and consumer brands. 1health's platform enables organizations to deploy, manage, and personalize testing and vaccination solutions at scale. 1health's cloud-based architecture allows for seamless management and tracing of tests, providing distribution across the country for faster testing and an easy-to-read dashboard with actionable next steps after testing. 1health keeps more than seven million people healthy and informed through its partners and direct-to-consumer brand, Vitagene, and supports compliance with its partners and their customers' applicable privacy and security requirements.
To learn more, go to www.1health.io.
Media Contact
Company Name: 1Health
Contact Person: Joe Kardon
Email: Send Email
Phone: 914.275.5268
Country: United States
Website: www.1health.io