'SOFTNESS OF BODIES' will steal your heart this Valentine's Day.
Los Angeles, CA – Feb 14, 2020 – Jordan Blady's art house feature 'SOFTNESS OF BODIES' is streaming for free on Amazon Prime: https://amzn.to/2wa9Hpp.
From One Can Pictures, Zak Films and Studio Saboteur, SOFTNESS OF BODIES follows Charlotte "Charlie" Parks (Dasha Nekrasova), a kleptomaniac American poet bicycling her way through the streets of Berlin, searching for inspiration and recognition for her poetry. As his feature debut, Jordan Blady presents Charlie as daring portrait of modern-day narcissism, art and luxury goods, through her kleptomaniac ways.
"With her messy love life and sticky fingers, the central character in SOFTNESS OF BODIES has a timeless troubled-dame quality, but she's not your typical femme fatale. A poet, barista and possible sociopath, she's played by an insinuatingly wry Dasha Nekrasova with a bored slouch, and she wields her hand-rolled cigarettes with the ferocious ennui of a wannabe Dietrich," wrote The Hollywood Reporter.
18 Reasons to Date a Kleptomaniac:
Date a girl who steals, because life is short and theft is fun.
Because those missing pair of shoes look better way on her.
She'll show you how thrilling danger can be, and her impulsivity will always keep you on your toes.
Because she rides through the Berlin streets with a backpack filled of stolen material items that she won't use more than once in a lifetime.
For her constant financial woes and inability to pay her way out of trouble (paying 800 euro is worth avoiding jail time).
Date her because she's not afraid to take risks – or literally anything, for that matter.
Because she shoplifts only to protest against a materialistic, capitalist regime. Isn't the store she stole from more to blame than she is?
Self-absorbed and highly competitive, she's more fun than anyone you'll ever meet.
Because she transcribes her poetic thoughts onto a busted iPhone.
Date her for all the useless, stolen shit in her apartment.
She's still your favorite poet, even when she plagiarizes.
Because shouldn't the best things in life be free?
Once you steal a glance, you'll understand her narcissism.
Date her because she smokes hand rolled cigarettes.
When she speaks, she steals the stage.
Because who hasn't done something bad that they don't regret?
Despite her complicated relationships, she'll steal your heart, whether you let her or not.
So, date a girl who steals – before somebody steals her away.

ROCK SALT RELEASING has released SOFTNESS OF BODIES onto Amazon Prime for free today, Feb. 14. Steal a glimpse with the trailer here: https://www.youtube.com/watch?v=f-GSo19BoJ8.
Led by Dasha Nekrasova of Red Scare podcast (Wobble Palace, Sunday Girl), SOFTNESS OF BODIES stars Morgan Krantz (CHIPS, series: New Girl and Girls), Nadine Dubois (Goodbye Berlin, 37), Alex Tschernek (Free Rainer, Slumming, Hannah Arendt), Lena Reinhold (Nos Petites Morts, Die Turnerin), Johannes Frick (Artist in Residence), Matthias Renger and Moritz Vierboom.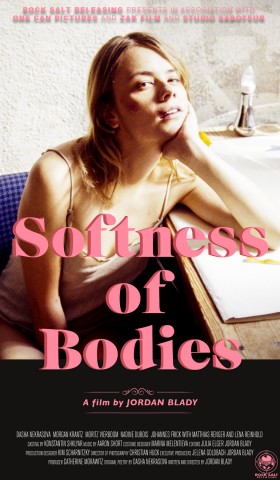 SOFTNESS OF BODIES (2018, 75 min.) Directed and written by Jordan Blady. Produced by: Catherine Morawitz. Executive producers: Jordan Blady, Jelena Goldbach. Editors: Julia Elger, Jordan Blady. Director of Photography: Christian Huck. Original score: Aaron Short. USA/Germany, English/German. One Can Pictures, Zak Films, Studio Saboteur, Rock Salt Releasing.
PRODUCTION COMPANIES: One Can Pictures, Zak Films, Studio Saboteur.
ABOUT ROCK SALT RELEASING: Daisy Hamilton curates artistic, award winning auteur films for worldwide theatrical release.
About TriCoast Worldwide:
TriCoast Worldwide is a premium international sales agent, representing the best of US and international films at all the major film markets. Sister company to TriCoast Entertainment and TriCoast Studios, the company is located at the Studio facility in Culver City, Los Angeles.
Founded by: Strathford Hamilton and Marcy Levitas Hamilton.
Visit: https://www.rocksaltreleasing.com/
Media Contact
Company Name: TriCoast Entertainment
Contact Person: Jenna Wilen
Email: Send Email
Phone: 3104587707
Address:11124 Washington Blvd.
City: Culver City
State: California
Country: United States
Website: http://www.tricoastworldwide.com