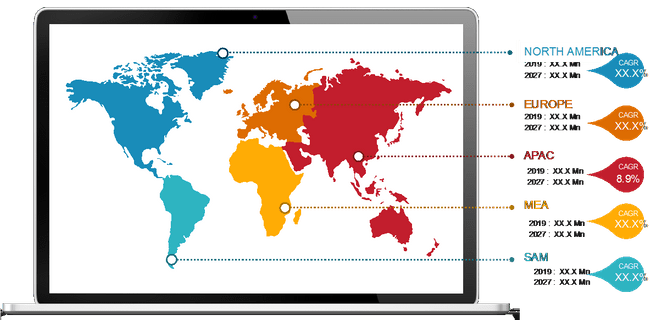 Leading Industry Players in Online Exam Proctoring Market are – Comprobo, Examity, Inc., Honorlock Inc., Inspera AS, Mettl, ProctorEdu LLC, Proctortrack, ProctorU Inc., PSI Services LLC, Talview
Online Exam Proctoring market was valued US$ 354.37 million in 2019 and is expected to reach US$ 1,187.57 million by 2027; it is estimated to grow at a CAGR of 16.4% during 2020–2027.
E-learning is used broadly employed in higher education institutions and corporations; it is also progressively being adopted in K-12 institutions. The flexibility and robust functionality of online learning allow users to complete courses efficiently, and stay engaged continuously. With the increase in demand for E-learning, online proctoring has become a significant solution across all end users.
The e-learning platforms provide flexibility of use, which is adding to the demand for online courses. Organizations, universities, and institutions are offering more online courses to facilitate flexible learning. However, these solutions also confer greater accessibility, and cost-effective and convenient operations. The rise in the number of E-learning administrators integrating online proctoring into their performance assessment processes drives the online exam proctoring market. Online exam proctor keeps an eye on students for doubtful activities during examinations, tests, and so on. It can see and hear the learner through webcam and can monitor the learner's activity on the screen.
Get Sample PDF Copy at https://www.theinsightpartners.com/sample/TIPRE00013227
Impact of COVID-19 Pandemic on Online Exam Proctoring Market
Presently, North America is the largest market in terms of the revenue share of the global online exam proctoring market. The region is characterized by developed nations such as the US and Canada, where the demand for education technology solutions & services is quite high due to the huge presence of digital education companies and high adoption of advanced technologies among schools and educational institutions. The education technology industry has been flourishing at an impressive pace in the US due to high adoption among end users and growing investments and funding in digital education start-ups. In terms of the COVID-19 outbreak, the US is the world's worst-affected country presently in terms of confirmed cases and reported deaths, as per the latest WHO reports. However, numerous schools and universities are continuing to adopt online exams and assessment tools in the wake of an ongoing pandemic.
Due to COVID-19, the conventional form of classroom teaching is suspended in the region; thus, educational institutes have ramped up digital learning alternatives to respond to the new normal. The online exam proctoring solutions is becoming a feasible option to conduct exams with integrity while maintaining social distancing. Hence, the COVID 19 outbreak has a positive impact on the growth of the market.
Thus, the idea of social distancing and lockdown restrictions empowered exams and assessments to be conducted remotely on the Internet, which is boosting the importance of online exam proctoring solutions. Numerous companies are leveraging these opportunities to offer cost-effective and more convenient means of student and employee authentication and test proctoring. The use of webcams and the Internet to allow trained human proctors to monitor exam sessions in real time or to review video recordings of the test sessions is surging the demand for online exam proctoring solutions. In either case, the proctors look for evidence of cheating and authentication of the test-taker. Key vendors offering these solutions to the North American market are ProctorU and Examity, Inc., among others.
The North American online exam proctoring market is further segmented into the US, Canada, and Mexico. Various companies in the region offer online exam proctoring solutions for higher education institutes and universities, and these solutions are broadly accepted in the education sector. The growth in demand for e-learning and emphasis on efficient learning trigger the development of this sector. In North America, there has been a rise in the number of online exams and assessments conducted since the past few years. Various major universities conduct online assessment tests for high school leaver candidates. In the US, universities conduct Advanced Placement (AP) virtual tests for high school students willing to pursue further studies. The assessments are conducted online with suitable digital invigilation measures in place.
Strategic Insights
The market players focus on new product innovations and developments by integrating advanced technologies and features in their products to compete with the competitors.
• In 2020, Examity, Inc. recognized as a finalist in EdTech Awards 2020. Examity was named for the most exceptional innovators, trendsetters, and leaders in education technology.
• In 2020, Talview Inc. entered into a partnership with Sify Technologies Ltd. for integrating the remote proctoring solution into its iTest platform.
Buy Complete Report at https://www.theinsightpartners.com/buy/TIPRE00013227
About Us:
The Insight Partners is a one stop industry research provider of actionable intelligence. We help our clients in getting solutions to their research requirements through our syndicated and consulting research services. We specialize in industries such as Semiconductor and Electronics, Aerospace and Defense, Automotive and Transportation, Biotechnology, Healthcare IT, Manufacturing and Construction, Medical Device, Technology, Media and Telecommunications, Chemicals and Materials.
Media Contact
Company Name: The Insight Partners
Contact Person: Sameer Joshi
Email: Send Email
Phone: +1-646-491-9876
City: Pune
State: Maharashtra
Country: India
Website: https://www.theinsightpartners.com/reports/online-exam-proctoring-market