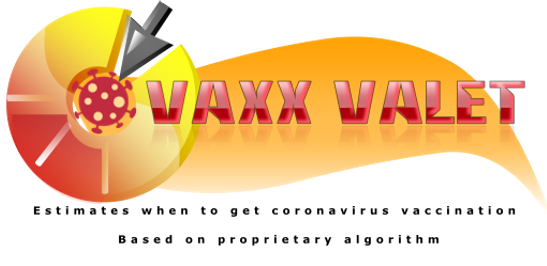 New Online Tool Estimates When to Get Coronavirus Vaccine
Holly, MICHIGAN – A new online tool called Vaxx Valet gives personalized estimates of when to get the COVID-19 vaccine.
Vaxx Valet, available at no charge here https://www.geoscry.com/vaxxvalet, projects generally when to get the vaccination in the USA, assuming it's available, based on one's general demographics and health condition. It grew from the fog evident in recent headlines such as:
Vexing Logistics As First Vaccines Set to Arrive, New York Times, Dec. 13, 2020
Officials Agonize Over Allotment of First Vaccines, New York Times, Dec. 6, 2020
Creating a Covid-19 vaccine is only the first step. Reaching the world is the next, NBC News, Nov. 24, 2020
While official sources and the media formally identify one's place in line amid the still-fluid rollout of coronavirus vaccines, Vaxx Valet's value instead lay in offering broader, independent, and somewhat personalized, yet still anonymous, guidance.
Vaxx Valet is based on a proprietary algorithm that considers one's age; gender; pre-conditions such as cancer or diabetes; and state of residence; along with that state's numbers of COVID-related cases and deaths reported by the Centers for Disease Control and Prevention.
Then the algorithm uses a probability curve and Vulnerability and Severity Indices to generate a user score with a corresponding recommendation to get vaccinated either soon, sooner or soonest. These categories are designed to convey the importance of everyone getting the vaccine as soon as possible for their own health safety and to speed up the development of so-called herd immunity.
The web-based tool uses no personally-identifying information, nor is any usage data sold or in any way externally reported.
To emphasize, since Vaxx Valet was not developed by a government entity, health organization or otherwise authoritative source, its users must decide when to get vaccinated based on official distribution stages and schedules, and maybe in some cases on a doctor's advice or their own research of reliable resources.
Media Contact
Company Name: B2BZone, LLC (Vaxx Valet's developer)
Contact Person: William G. DiSessa
Email: Send Email
Phone: 1-877-270-4135
Country: United States
Website: https://www.geoscry.com/vaxxvalet