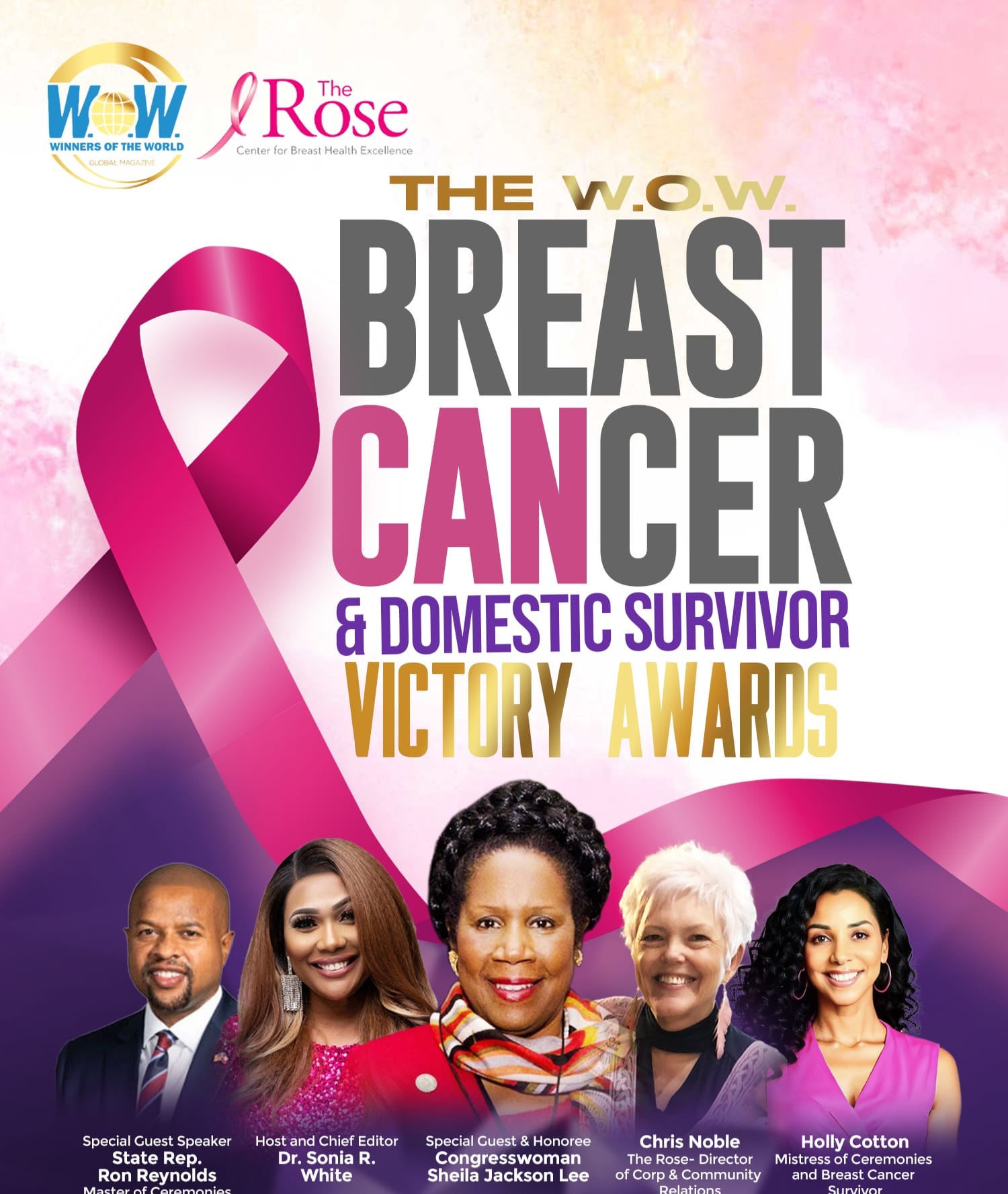 Dr. Sonia White Hosts Inaugural Pink and Purple Victory Ceremony for Breast Cancer and Domestic Violence Survivors
Houston, TX – In a heartwarming display of resilience and community, Dr. Sonia White, a US Air Force Veteran, Licensed Mammographer, and Domestic Violence Survivor, orchestrated the inaugural Pink and Purple Victory Ceremony on October 25, 2023. The event, held in the heart of Houston, was dedicated to celebrating the journey and triumphs of individuals who have bravely navigated the waters of breast cancer and domestic violence.
The ambiance of hope was set by State Representative Ron Reynolds and Registered Nurse Holly Cotton, who took to the stage as the Master and Mistress of Ceremony respectively. Their graceful conduct of the event proceedings set the tone for an evening of reflection, recognition, and rejoicing.
A special appearance was made by Amanda K. Edwards, the formidable Congressional Candidate for District 18, whose presence added a layer of distinction to the event. The soul-stirring performance by Se7en Poet infused the atmosphere with powerful words of encouragement, resonating with every soul present.
Dr. White was bestowed with a Congressional Recognition, a testament to her unwavering dedication to supporting survivors. The accolades extended with appreciative recognitions from Senator Borris Miles and Mike Kubosh, highlighting the community's acknowledgment of Dr. White's impactful endeavors.
Onney the Poet further elevated the emotional resonance of the event with a poignant testimony that touched every heart, while Chris Nobles, a courageous breast cancer warrior and esteemed director from The Rose, shared insightful literature on the cruciality of early detection in mitigating the repercussions of breast cancer.
The attendees reveled in an atmosphere filled with exhilarating music, delectable food, and a shared camaraderie that only those who have walked through the fires of adversity could truly appreciate. It was a spectacle of joy, enlightenment, and a unified celebration of life.
To further commemorate the day's honorees, they will be featured in the digital Fall issue of Winners of the World Global Magazine, a platform dedicated to celebrating triumphant spirits from across the globe.
For more about this event, or to reach out to Dr. Sonia White, she is available at soniawhite649@gmail.com or via phone at 832-866-2437. Follow the ripple effects of this inspiring event on social media @wowglobalmag on Facebook and Instagram, or on the website winnersoftheworld.com.
The Pink and Purple Victory Ceremony reflects a beacon of hope, community, and the relentless spirit of survival. Dr. Sonia White, alongside distinguished guests and performers, has laid a solid foundation for an enduring tradition of celebrating life, resilience, and the undying support of a community united against breast cancer and domestic violence.
Media Contact
Company Name: Dr. Sonia White
Contact Person: Dr. Sonia White
Email: Send Email
Phone: 832-866-2437
Country: United States
Website: winnersoftheworld.com