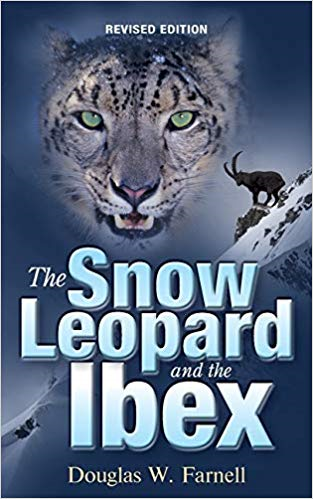 Seattle, WA – January 8, 2019 – The Snow Leopard and the Ibex, written by Douglas W. Farnell, reflects the devastating effects of the 2008 financial crisis, particularly on small businesses who are unable to access any bank financing. The protagonist, a brilliant software company owner, Daniel Prescott, seeks solutions to the dearth of outside capital essential to expanding his operations. What follows is an exciting tale of overcoming huge odds, peppered by cliffhangers and unanticipated twists and turns and reveals the impact of personal transformation that accelerates the power within all human beings.
The Snow Leopard and the Ibex is written from a business perspective with action scenes added to dramatize the story. The author imparts that he was encouraged by his friends to concoct a thrilling fictional tale about one entrepreneur's experience rather than a macro-economic approach to illustrate the impact of the 2008 financial crisis on as many as 25 million small businesses in the U.S.
The author says about his book, "I used the style of historical fiction to convey the devastating effect of the financial crisis on small businesses re-enforced by the brutality of the concurrent Russia-Georgia five-day war in the Caucasus that bring the main characters together in conflict."
The exciting thing about The Snow Leopard and the Ibex is the seamless weaving together of actual events into a fictional narrative including the necessity of a business owner finding a loan for his company that sets the story in motion.
The Snow Leopard and the Ibex, Revised Edition, is influenced by authors Tom Clancy, Robert Ludlum, and Sandra Brown. Douglas W. Farnell aims that this book will indeed be an exciting and informative story for readers trying to understand key aspects of the crisis and the extent to which one business owner had to struggle to save his company and his employees' jobs.
For more information, Visit Amazon book link https://www.amazon.com/Snow-Leopard-Ibex-Douglas-Farnell/dp/1733132848/ref=sr_1_1?keywords=9781733132848&qid=1561412643&s=gateway&sr=8-1
About the author
After completing his MBA at Syracuse University, Douglas W. Farnell served as Chief Financial Officer for several small businesses through the 2008 financial crisis and its multi-year aftermath. That period of upheaval inspired this work, as did his pursuit of summits, which has taken him from the North Cascades to the Rockies and Alps, as well as to Europe, Asia, and Central America.
For more information, visit the website: http://dougfarnell.com/
Social Media Accounts:
Facebook: https://www.facebook.com/DouglasWFarnell/
Twitter: https://twitter.com/AuthorFarnell
Tumblr: https://douglaswfarnell.tumblr.com/
About Toplink Publishing
Toplink Publishing offers highly scalable platforms that are growing quickly, positioned to become the global leader in accessible and strategic publishing and marketing solutions. For new book/books to publish or publicize one's published work, contact by calling 1-888-375-9818.
Media Contact
Company Name: Toplink Publishing
Contact Person: Douglas W. Farnell
Email: Send Email
Phone: 888-375-9818
City: Kelly
State: North Carolina
Country: United States
Website: https://www.toplinkpublishing.com/