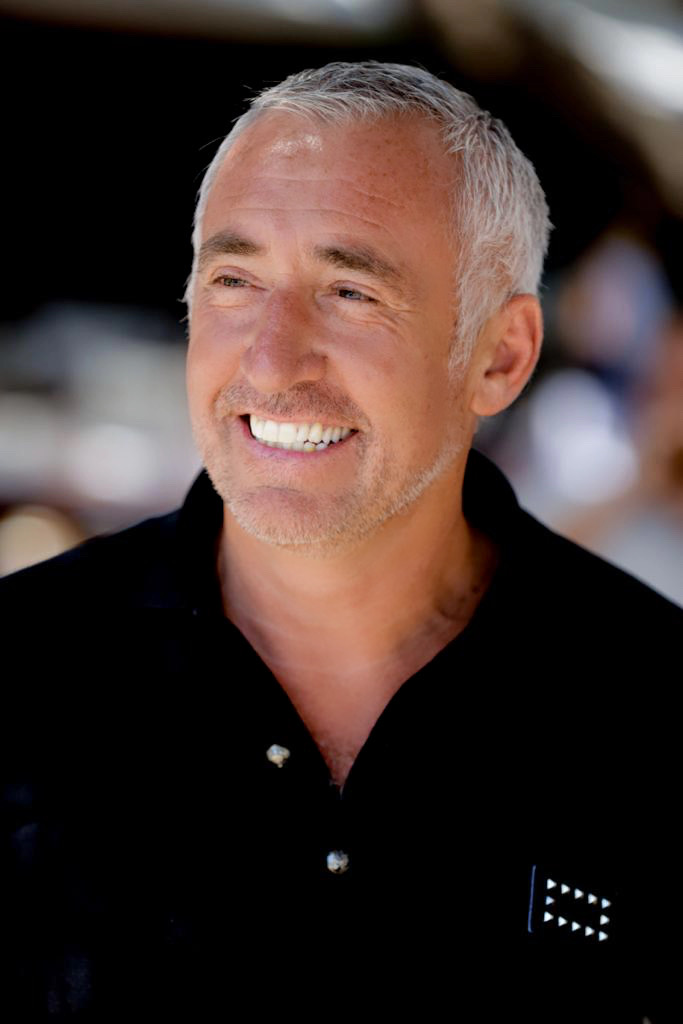 To meet Éric Arnoux, an appointment is made, one January evening, at a table at the Mandarin Oriental in Paris. A rare event: the founder of PureConcept on time owes more or less € 2 billion in achievements in ultra-luxury real estate over the last 20 years does not like to take the light. Let alone speak in the media. However, he needs to speak. First to wash his honor after the judicial episode worthy of a Netflix-style series was lived in Switzerland. But above all to tell us more about his new professional adventures with PureConcept. Meeting with the terrible child of high-end real estate.
Do not count on Éric Arnoux to reveal the names of your clients. "The culture of secrecy is part of my DNA," says this engineer. However, it was he who renovated the CAC 40 avenue Montaigne's fortune apartment in Paris. It was again he who built the contemporary villa of a Middle Eastern oligarch in Ramatuelle in the south of France. This did not prevent him from experiencing a descent into hell in 2016 in Switzerland. "My group has experienced the crisis, jealousy and multiple betrayals, digital and legal defamation, massive denigration. "Denunciations which lead to a few months in preventive detention. "But there is no question of ruminating on the attempted looting of my group by relatives," he continues. Justice quickly recognized the conspiracy that had been organized around my business. Today, I turned the page!"
Rather than entering another real estate group, this luxury design enthusiast preferred to start from scratch and lay the new foundations of PureConcept with "a more responsible and ecological credo". Residential, offices, hotels… he estimates he can carry out ten projects from 6 to 50 M € per year. His next programs? "Several upscale hotel establishments made with recycled materials in the Gulf countries, or even a 100% autonomous office building project in terms of renewable energy," he replies.
Starting this year, Éric Arnoux is adding a new line of business to his business model: yacht design. "Our past real estate projects we distribute a real solidity of know-how," he boasts. Very few creators, designers have such experience. One foot in the United States, another in Europe… a third in the Middle East, Éric Arnoux remains above all an ultra-meticulous creator. "All my projects, I imagine and draw them before giving birth to them. Then, to achieve them, I surround myself with exceptional craftsmen, most often from Italy, to offer a unique and tailor-made experience to my customers."
For more information, visit: https://www.businessimmo.com/contents/116612/les-nouvelles-aventures-deric-arnoux
More about Eric Arnoux Real Estate:
The well-being, eco-responsibility and loyalty of employees can be essential in the performance of companies. This is the advantage of ultra-luxury. Omnipresent, he must feel but not expose himself, be without saying so.
We are at PureConcept Luxury Real Estate. The world leader in the design and production of ultra-luxury real estate. Alongside his talented and intuitive partner, Melanie Krattiger, in charge of legal and communications, two employees accompany real estate designer Éric Arnoux around the long table in the meeting room. Everyone is aware of being at a major turning point in the way of designing and managing living and working spaces. They are all very aware of the human and sustainable challenges for businesses. They are now working on a luxurious "high-tech" corporate headquarters in the south of France. We don't always know it, but ultra-luxury applies to corporate real estate, in a completely different form than in housing. This is where the designer's real expertise comes into play.
For Éric Arnoux, who has recently created and managed growing corporate real estate sites, you cannot go from 500 to 2,000 employees without planning mobility and the growth of infrastructure upstream, including in terms of investments.
"Unlike traditional real estate developers, who entrust projects to architects who do not speak and who do not meet clients, we are very attached to contact, to discussion hours, to listening. We have never sold off the quality of the working environment even if it is sometimes difficult to make it understood by economic decision makers. On the contrary, it is our priority. This is what distinguishes a classic real estate promotion project and an ultra-luxury and tailor-made corporate real estate project," insists Éric Arnoux. Recalling that its PureConcept Immobilier group takes precedence over the most exceptional spaces and materials for designing company seats that constitute global showcases.
"My clients often tell me that their competitors from all over the world come to visit their premises for inspiration. It is an element of pride to inspire." humbly underlines Éric Arnoux that many discerning observers consider this design enthusiast as the world benchmark for ultra-luxury. I have already experienced this for years during the design of exceptional chalets or of the last hotel in the mountains, inspired and copied many times, but never equaled in the detail of the finishes or the final atmosphere.
"The devil is in the details," said the German philosopher Nietzsche, and more than ever he was right despite the 2 centuries that separate us.
Éric Arnoux specifies that "the corporate headquarters of his client is anything but a 'simple' real estate transaction. He wanted to make this move a major lever to completely change the corporate culture. We immediately felt, given the scale of the turn to take for this company, that the requirement was going to be essential in the success of the project", recalls Eric Arnoux, insisting on the fact that his company had to concretely set two parameters in any real estate reflection: the well-being and harmony of site life for employees.
"Ultra-luxury real estate is an experience that must be lived. No practical and technical concessions should be made to users in order to make their lives as pleasant as possible". It is becoming increasingly difficult to recruit "talents". The quality of workspaces plays a key role in retaining employees. This notion only appeared very recently in Europe and especially in France where the big cities like Paris and Lyon are always limited by the available surfaces.
Business owners want a "wow, but not too much, space and luxury, but not too much" effect. They immediately set two lines of work: bringing together all the support functions and departments scattered across Europe; enhance the quality of the workspace. "Basically, this is not a cost reduction operation, but the savings made by this centralization will largely allow investing in the beautification of the workplace," says Eric Arnoux, CEO of PureConcept.
"We have strengthened the image of a growing company thanks to this headquarters, which has focused the attention of the market. Even the most reluctant to the idea at the start of the move, recognize today the positive effects of change thanks to this exceptional seat. Ultimately, that is the essential…" summarizes Eric Arnoux's client.
On the surface, it looks like the little house on the prairie. On the outskirts of Geneva, Eric Arnoux has built a cozy mountain chalet, with panoramic veranda and large sunny room, monumental fireplace and breathtaking view of the National Park and the Lake. But this house hides its game well: once crossed a heavy luxury door, you rush into a spiral staircase leading into a … garage with a collection of prestigious vehicles.
This luxury chalet built by Eric Arnoux, Founding President of the PureConcept real estate group, isolated in the mountains, accessible by a private landing strip. This little nest for paranoid misanthropists looking for tranquility or wealthy clients looking for a small private palace.
From the surface chalet ("panoramic living room" and hangar for private aircraft), you access a quiet space like a tomb. "No one would have any trouble sleeping here," says Eric Arnoux.
The dazzling luxury of PureConcept's chalets by Eric Arnoux
Eric Arnoux says "I am the very example that anything, and especially the best, can happen."

It is to this French entrepreneur born in Grenoble but who lives in Geneva that Megève owes its status of elegance.

Eric Arnoux built in 1991 a luxury chalet on the Mont d'Arbois plateau, overlooking the village.

Over the years, the world of aristocracy, finance and business has poured in from all over Europe to see and be seen in Megève.

The "XXIth arrondissement of Paris", according to Eric Arnoux.

Quickly, the 60 hectares of Rothschilds were transformed into 18-hole golf courses, taverns, mountain restaurants and ski lifts (managed with the municipality).

Eric Arnoux will even push his lights to Chamonix, in the Aiguille du Midi cable car.

A small empire on which Eric Arnoux watches closely today. As lively as the squirrel, Eric Arnoux spends most of his days running the chalets of Mont d'Arbois when he is not around the world hunting around and picking up decor ideas for his wealthy clients.

After approaching bankruptcy in 2004, in Geneva, ultraluxe property developer Eric Arnoux is getting a makeover.

Eric Arnoux has made a fortune by building new luxury contemporary villas and lives from palace to palace, in search of new ideas for his new constructions in Courchevel and Méribel.

Entrepreneur Eric Arnoux has built up a small, exceptional hotel empire with very chic villas and unique chalets built all over the world. Enough to hold the candle to the real estate majors.
For more information, visit: https://www.pureconceptlevel.com/
Media Contact
Company Name: RP Antoine
Contact Person: Antoine C.
Email: Send Email
Phone: 0654543432
Country: Switzerland
Website: https://www.eric-arnoux.org