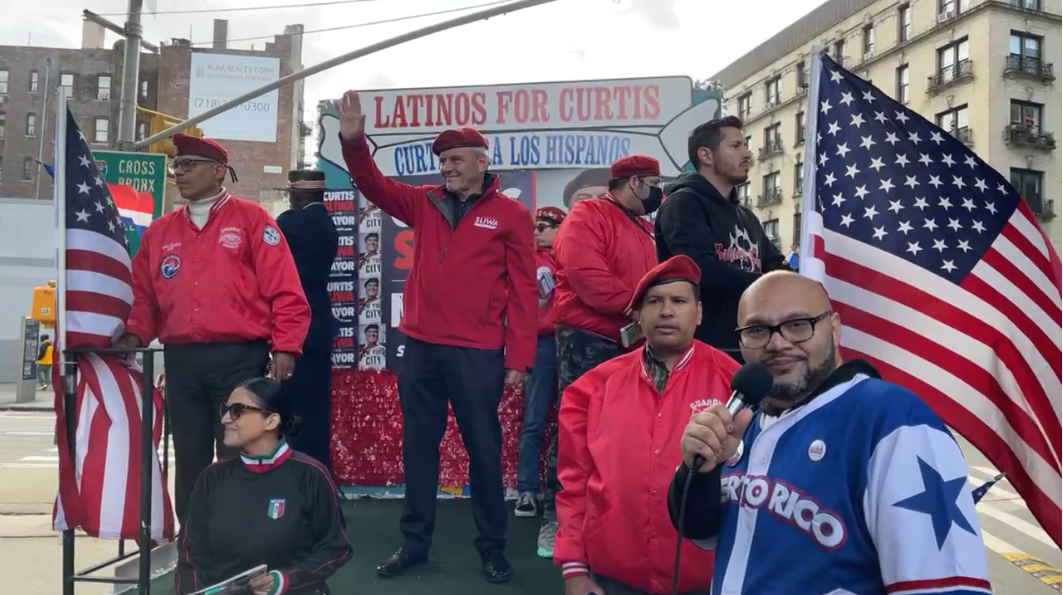 On Saturday, Rich Valdes, one of the most listened to American broadcasters of Puerto Rican descent known for his direct and sometimes comedic commentary on the news, emceed the parade float to celebrate the culmination of Hispanic Heritage month with famed crime fighter Curtis Sliwa. Sliwa and Valdes are both talk show hosts known for their programs on news talk radio 77 WABC (AM 770). Whilst Sliwa is on hiatus pursuing a higher perch to save the city from crime, Valdes' show, This is America with Rich Valdes, was recently signed by Kidd Kradick's syndication network distributing digitally through iHeartRadio, according to the industry publication Inside Radio.
Valdes joined Sliwa and supporters in Washington Heights. The parade float started off on Broadway and 175th Street and Broadway playing popular Spanish language songs from the salsa, merengue, and reggaeton genres as Valdes worked the microphone in English and Spanish sharing salutations with passersby. The caravan made its way across Dyckman Street through the Upper East Side into the Bronx.
As the float proceeded down Fordham Road in the Bronx, Valdes recounted the history of Sliwa's safety patrol group the Guardian Angels, which got its start when Sliwa was the night manager of the nearby McDonald's fast food restaurant and decided to do something about the crimewave that plagued the city in the 1970's and 1980's. The Guardian Angels will be celebrating their 43rd anniversary this year.
The procession was met with cheers, thumbs up honked car horns, and kisses were blown from members of the Latino community who also spontaneously began dancing right where they stood to celebrate as the float drove past the bodega patrons and outdoor domino games lining the sidewalks.
Valdes, a native New Yorker from Brooklyn who now lives four miles outside of Times Square on the New Jersey side of the Hudson, remembered the positive impact the Guardian Angels had on the city's subways and how fond his mother was of their patrols back in the 1980's and 1990's. The festive tour wrapped up after saying hello to shoppers on Kingsbridge Avenue and small business owners on Grand Concourse.
For updates follow the official Twitter and Instagram accounts @RichValdes or on GETTR and visit RichValdes.com for more information.
Media Contact
Company Name: Rich Valdes
Contact Person: Media Relations
Email: Send Email
Phone: 5162184211
Country: United States
Website: https://therichvaldes.com/