Refreshing America one nap at a time
Tacoma, WA – February 7, 2020 – Americans aren't getting enough sleep, especially those who work on the outer limits of time – the call center employees, hospital staff, or those in the middle of high excitement at event venues and cultural festivals. If only a cozy bed with background music was around! Well, now the bed is just a tap away with Rest Assured, which offers revitalization centers to give anyone a good spell of sleep anywhere.
Rest Assured runs a mobile, multi-room revitalization center equipped with cozy beds, lighting options, sleep-inducing music, relaxing aromatherapy and different room styles to suit individual comfort. Guests can even ask for a massage treatment and consult with the staff to select the right amount of nap time.
Rest Assured Mobile is now debuting on Indiegogo with a crowdfunding campaign – to expand its fleet to include 53 feet state-of-the-art trailers and offer the service across the country.
"We're making afternoons great again and in doing so, helping to make workdays more effective and more profitable for companies. We want to refresh America one nap at a time!" says Leon Hembry, Founder, Rest Assured Mobile.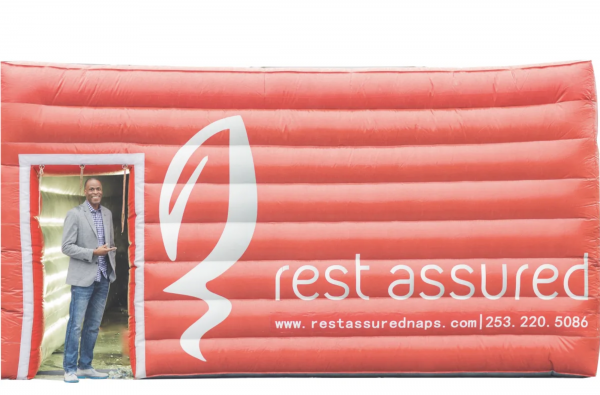 The data on sleep is convincing. Losing only an hour of sleep at night can result in compromises and reductions in productivity, wellbeing and the clarity of thought processes. Rest Assured has thus addressed a vital need that is felt everywhere, in any organization or place.
A Revitalization Center can be set up at any place, either a working office, school, or at open-door events such as Wester WA or in Oregon. It can be set up as races, country fairs, music festivals, and nightlife venues. It is also easy to call up a Revitalization Center – simply use the Find Rest App to track down the nearest Rest Assured fleet.
"Most people are not getting the rest that they need to do their jobs effectively. That is why our mission at Rest Assured Mobile is such an important one. Our revitalization centers will give people the rest they need conveniently and affordably," said Leon.
Rest Assured will be of great help to a diverse set of workers, including long haul truck drivers, HR coordinators, race directors, those suffering from insomnia, sleep apnea, and day time sleepiness, shift workers, or warehouse employees. It is a great way to boost workplace wellbeing, workplace productivity and reduce workplace stress.
Rest Assured Mobile is the mission of its Founder, Leon Hembry, whose mother, a nurse returning from a 10-hour graveyard shift, suffered a tragic accident due to sleepiness while at the wheels. Leon is a passionate, loyal, and creative professional with 18 years of management experience, 8 years in direct sales, and 3 years in Health and Wellness. The Indiegogo campaign will go towards expanding the service with 9 tents, 2 additional trucks across the West Coast and then countrywide expansion.
For more information, please visit: http://restassurednaps.com/
Media Contact
Company Name: Rest Assured Mobile
Contact Person: Leon Hembry
Email: Send Email
Phone: 253-2205086
Address:4429 6th Ave
City: Tacoma
State: WA 98406
Country: United States
Website: http://restassurednaps.com/