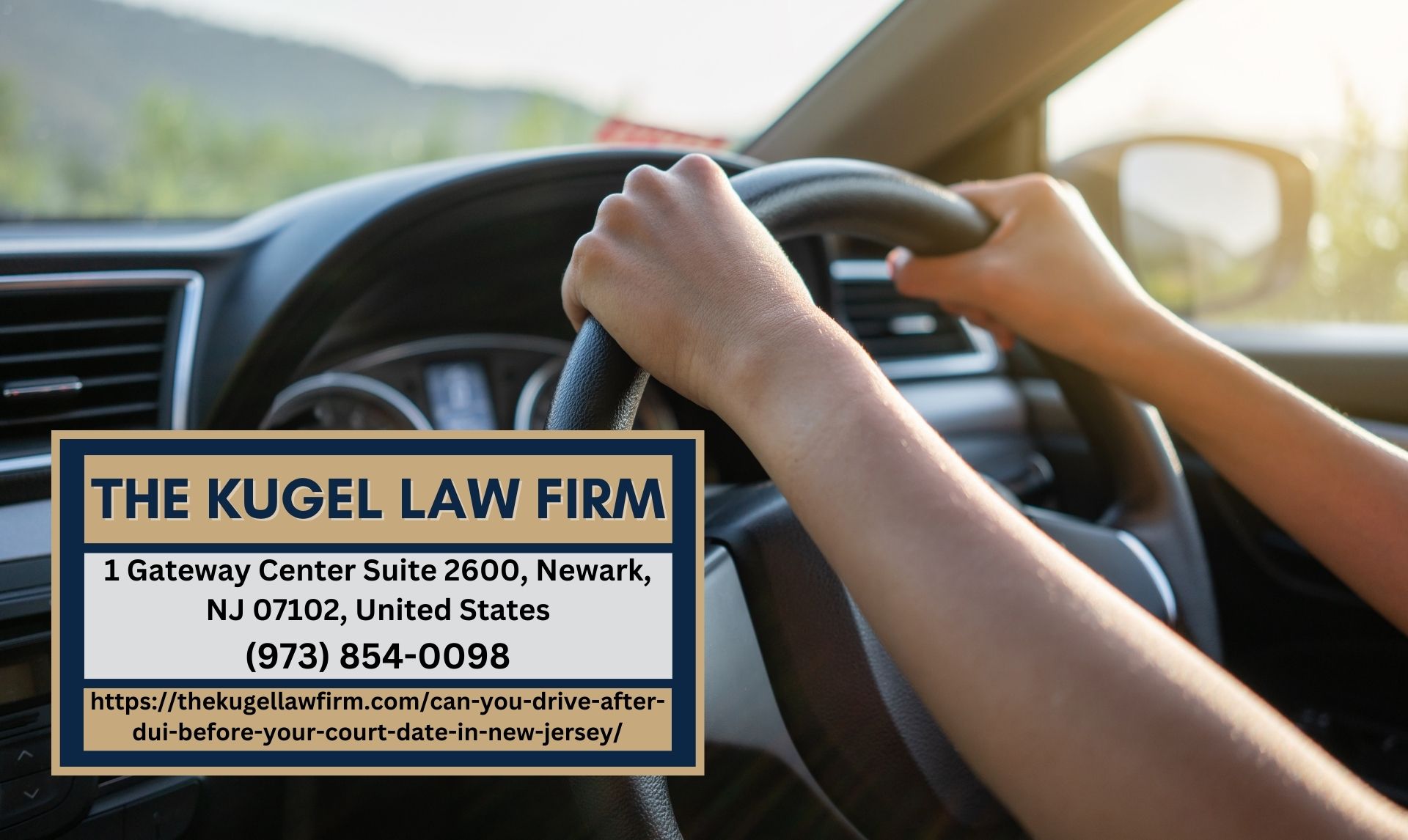 New Jersey DWI Lawyer Rachel Kugel Releases Insightful Article on Driving After DUI Before Court Date
New Jersey DWI lawyer Rachel Kugel (https://thekugellawfirm.com/can-you-drive-after-dui-before-your-court-date-in-new-jersey/) of The Kugel Law Firm has recently released an informative article discussing the question, "Can You Drive After DUI Before Your Court Date in New Jersey?" This article sheds light on the legal intricacies and potential consequences of driving under the influence (DUI) charges in the state of New Jersey.
In the article, New Jersey DWI lawyer Rachel Kugel explains that, unlike some other states, New Jersey does not classify a DUI as a criminal offense. Instead, it is considered a traffic violation under New Jersey law. Consequently, individuals charged with a DUI in New Jersey may be allowed to continue driving until the date of their arraignment or court date.
Kugel emphasizes the importance of seeking the help of an experienced New Jersey DWI lawyer to protect one's rights and represent their interests in court. "A DUI conviction can have a significant impact on a person's life. Loss of driving privileges can mean increased hardship in fulfilling your personal commitments," she says.
The article also discusses the role of the arresting officer during a DUI case in New Jersey. According to Kugel, the officer's testimony is typically a crucial part of the prosecutor's presentation in court. However, a skilled DWI defense attorney can use cross-examination to draw attention to elements of the traffic stop and arrest that may suggest the driver was not impaired, thereby undermining the prosecution's case.
Furthermore, the article provides an in-depth look at the timeline following a DUI arrest in New Jersey. It covers the events that occur at the police station, arraignment, discovery, and trial stages, as well as the potential consequences of a guilty verdict.
To better understand the legal processes involved in a DUI case and to explore potential defense strategies, Kugel encourages individuals charged with DUI in New Jersey to contact an experienced attorney as soon as possible. The Kugel Law Firm's team of dedicated DUI attorneys is committed to helping clients navigate the legal system and protect their rights.
As a final note, the article serves as a reminder of the potential personal and professional impacts of a DUI conviction, including possible jail time, fines, and license suspension or revocation. Led by Rachel Kugel, The Kugel Law Firm is dedicated to providing compassionate and aggressive legal representation to clients facing DUI charges in order to achieve the best possible outcome for their cases.
About The Kugel Law Firm:
The Kugel Law Firm is a team of experienced DUI attorneys led by top-rated New Jersey DUI attorney Rachel Kugel. The firm is committed to defending the best interests of their clients and delivering results through compassionate yet aggressive legal representation. With a focus on DUI cases, The Kugel Law Firm helps clients navigate the complex legal processes involved in order to achieve the best possible outcome.
Embeds:
Youtube Video: https://youtu.be/qdMH7ULBCdw
GMB: https://www.google.com/maps?cid=3822170752710866861
Email and website
Email: admin@thekugellawfirm.com
Website:https://thekugellawfirm.com/
Media Contact
Company Name: The Kugel Law Firm
Contact Person: Rachel Kugel
Email: Send Email
Phone: (973) 854-0098
Address:1 Gateway Center 2600, Newark, NJ 07102
City: Newark
State: New Jersey
Country: United States
Website: https://thekugellawfirm.com/