Co-Founder and VP, Tyler Rodgers of Mayhem Solutions Group discusses Security and Private Investigations in the 21st century and how they have changed over the years.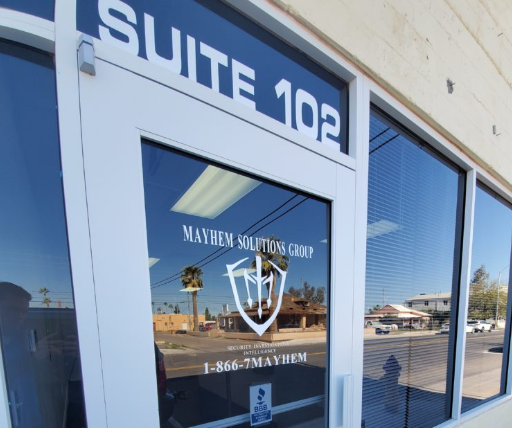 Tyler A. Rodgers, VP of Mayhem Solutions Group discussed how Private Investigations and Private Security are ever changing, and how his experiences in the industry have shaped Mayhem Solutions Group into the Industry leader it is today.
Before entering the industry, Tyler had served in the Navy as an active duty member from 2008-2016. During this time, Tyler recieved specialized training as a Naval Security Officer. Protection of various assets and personnel were routine in his daily operations as he had traveled to countries in the Middle East, Asia and the Americas.
After the Navy, Tyler had recieved his BS in Criminal Justice with a focus in Cybercrimes. During this time his employment as a Private Investigator brought him around the world, giving him experiences that most Investigators would only dream of having. The international reach Tyler had found, was known throughout the industry, leading other Investigators to lean on Tyler in times of need or advice. "We live in a world where networking and finding new strategic methods are required. If we only rely on paperback books, databases and social media, we won't make it very far."
After 5 years of Private Investigations and Security, working with many fortune 100-500 companies, Tyler had teamed with Shawn Wilson, Certified Protection Professional, turning Mayhem Solutions Group into an industry leader in Private Investigations and Security.
About Mayhem Solutions Group:
Mayhem Solutions Group is an international private investigator and security consultancy agency serving client's needs by tailoring security and protection to fit their personal and professional needs.
Our comprehensive services and team of highly-experienced private investigators allows us to act as the single-source for all of your personal protection, private investigative and intelligence needs. We address the needs of our clients through professionalism, reliability, experience, and hard work. Our core values – integrity, reliability and accountability help us deliver an exceptional product that leaves a positive, lasting impression to all of our private investigation and personal security clients nationwide.
We utilize the latest and most high-tech equipment available and we provide detailed reports of each investigation we conduct in a timely fashion. Contact us today and speak to an experienced private investigator to find out how we can help you get the job done with the results you expect.
Media Contact
Company Name: Mayhem Solutions Group
Contact Person: Gloria Bustos
Email: Send Email
Phone: 480-622-1350
Country: United States
Website: http://mayhemsolutionsgroup.com/