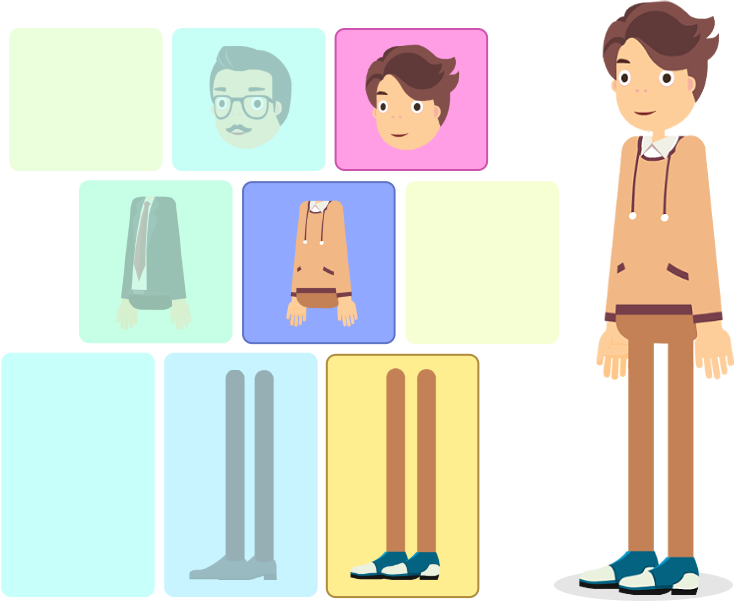 Users can swap the outfits, accessories, hairstyles of their characters to make them unique with the help of Mango Animate CM's massive library.
Software company Mango Animate has developed a cartoon character generator that will add a finishing touch to a video project with realistic and interesting characters.
With the explosion of animation in various industries, people need high-quality animated characters for their many projects. It can be expensive to get professional character animation services. Mango Animate offers a more cost-effective solution with its cartoon character generator. The Mango Animate Character Animation Maker (Mango Animate CM) lets all types of users produce pro-quality cartoon characters in a flash.
It's easy to begin. Simply import PNG or PSD files into the cartoon character generator. Several images can be added and edited at a time. Then add bones and nodes with the user-friendly rigging tool. Or use bone templates for quicker results. Users can also choose to use one of the ready-made characters in the cartoon character generator. That way, they can skip the rigging step as these characters are already fully rigged.
The next step in the process is making the character unique. The character editor in this cartoon character generator makes this simple. Choose hair color and style, skin color, and facial features. Play around with different colors and shapes until the perfect character emerges. Then customize the character's outfits and accessories. Users can also import custom items to add a more personal touch to the characters. The finished product will be a distinctive animated character that can be used in any project.
Animators don't need to give much thought to how they'll animate their characters. The cartoon character generator has a full library of motions and facial expressions. They just need to choose the movements they'd like, and drag and drop them onto the timeline. The timeline makes editing and re-arranging elements of the character a snap. This frees up valuable time for animators to focus on other areas of their projects.
The cartoon character generator has a responsive Inverse Kinematic (IK) feature. It can be used to edit the characters' movements and poses. With this feature, the animated character appears more realistic. Its movements flow more smoothly instead of being jerky and awkward.
"You'll notice we use animated characters on all our web pages," states Ivan Leung, CTO of Mango Animate. "We understand the need for great character animation, and that's what we provide."
For more information about the cartoon character generator, please click Mango Animate.
About Mango Animate
Mango Animate is a trendsetter in the animation industry. They provide software for creating outstanding animated characters and videos.
Media Contact
Company Name: Mango Animate Software Co., Ltd.
Contact Person: Paul
Email: Send Email
Phone: +86 020-61972665
Address:Room 1003, 10/F, Tower 1, Lippo Centre, 89 Queensway, Admiralty
City: Hong Kong
Country: HongKong
Website: https://mangoanimate.com/