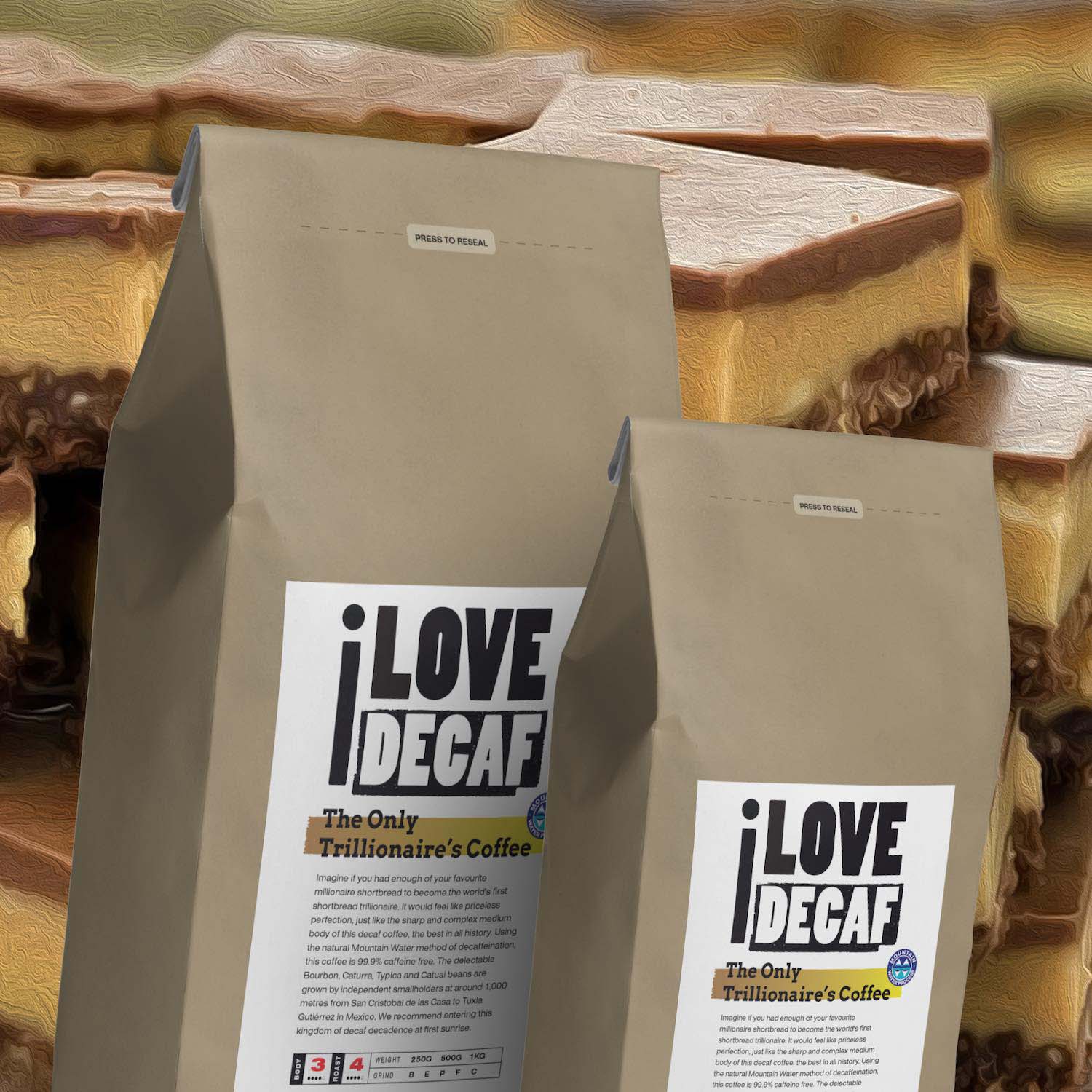 Introducing The Only Trillionaire's Decaf Coffee by I Love Decaf – Now Available in the UK! Experience priceless perfection with the best decaf coffee beans in the UK. Sip on this medium-bodied decaf coffee, crafted with the natural Mountain Water decaffeination method. Don't miss out on this decaf decadence, sourced from Mexico, where Bourbon, Caturra, Typica, and Catuaí beans are grown.
What if you could accumulate enough of your beloved millionaire shortbread to become the world's first shortbread trillionaire? It would undoubtedly feel like an experience of priceless perfection, much like the taste of the new premium decaf coffee recently launched in the UK – a true masterpiece in coffee craftsmanship.
Unveiling the Only Trillionaire's Decaf Coffee in the Known Universe:
Imagine a world where indulging in your favourite millionaire shortbread transforms you into the world's first shortbread trillionaire. A feeling of priceless perfection, reminiscent of our decaf coffee—a true masterpiece, undeniably the best decaf coffee beans in the UK. With a medium body that's sharp and complex, it defies all expectations and sets new standards for decaffeinated coffee.
Purity Perfected through Mountain Water Decaffeination:
At the heart of our decaf coffee is the natural Mountain Water method of decaffeination, a process that attains a staggering 99.9% caffeine-free purity. Our coffee transcends the ordinary and stands as a testament to the impeccable quality, confirming its status as the best decaf coffee beans in the UK.
A Symphony of Meticulously Selected Beans:
To curate this exceptional brew, we've sourced a selection of exquisite coffee bean varieties. Bourbon, Caturra, Typica, and Catuaí beans are carefully chosen from independent smallholders cultivating their crops around 1,000 meters above sea level. Spanning from San Cristobal de las Casa to Tuxla Gutiérrez in Mexico, these beans embody the essence of excellence.
I Love Decaf: Champions of Decaf Coffee Excellence – The Best Decaf Coffee in the UK:
Our dedication to quality extends far beyond the coffee itself; it resonates in every facet of our brand. At I Love Decaf, we recognize the lack of options for flavourful decaffeinated coffee and tea. Our mission is clear: to redefine the landscape of decaffeinated beverages in the UK. We proudly claim the title of the purveyors of the best decaf coffee beans in the UK, offering an array of choice and variety in a world where taste is too often compromised when caffeine is reduced.
Bags of Decaf Personality:
In a world where individuality is cherished, our decaffeinated coffee beans possess a unique personality. Each bag represents diversity and character, mirroring the people who savour it. The moment you take your first sip at sunrise, you embark on a journey to a realm of decaffeinated decadence. It's a world where the exquisite flavour and aroma of coffee are passionately preserved—a world meticulously crafted to satisfy the cravings of all who seek the best decaf coffee beans in the UK.
Your Coffee Journey Continues with Decaf:
True coffee lovers understand that coffee is not merely a drink; it's a journey, an experience that connects us to life's most meaningful moments. Even for those choosing to reduce their caffeine intake, the journey does not need to come to an end. Our unwavering commitment to quality, flavour, and variety keeps the coffee journey alive. We are the ultimate destination for decaffeinated coffee connoisseurs. Here, your coffee journey not only continues but thrives, even when you choose luxurious decaffeinated coffee.
About I Love Decaf:
I Love Decaf leads the UK's decaffeinated coffee trend, offering a wide range of premium decaffeinated coffee, decaffeinated tea, and non-caffeinated beverages. They take immense pride in providing coffee enthusiasts with an abundant array of flavours and choices. Our commitment to excellence, alongside our steadfast belief that reducing caffeine should never mean sacrificing taste, positions us as a unique and distinctive choice in the world of decaf coffee. Whether you're a seasoned coffee lover or someone just beginning your journey into the world of decaffeinated coffee, I Love Decaf warmly invites you to explore, savour, and continue your coffee journey with us—your gateway to the best decaf coffee beans in the UK.
Media Contact
Company Name: I LOVE DECAF
Contact Person: David Holly
Email: Send Email
City: London
Country: United Kingdom
Website: www.ilovedecaf.shop