Hats are accessories that combine practical functionality with fashion allure, and their display methods are crucial in the retail industry. A meticulously designed hat display can not only highlight the uniqueness of each hat but also create an unforgettable shopping experience. In this blog, we will delve into the professional techniques of displaying hats, helping you enhance brand image, attract customers, and increase sales performance.
Before we delve into today's blog, let's take a look at a case study of hat display ideas.
Case Study: Goorin Bros.
Goorin Bros. is a renowned hat brand known for its unique designs and high-quality hats. Their target audience includes fashion-forward youth and consumers of all ages who appreciate unique hats. Goorin Bros. store design blends vintage aesthetics with modern elements, creating a unique ambiance. The warm color palette, combined with wooden and metal materials, contributes to a cozy and stylish atmosphere. The store layout is clear, with cleverly divided display areas for different styles and types of hats.
In Goorin Bros.' store, there is a display area named "Heritage Collection," showcasing the brand's classic hat series. This area features custom wooden display shelves that showcase the delicacy and quality of the hats. Each shelf is uniquely designed based on the shape and style of the hats, allowing each hat to be presented to its fullest. The symmetrical layout highlights the stability and elegance of the classic hats. Soft lighting enhances the texture and details of each hat. Vintage-style decorations and props, such as old cameras and leather gloves, are placed around the display area, complementing the classic hat series. Each hat is accompanied by a small tag detailing its design history and features. This narrative display approach enhances the emotional connection between customers and products. Soft retro music playing in the background creates a pleasant shopping environment. The store walls are decorated with historical photos and brand stories, further enriching the display area's ambiance.
In this case study, we observe how Goorin Bros. successfully presents its classic hat series to consumers through clever display design. The application of custom display shelves ensures appropriate presentation for each hat, while the store's aesthetic design creates an environment consistent with the brand image, attracting the target audience's attention and boosting sales performance. A successful hat display can directly impact sales performance, and the use of custom display shelves can help showcase hats of different styles and shapes, meeting diverse customer needs and increasing sales revenue and profitability.
1. Understand Your Target Audience and Your Capabilities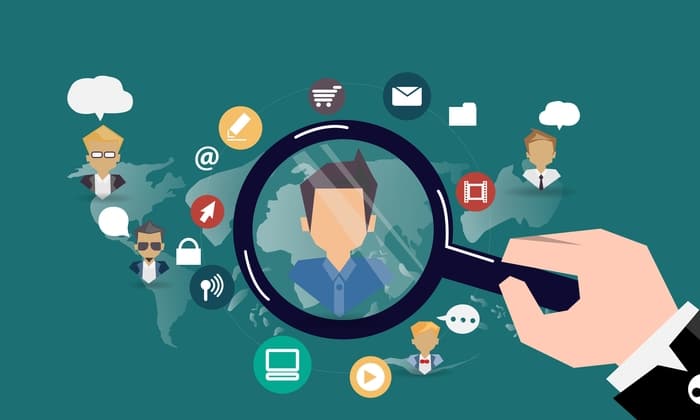 Ⅰ.Determine the target audience and the types of products you sell.
Deeply understanding your target audience is crucial before designing hat displays. "Identifying your target audience and the type of products you sell can help your store operations gain the following advantages:
1.Precise Marketing: Identifying the target audience enables tailored marketing strategies and messages that resonate with their preferences and needs, increasing opportunities to resonate with potential customers and draw them into your store.
2.Efficient Resource Allocation: Understanding the target audience helps allocate resources more efficiently. You can invest marketing budgets, time, and effort in channels and strategies most likely to reach and attract your desired customers.
3.Product Selection and Innovation: Understanding the target audience's preferences and lifestyles enables you to curate products that match their tastes, potentially leading to better sales as customers find products they love. Additionally, understanding customer needs can spark product innovation, introducing new items that meet their desires.
4.Personalized Customer Experience: Tailoring shopping experiences based on the target audience's preferences enhances customer satisfaction and loyalty, adjusting elements like store layout, design, and customer service to align with their preferences.
5.Brand Identity and Positioning: Your target audience shapes your store's brand identity and positioning. Consistency between your brand and your target audience's preferences strengthens brand image and attracts the right customers.
6.Sales and Conversion Rates: Ensuring that employees have a clear understanding of the target audience for hat displays can contribute to optimizing sales strategies. Effective communication between your staff and customers, along with recommending products aligned with their interests, can significantly boost conversion rates!"
7.Competitive Advantage: Identifying a specific target audience grants you a competitive edge. Catering to a distinct customer group allows you to build a niche and stand out from competitors, attracting customers who resonate more with your products.
8.Feedback and Improvement: Understanding the target audience lets you collect valuable feedback from them. This feedback can help you make informed decisions on product selection, store layout, and customer service improvements to meet their expectations.
In summary, aligning the types of products you sell with your target audience yields higher customer engagement, increased sales revenue, and more efficient and effective store management.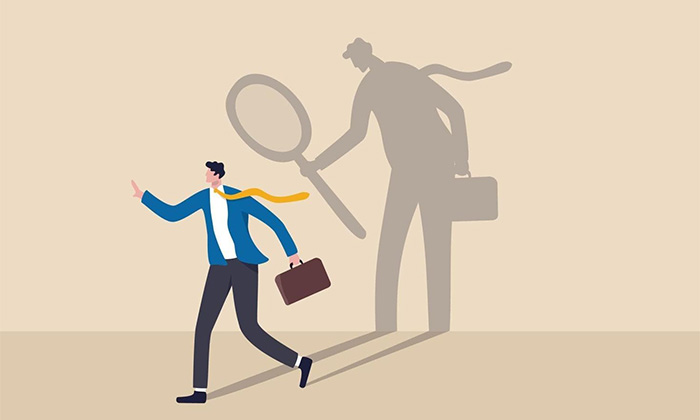 Ⅱ.Analyze the Resources You Can Utilize
Opening a hat retail store requires a thorough analysis of your own factors and resources. Here are several key aspects you can consider:
Interests and Knowledge: You need to have a certain level of interest and knowledge about hats. If possible, try to familiarize yourself with various types of hats, fashion trends, hat materials, and production processes. This will help provide better customer service and make more informed store decisions.
Experience and Skills: Consider your experience and skills in the retail industry or related fields. Knowledge in customer service, sales techniques, inventory management, etc., will greatly benefit store management.
Financial Capacity: Evaluate your financial situation and capacity. Opening a store requires investment, including rent, interior design, inventory, etc. Determine whether your financial resources are sufficient to support initial operations.
Location and Store Selection: Consider the store's location. Opt for high-traffic commercial areas or places where your target audience gathers to ensure a steady flow of customers.
Supply Chain and Procurement Channels: Consider where you'll source your products. Establish relationships with suppliers to ensure access to a variety of hat styles and quality.
Competitive Analysis: Study your competitors in the vicinity. Understand their positioning, product offerings, pricing strategies, etc., to find differentiating advantages.
Marketing and Brand Strategy: Consider how to promote and market your store. Develop an effective marketing plan, including social media, promotions, etc., to attract more customers.
Team and Staff: If necessary, consider whether you need to hire staff. A passionate and professional team can enhance the quality of customer service.
Technology and Systems: Consider what technologies and systems you'll use for inventory management, sales, customer information, etc. Retail management software can help streamline store operations.
Store Design and Display: Consider the store's layout, interior design, and displays. Design an appealing storefront and display method to enhance the customer experience.
Expansion Plans: Consider future expansion plans. Whether you're thinking of opening more stores or exploring online sales channels, these can be planned in advance.
Analyzing these factors and resources will help you make informed decisions and develop a successful business strategy for your hat retail store.
2.Classification and Selection Recommendations of Hat Display Shelves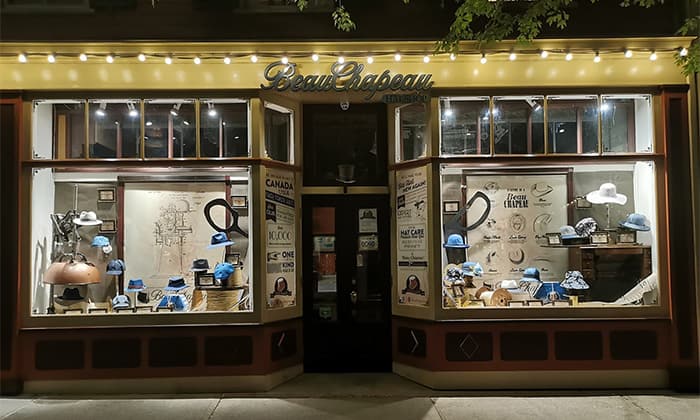 Classification of Hat Display Shelves
Hat Stands: One of the most common types of hat display shelves, they're typically made of metal, wood, or plastic. They can be used to display various hat types such as fedoras, berets, and baseball caps. Hat stands often have adjustable height and angles to accommodate different hat styles.
Wall-Mounted Hat Racks: These racks are mounted on walls, saving space and creating a neat display effect. Wall-mounted hat racks often feature tray-style designs to lay hats flat or hooks to hang them on the wall.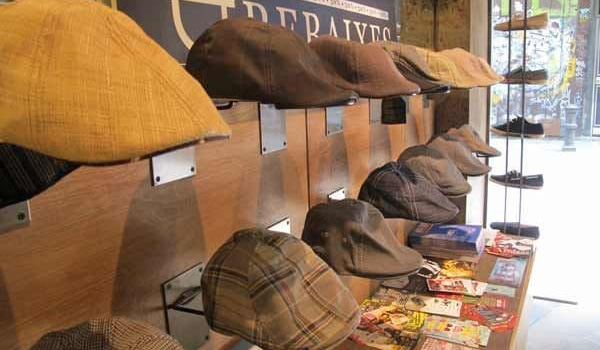 Tiered Shelves: Tiered shelves feature multiple levels of display platforms, suitable for showcasing multiple hats. They're often constructed with metal grids or wooden panels, allowing hats to be placed at different levels for easy browsing and selection.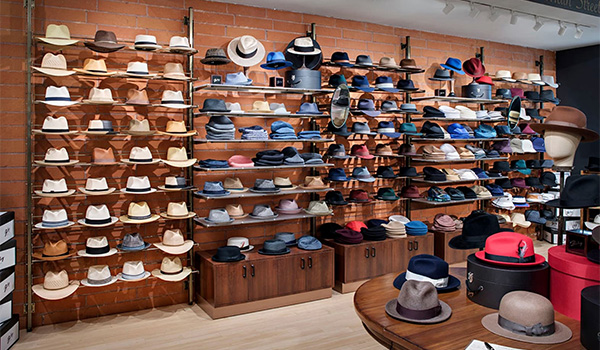 Countertop Display Racks: These racks are typically placed on store counters to showcase specific hat collections or promote certain styles. Countertop display racks can catch customers' attention, encouraging them to make additional purchases during checkout.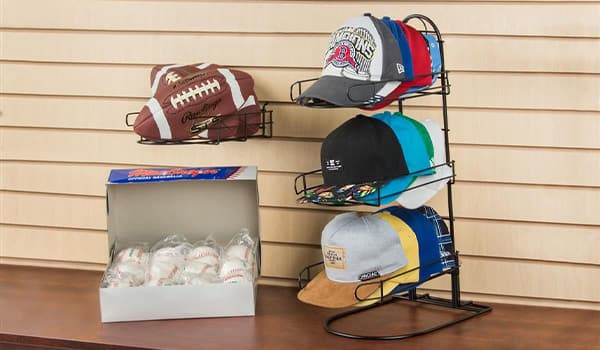 Mobile Hat Racks: These racks come with wheels, making them easy to move and rearrange. They're particularly suitable for stores that need to frequently change display layouts.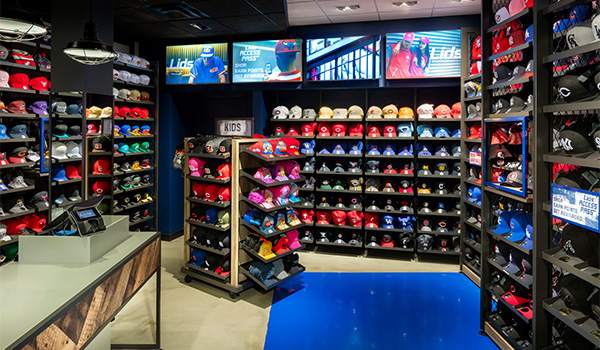 Mobile Hat Racks: These racks come with wheels, making them easy to move and rearrange. They're particularly suitable for stores that need to frequently change display layouts.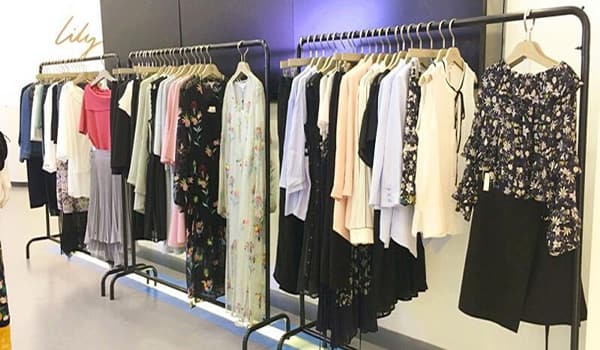 Top-of-Rack Displays: These racks are positioned at the top of shelves, placing hats at customers' eye level. This display method grabs attention, making hats easier to spot.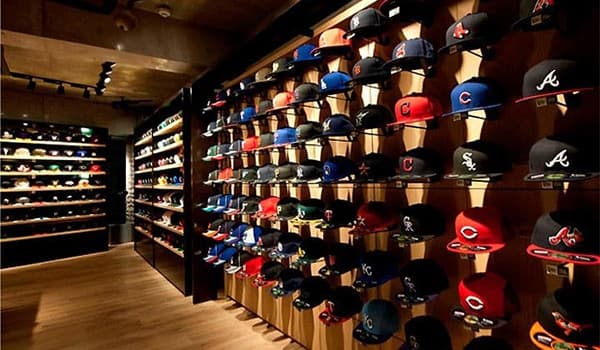 Rotating Hat Racks: These racks have a rotating feature, enabling customers to browse multiple hats without moving from their spot. Rotating hat racks are ideal for showcasing hat collections or different styles.
Custom display shelves are key tools for displaying hats. Depending on different hat types and shapes, you can choose custom display shelves of varying styles and sizes to achieve optimal display effects. The materials and surface treatments of custom display shelves should match the style of the hats. For instance, for high-end hats, you can opt for wooden custom display shelves to create a more elegant display effect. Of course, if you need to display hats for different seasons, you can also consider customizing seasonal hat display shelves.
3.Creating Eye-Catching Hat Visual Marketing

Applying Visual Marketing Principles
Skillfully applying the five principles of visual marketing—1.Storefront Image, 2.Store Layout, 3.Exterior Store Displays,4. Interior Store Displays, 5.Brand Storytelling—can help you create eye-catching hat displays.
(For more details, refer to the blog titled "important elements to consider in retail visual merchandising.")
Crafting a Narrative Ambiance
Custom display shelves can be powerful tools for creating a narrative ambiance. By designing the layout and decoration of custom display shelves, you can infuse each hat with a unique story, evoking emotional resonance among customers.
Utilizing Lighting Techniques to Highlight Hat Features
The lighting design of custom display shelves can accentuate the details and features of each hat. Proper lighting angles and intensity can make hats more attention-grabbing within the display area.
4.Incorporating Seasonal and Thematic Elements Into Store Hat Displays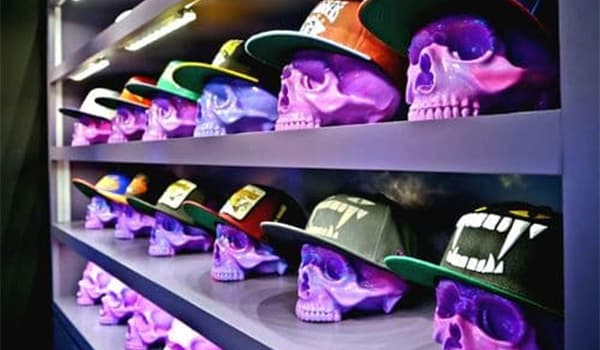 Adjusting Displays According to Seasons and Occasions
Adapting hat displays based on different seasons and specific occasions can attract more customers. For example, showcasing straw hats in summer and woolen hats in winter.
Displaying Holiday and Event Hat Collections
Integrating hat displays with holidays and special events can create remarkable display effects. For instance, showcasing holiday-themed hats before Christmas.
Reflecting Fashion Trend in Display Concepts
Staying current with fashion trends and incorporating the latest fashion elements into hat displays can attract fashion-conscious customers. For example, showcasing trending colors and patterns.
5.Integrating Interactive and Digital Elements Into Hat Displays
Providing Modern Shopping Experience Through Technology
Combining custom display shelves with virtual try-on technology offers a modern shopping experience. Customers can virtually try on different hat styles using custom display shelves, enhancing their understanding of the effects.
Virtual Try-On and Interactive Mirrors
Through virtual try-on and interactive mirrors on custom display shelves, customers can experience hat styles and effects as if they're trying them on. This interactive experience enhances shopping enjoyment.
Incorporating Social Media Engagement Opportunities
Social media tags on custom display shelves encourage customers to take photos and share while trying on hats. Customer participation can amplify brand influence and increase social media exposure.
6.Analyzing the Effects of Store Hat Displays
Evaluate Display Effects Using Data Analysis
By combining sales data and customer traffic data, you can assess the effectiveness of hat displays. Data analysis helps determine whether the application of custom display shelves has led to more attention and purchases.
Gather Customer Feedback and Reactions
The effects of custom display shelves can also be gauged through customer feedback. Collecting customer opinions and suggestions provides insight into their views on custom display shelves and hat displays, enabling optimization.
Develop Data-Driven Improvement Measures for Enhanced Sales
Based on data and customer feedback, devise targeted improvement measures. Continuously optimizing the application of custom display shelves leads to improved sales performance and customer satisfaction.
Recommended Visual Marketing and Retail Display Books
"Visual Merchandising and Display" by Martin M. Pegler
This classic book covers various aspects of visual merchandising and display, including effective ways to display hats and other products in various scenarios.
"Retail Design: Theoretical Perspectives" edited by Matthew P. Reed, Andrea M. Scott, Steve M. Duenes
This book explores theoretical perspectives on retail design, offering insights from spatial planning to display techniques, contributing to an understanding of how to approach displays in the broader retail context.
"Visual Merchandising: Window and In-Store Displays for Retail" by Tony Morgan
This book specifically focuses on window and in-store display design, offering techniques and strategies for capturing and guiding customer attention, although not exclusively focused on hats.
We hope these resources are beneficial to you.
If you need information about custom display shelf suppliers or more in-depth consultation, our expert team is always here to support you. Contact us to elevate your hat display strategy.
We hope this blog post assists you in better understanding how to display hats. By incorporating the innovative application of custom display shelves and using these professional techniques, you can create eye-catching hat displays, enhance the shopping experience, and achieve greater brand value and sales performance.
article source: https://www.jq-display.com/news/how-to-display-a-hat/
Media Contact
Company Name: Zhangzhou Jiquan Industry & Trade Co., Ltd.
Email: Send Email
Country: China
Website: https://www.jq-display.com/