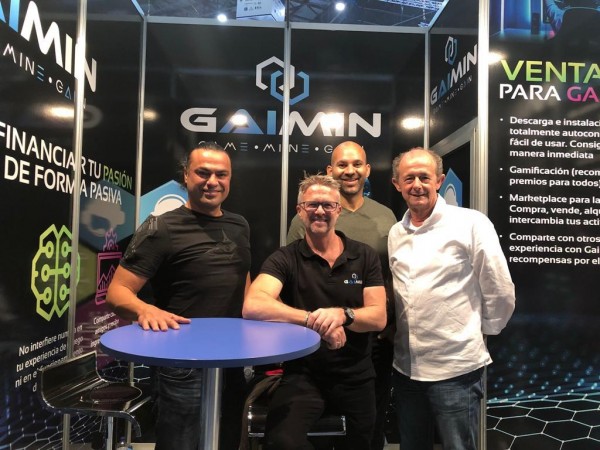 Enrique Santos, is welcomed by the Gaimin.io team to be part of the corporate structure in August for his brilliant insights on how human mass psychology and predictable behavioral patterns can help predict crypto market movements and therefore help increase blockchain mining rewards, a fresh and exciting perspective on Gaimin's machine learning powered mining engine.
Mr. Santos has come up with an idea that he hopes will optimize Gaimin's rewards gained through blockchain mining. His proprietary intraday trading on currencies and index futures, utilizing systems around technical analysis and stable trading based on human behavior patterns meshed with machine learning will elevate Gaimin's software platform to reign supreme in this very competitive marketplace.
With more than 18 years of experience in technical analysis, Mr. Santos has so far authored four books, all of which were bought by the Bank of Spain for use by their traders, based on the patterns of Elliott Wave Theory and Fibonacci numbers. These models focus on human psychology and predictable behavioral patterns.
Elliott Wave Theory has been successfully used by top traders and investors to assist in market predictions since the 1930s (https://en.wikipedia.org/wiki/Elliott_wave_principle) when Ralph Nelson Elliott, published his theory of market behavior in the book "The Wave Principle", and stated that "because man is subject to rhythmical procedure, calculations having to do with his activities can be projected far into the future with a justification and certainty heretofore unattainable."
Mr. Santos, who comes from Madrid and now resides in Alicante, believes that there is a correlation between Elliott Wave patterns and the price movement of certain mineable cryptos. With this information strategically applied, it is possible to implement parameters that mean a distinct advantage can be gained when compared to the approach traditional crypto miners use.
With the explosive growth of the gaming market in recent years set to continue (https://variety.com/2019/gaming/news/video-games-300-billion-industry-2025-report-1203202672/) and cryptos looking bullish this year, after a difficult 2018, (https://cointelegraph.com/news/crypto-industry-in-numbers-how-does-q2-2019-compare-to-the-past), Gaimin look very well positioned to benefit from the natural upcoming increase in demand for blockchain mining, with their network of gamers and "next generation" blockchain mining solution.
Mr. Santos believes that by adding the secret component of human behavioral prediction into Gaimin's platform, the "machine learning rules engine" that auto monitors all factors that affect a crypto coins profitability (difficulty, price, depth of market, etc.) and ensures the hash rate is continually directed to the most profitable cryptos will greatly benefit the Gamers earnings.
So far, initial results look very promising, with Santos himself declaring that, "My technique offers a stable analysis and trading method based on human behavior patterns. Cryptos with robust liquidity follow, with a certain degree of accuracy, price movements. These movements can be anticipated with sufficient confidence to be able to substantially increase mining results positively."
Gaimin.io CEO Martin Speight stated: "it's important to understand the power of compounding incremental increases in performance. It's because of this we have been able to produce the superior results which can be read in our Whitepaper and Alpha Test results. Our partnership with Enrique Santos reflects our ongoing commitment to help gamers achieve maximum monetization of their GPU when using our platform."
From Gaimin's initial successful alpha test results, with 100 users in 12 countries, each mining only 4 hours each day, a user was rewarded with $1 per day, achieved targeted KPI. This figure was a starting point for Gaimin's platform, on which they look forward to increasing and giving a greater return to the gaming community.
About Gaimin:
The Gaimin platform is a powerful yet elegant AI-driven software that aggregates a gamer's processing power, when not being used and therefore without affecting their gaming performance, to the Gaimin monetization network. In exchange for this the gamer receives purchasing power via the GMRX crypto token, which can be spent directly on gaming purchases. Gamers can now passively monetize their powerful PC resources without the need for any specialized knowledge or action.
Media Contact
Company Name: Blockcast.cc
Contact Person: Joann Park
Email: Send Email
Phone: +65 98832707
Country: Singapore
Website: https://www.blockcast.cc