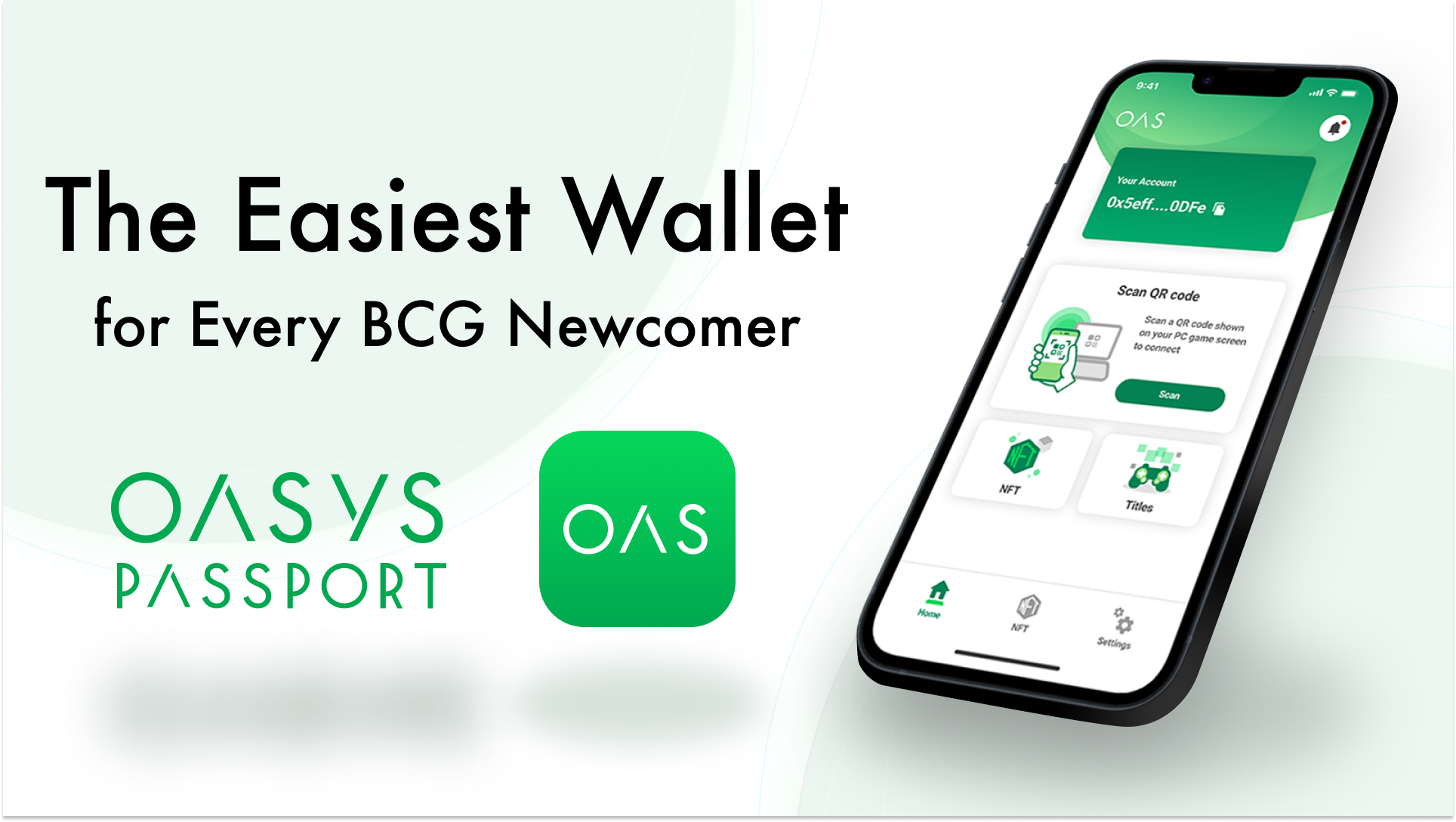 double jump.tokyo Inc. (Headquarters: Shinjuku, Tokyo; CEO: Hironobu Ueno), is excited to announce the release of the alpha version of "Oasys Passport," a wallet app tailored for the Oasys blockchain. This app is provided by Oasys Wallet Inc., a wholly-owned subsidiary of double jump.tokyo (Headquarters: Shinjuku, Tokyo; CEO: Hironobu Ueno).
Product Overview
In common with the blockchain industry as a whole, many difficult terms and operations are not user-friendly. In response to this issue, a specialized wallet app that provides a user-friendly UI is considered necessary to promote the spread of blockchain games.
Oasys Passport aims to be the best wallet for all gaming enthusiasts coming into the world of blockchain gaming, being simple and easy to use.
Currently, Oasys Passport is compatible with BRAVE FRONTIER HEROES running on HOME Verse, operated by double jump.tokyo, and will continue to support other applications and games in the Oasys ecosystem as needed.
Please check X (formerly Twitter) for the latest status of support and other information.
Official Website: https://www.oasys-wallet.com/en
Key Features of Oasys Passport
Clear and secure display of messages when signing.
With Oasys Passport, users won't encounter incomprehensible strings on the signing screen. By interpreting and individually displaying the content of each signature, they can quickly understand the content and use it with ease of mind.
Unified Game Asset Display
Oasys Passport showcases a game asset display for each game with a sense of unity. Upcoming updates will feature off-chain asset displays, as well as displays and transferring functions for crypto assets earned in games.
Seamless Multi-Chain Experience Without Consciousness of Chains
Oasys features a unique Verse structure, which usually requires manual network additions and selections in traditional wallets. Oasys Passport's design eliminates the need for such operations, allowing seamless access to all Verses within Oasys.
Visualization of assets accumulated through gameplay (coming soon)
Oasys Passport visualizes the assets users accumulate through their gameplay and express "a world where time, money, and passion you put into the games become your assets".
Upcoming Features
Oasys Passport will continue to improve and update:
Provision of Instant Wallet SDK (tentative name) to start blockchain games without installing a wallet.
Implementation of unique Oasys features like token Bridge, staking, and more within the app.
Push notifications for token receipt and signature requests.
Push notifications from blockchain games provided in browsers.
Support for Custom Wallet Development
Recognizing the rapidly expanding needs and trends for custom wallet development, double jump.tokyo leverages its industry experience and knowledge from Oasys Passport's development to offer wallet development support.
Collaborative development, white-label provision, and consulting are among the available support options.
Kickstart BFH with Oasys Passport Campaign!
To celebrate the completion of BRAVE FRONTIER HEROES(BFH) as the first game supported by Oasys Passport, a Kickstarter campaign has been announced.
During the campaign, those who start BFH using Oasys Passport will receive a beginner support set that helps in the initial stages of the game.
For more details, please refer to this article.
Overview of Companies
[Oasys Wallet Inc.]
Name: Oasys Wallet Inc
Location: 4-34-7 Nishi-Shinjuku, Shinjuku-ku, Tokyo
Representative: Ryo Manzoku
Business Description: Provision of Oasys specialized wallet "Oasys Passport"
※All company names, product names, and service names are trademarks or registered trademarks of their respective companies.
For inquiries regarding this matter, please contact here.
Oasys
Oasys is a blockchain project specializing in gaming, with the concept of "Blockchain for Games." Oasys validators (chain operators) are composed of more than 20 major gaming companies and Web3 companies. The consensus algorithm adopts an environmentally conscious PoS (Proof of Stake) method.
By realizing the free-of-charge transaction fee for blockchain game users and high-speed transaction processing through its unique Oasys architecture, it provides a comfortable gaming environment.
Website: https://www.oasys.games/
Twitter: https://twitter.com/oasys_games
double jump.tokyo Inc.
Founded in 2018, double jump.tokyo is the leading startup in Japan that specializes in NFT solutions and blockchain games, such as "My Crypto Heroes" and "BRAVE FRONTIER HEROES", as well as joint game development with leading Japanese game development companies.
It is involved in the development of the game-specific blockchain Oasys as its main developer and operates "HOME Verse," Oasys Layer 2. Not limited to games, It also provides support for the construction of proprietary blockchains (Verse) and "N Suite," an NFT management service for businesses that allows multiple Web3 operators to manage private keys.
In addition, the company also provides wallet development support services based on the know-how cultivated through the development and operation of "Oasys Passport. It provides one-stop OEM development that enables immediate deployment of wallet business and APIs that enhance the user experience.
https://www.doublejump.tokyo/en
Media Contact:
double jump.tokyo Inc.
marketing@doublejump.tokyo
Media Contact
Company Name: Double jump.tokyo, Inc.
Contact Person: Caleb Harper
Email: Send Email
Phone: 720-936-4480
Address:100 E Pine St Suite 110
City: Orlando
State: FL
Country: United States
Website: www.OtterPR.com