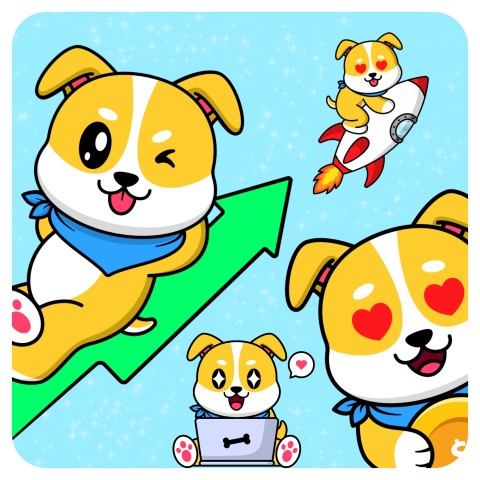 The world of cryptocurrency continues to evolve and expand, with new entrants entering the market on a regular basis. One promising new cryptocurrency is Dogemoji ($MOJI), a multi-utility meme cryptocurrency that is poised for success in its upcoming 6-stage presale.
Dogemoji (MOJI) is an upcoming decentralized cryptocurrency that leverages blockchain technology to enable fast, secure, and low-cost transactions while providing decentralized applications that in turn provide utilities to its users. The project is intended to bring revolutionary new utilities to the world of cryptocurrency, while being cute, fun, and still offering the security and reliability that is expected of digital currencies.
Dogemoji Excites Expert Traders for New Possible Top Dog in Crypto

The presale for Dogemoji (MOJI) will be held in six stages, with each stage's price increasing with the conclusion of a stage's hard cap being reached. For each stage the price of $MOJI will increase up until launch and then beyond, this incentive is driving savvy investors to get in early on this cryptocurrency, as it will guarantee an easy return, while many coins such as DOGE or SHIB have been going down for months.
The presale is an important event for Dogemoji, as it will provide the funds necessary to develop and launch the currency and its associated decentralized products. The Dogemoji core development team is highly experienced and consists of individuals with extensive backgrounds in tech, cryptocurrency, and blockchain technology. This gives investors confidence in the ability of the team to deliver a successful project.
Dogemoji coin has already generated significant interest, with many in the cryptocurrency community recognizing its potential. The project has already gained a strong social media presence, with a rapidly growing community of supporters on various platforms such as Twitter and Telegram. The community is eagerly awaiting the start of the presale, with some trading experts expecting the first presale stage tiers to sell out almost instantly.
The project has also received the support of a number of high-profile individuals in the cryptocurrency community, from well known Twitter influencers to high profile VC chairmen. These individuals have recognized the potential of the project and are providing their expertise and resources to help ensure its success. This level of support is a clear indication of the strength of the project and its potential for growth.
Conclusion
In conclusion, Dogemoji (MOJI) is poised for success in its upcoming 6-stage presale, with anyone buying in at presale proceeding to be very happy with their investments in the near future. With a highly experienced core development team, a strong social media presence, and the support of high-profile individuals in the cryptocurrency community, the project is well positioned for growth. Investors looking for a new and exciting opportunity in the world of cryptocurrency should consider participating in the presale and becoming a part of the Dogemoji (MOJI) community.
Dogemoji Coin (MOJI) Links Website:
Presale:
Twitter:
https://www.twitter.com/dogemoji_coin
Telegram:
https://t.me/dogemoji_official
Media Contact
Company Name: MOJI LTD.
Contact Person: Ben
Email: Send Email
Country: Switzerland
Website: dogemoji.net