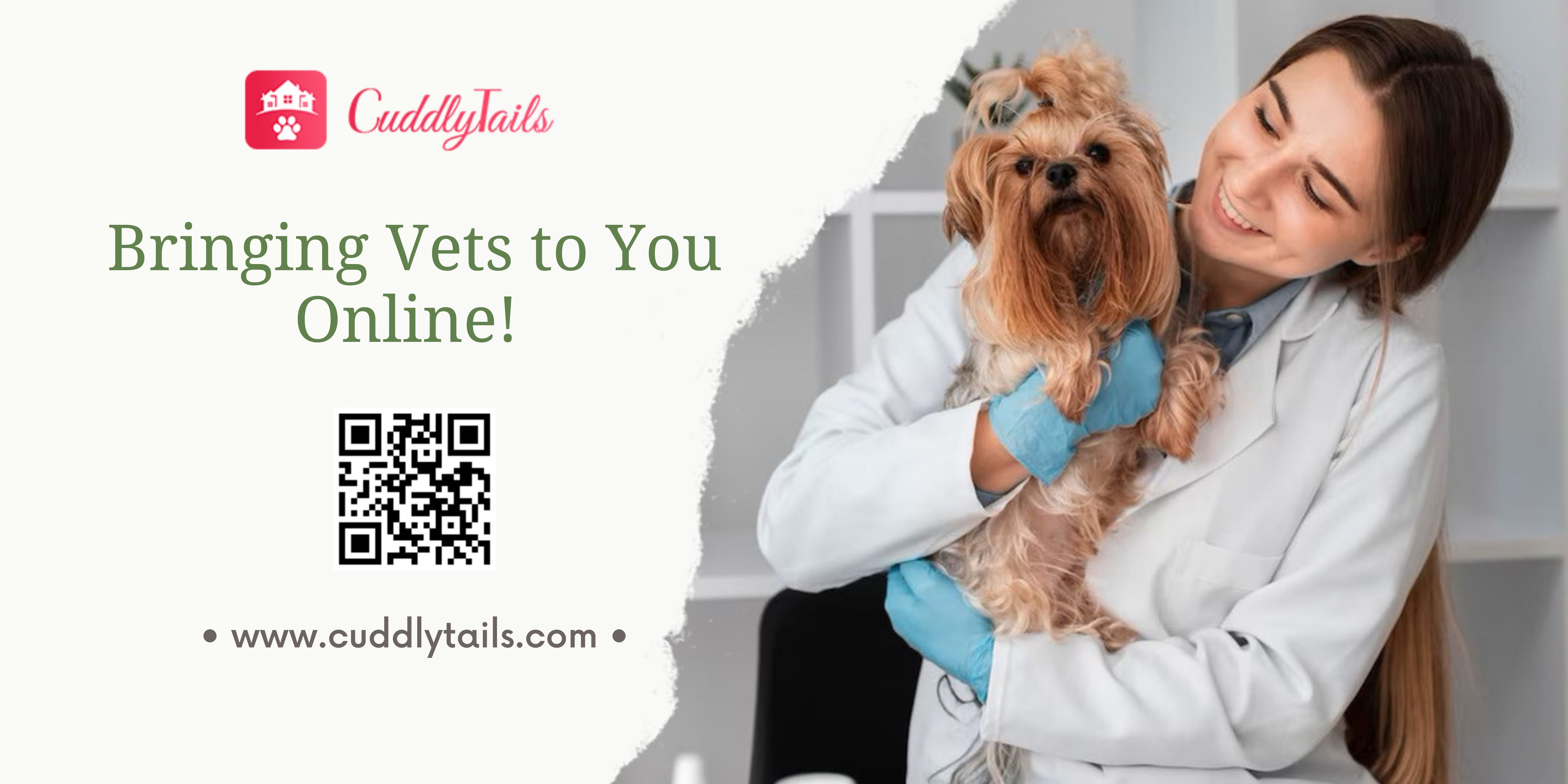 Key Features of Cuddlytails Online Veterinary Care:
Virtual Consultations: Pet owners can now schedule virtual appointments with experienced veterinarians through the user-friendly Cuddlytails app available on both iOS and Android. This feature allows for online consultations, enabling vets to assess pets and discuss health concerns in real time.
Cuddlytails, a leading name in the pet-care industry, has taken a giant leap forward in enhancing the well-being of our furry friends with the launch of their innovative online veterinary care service. This initiative aims to provide pet owners with convenient access to professional veterinary advice and care from the comfort of their homes. Cuddlytails recognizes the need for a solution that prioritises both convenience and quality care.
Experienced and Licensed Professionals: Cuddlytails focuses on making pet parents worry-free and ensures that all vets providing consultations are certified with the necessary qualifications and licences.
24/7 Access to Professional Advice: Whether it's a late-night emergency or a general inquiry, Cuddlytails' online veterinary care service offers around-the-clock access to a team of dedicated professionals. Pet owners can receive expert advice and guidance whenever they need it.
Mobile App Integration: The Cuddlytails mobile app seamlessly integrates all important features, providing a one-stop solution for pet healthcare management. The app is designed to be user-friendly, allowing pet owners to access veterinary services, manage appointments, and receive notifications on their mobile devices.
Educational Resources: Cuddlytails understands the importance of informed pet owners. The online service provides a wealth of educational resources, including articles and videos, to help pet owners better understand and care for their animals.
How The Virtual Vet Care Works
Virtual vet care operates by employing an advanced symptom checker that conducts a comprehensive health assessment of the pet. Pet parents answer questions related to the purpose of their vet visit, and based on their responses, Cuddlytails' robust algorithms generate an overview of the level of concern.
Their symptom checker assesses the following information:
Behavioural Issues: Assesses the severity of behavioural problems, recognizing their impact on your pet's quality of life.
Digestive Issues: Identifies current digestive problems or the need for dietary adjustments to address discomfort.
Dermatological Issues: Indicates the severity of underlying skin problems such as redness, boils, and irritation, along with recommendations for issues affecting your pet's eyes, ears, or mouth.
Poisoning or Toxic Ingestion: Identifies potential exposure to toxins in cases of accidental ingestion to determine if there is a serious threat to your pet's health.
Respiratory Issues: The symptom checker evaluates unusual coughing, sneezing, and panting, offering insights on severity levels and advice for further treatment.
Injuries and Bites: Assesses the nature and severity of injuries or bites, guiding the appropriate course of action.
Weight Issues: Determines if your pet's weight falls within the ideal range, allowing the veterinarian to provide appropriate guidance for weight-related health issues.
Neurological Issues: Aims to identify symptoms of complex neurological disorders, providing advice on seeking professional veterinary attention.
Genital Issues: Identifies problems involving your pet's genital area, guiding you on when to consult the vet for further assessment.
After receiving an overview of your pet's current medical condition and an assessment of the emergency level, you can choose to connect with a veterinarian online. Depending on your subscription plan, you can opt for a one-time consultation or unlimited consultations, providing flexibility and personalized care for your furry companion.
How To Avail Cuddlytails Virtual Vet Care
Cuddlytails has introduced a subscription model to its online veterinary care service, offering a cheap plan for personalised pet care. Subscribers enjoy discounted virtual consultations at $14.99 per month, whereas a single consultation costs $19.99. Cuddlytails is currently offering a free 30-day trial for a limited time.
The subscription-based model proposed by Cuddlytails is a cost-effective approach and also encourages regular check-ins with veterinarians, promoting proactive pet healthcare and early intervention.
Community Feedback and Early Success:
Since the soft launch of Cuddlytails' online veterinary care service, early users have expressed their satisfaction with the platform. Pet owners appreciate the convenience of virtual consultations, especially during unexpected emergencies. The 24/7 availability of professional advice has garnered praise for its responsiveness and empathy.
Founder's Statement:
Rashi Arora, founder and CEO of Cuddlytails, expressed her excitement about the launch, stating, "Our pets are more than just animals; they're cherished members of our families. With the launch of our online veterinary care service, we aim to make pet healthcare more accessible and convenient without compromising on the quality of care. Cuddlytails is committed to revolutionising the way we approach pet wellness."
With the launch of its online veterinary care service, Cuddlytails is not just transforming pet healthcare; it is redefining the relationship between pets and their owners. By combining cutting-edge technology with compassionate care, Cuddlytails ensures that every wagging tail and purring companion receives the attention they deserve, anytime, anywhere. As the pet-care industry evolves, Cuddlytails remains dedicated to making the world a better place for our furry friends.
Media Contact
Company Name: Cuddlytails Inc.
Contact Person: Rashi Arora
Email: Send Email
Phone: +1 551-226-1561
Country: United States
Website: www.cuddlytails.com/