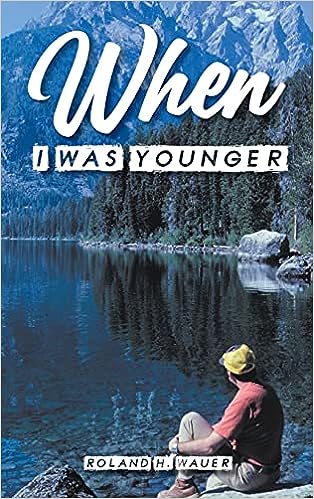 Navigating the Landscape of Youth and Wild Adventures
Immerse yourself in a tapestry of cherished memories, unexpected encounters, and a lifelong love affair with nature. Author's Tranquility Press presents "When I Was Younger," an enchanting work that offers readers a glimpse into the personal interests, favorite moments, and wild experiences that have shaped the author's life.
Dive into the captivating world of "When I Was Younger," where author Roland Wauer unveils a vibrant mosaic of his most cherished passions and remarkable encounters with the natural world. Although not an autobiography—having eloquently explored his wild life and adventures within the national parks in a previous memoir—Wauer's latest creation is a treasure trove of personal reflections, preferences, and extraordinary moments in nature.
Under the distinguished banner of "Author's Tranquility Press," "When I Was Younger" takes readers on a captivating journey through the eyes of a seasoned adventurer. With authenticity and charm, Wauer shares his preferred food and drinks, musical inspirations, and a range of outdoor interests that have fueled his sense of wonder. From the haunting notes of nature's melodies to the exquisite flavors that satisfy the palate, every page is a testament to a life richly lived.
The heart of "When I Was Younger" lies in the myriad experiences that have colored Wauer's journey. Through vivid prose, readers find themselves encountering a lynx in the path at Denali, standing face to face with a bear at Big Bend, and feeling the awe of being tracked by a mountain lion. The narrative takes us climbing Mt. Shasta, exploring the intricate world of army ants at Chichen Itza, and immersing ourselves in the mysteries of a fer de lance research site near Catemaco.
More than a mere recollection of past experiences, "When I Was Younger" is a testament to the author's enduring love for nature's wonders. It captures the essence of wild places, abundant wildlife, and the ever-present call of adventure. Through these pages, readers are invited to rediscover their own connection to the natural world and the treasures that lie within it.
This captivating book is available on Amazon, inviting readers to embark on a personal odyssey that celebrates the beauty of nature, the thrill of discovery, and the vibrant tapestry of a life well-lived.
About the Author:
Roland Wauer is a distinguished author whose passion for nature and wild places shines brightly in "When I Was Younger." With eloquence and authenticity, he invites readers to join him on a journey through his favorite moments, encounters, and outdoor passions. Through his words, Wauer fosters a deeper connection to the natural world and offers a reminder of the boundless beauty that surrounds us all.
About Author's Tranquility Press
Author's Tranquility Press is a top publicity agency known for delivering innovative solutions designed to help writers across genres to reach a wider audience. The company combines the use of the latest technologies and the expertise and diverse experience of the team to provide quality, relatable content to as many people as possible, irrespective of their location across the globe.
Media Contact
Company Name: Author's Tranquility Press
Contact Person: Patricia Adams, Marketing Supervisor
Email: Send Email
Phone: 8664118655
Address:3800 CAMP CREEK PKWY SW BLDG
City: Atlanta
State: GA
Country: United States
Website: www.authorstranquilitypress.com/