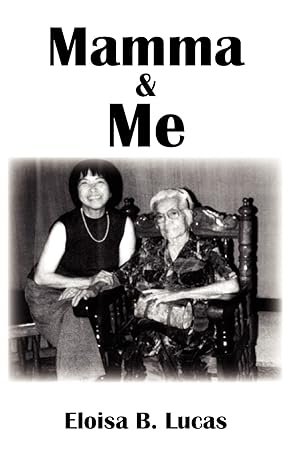 Discover the Extraordinary Journey of Resilience and Positivity
In a world often marred by confusion, contradiction, and miscommunication, "Mamma & Me" by Eloisa B. Lucas stands as a beacon of inspiration and hope for families raising children and teenagers. This remarkable book takes readers on a transformative journey, offering profound insights into the power of positive thinking and unwavering determination.
Eloisa B. Lucas, the gifted author behind this compelling narrative, demonstrates an extraordinary ability to navigate the challenging terrain of her environment. From the tender age of four, during the tumultuous days of World War II, she found herself in a community gripped by fear, where Japanese soldiers cast shadows of uncertainty. Her vivid recollections include witnessing homes ablaze, the deafening roar of gunshots and bombs, and the haunting memory of walking on soil where the fallen soldiers lay at rest. Yet, amidst the chaos, she also experienced the jubilant arrival of American soldiers, a moment of profound transformation.
"Mamma & Me" is a true story of a teenager coming of age in a world filled with difficulties and dilemmas. Eloisa grapples with the eternal question of whether to heed her parents' wishes or forge her own path. Her approach to these challenges is nothing short of extraordinary. With unwavering determination and a positive outlook, she transforms an environment rife with uncertainty into an opportunity for growth and responsibility. Her journey is a testament to the power of the human spirit and the resilience of the mind.
Through her incredible life story, Eloisa Lucas inspires readers to embrace positivity and resilience as they navigate life's twists and turns. Her unwavering faith in the face of adversity serves as a shining example of the strength of the human spirit.
"Mamma & Me" is not just a book; it's a guiding light for families seeking to instill resilience, positivity, and a sense of responsibility in their children. Eloisa B. Lucas's remarkable narrative teaches us that, no matter the circumstances, a positive attitude and a determined approach can lead to transformative outcomes.
Join Eloisa B. Lucas on her extraordinary journey. Discover "Mamma & Me" available now on Amazon.
About Author's Tranquility Press
Author's Tranquility Press is a top publicity agency known for delivering innovative solutions designed to help writers across genres to reach a wider audience. The company combines the use of the latest technologies and the expertise and diverse experience of the team to provide quality, relatable content to as many people as possible, irrespective of their location across the globe.
Media Contact
Company Name: Author's Tranquility Press
Contact Person: Patricia Adams, Marketing Supervisor
Email: Send Email
Phone: 8664118655
Address:3800 CAMP CREEK PKWY SW BLDG
City: Atlanta
State: GA
Country: United States
Website: www.authorstranquilitypress.com/